This is day 12 of a 31 Day series on hospitality. Start from the beginning here.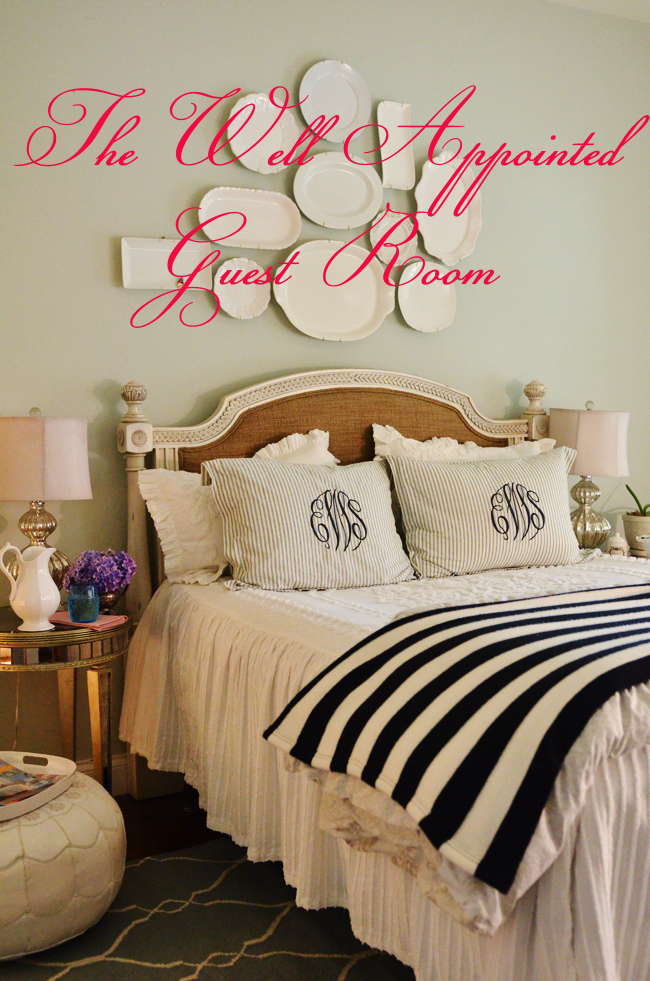 Let me start out this post by saying that everything I ever learned about making a guest room comfortable, I learned from my friend Susan.  As a matter fact, almost everything I learned about everything was from her.  She is the essence of Southern hospitality and I hope to be just like her when I grow up.  Because of her stellar example, I've gotten much more intentional over the years about my guest spaces.
Here's my list of the  top ten items that every well-appointed guest room should have.  This is the ultimate goal but collect things here and there as you can, within your budget.  I  mostly 'shop the house' when I'm having company.  I mosey around my rooms and look for pretty and cozy things to add to the guest room to make it more inviting and comfortable.  Sometimes they make it back to their rightful homes and sometimes they become permanently attached to the guest room.  Look around and see what you have a first and then do some shopping if need be.
1.  A comfortable bed.
Most of us can't afford to buy a high quality mattress for the guest room so I'm a huge fan of a thick mattress pad on the bed to make it more inviting.  It's often hard to sleep in a strange place and an uncomfortable bed only adds to the difficulty.  They're not that expensive and make a huge difference in comfort.  Those high thread count sheets from Tuesday Morning come in handy here too!
2.  Extra pillows
I try to store 2-3 extra pillows in the guest room closet.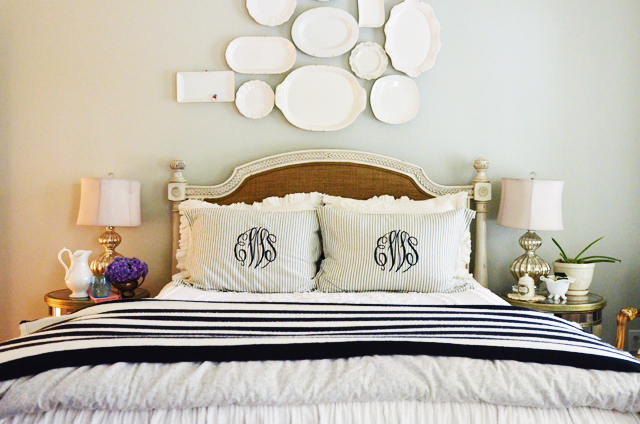 3.  Fresh towels and washcloths.
I like crisp white towels for company and I will often buy a couple new ones when company's coming.  It's a fairly cheap way to freshen up a room and who doesn't need a few more white towels?
4.  A luggage rack
I'm completely in love with luggage racks.  They're so practical and vintage, all at the same time.  You can often find them at antique stores but some retail stores still sell them.   Trust me, get one.  You'll wonder how you ever lived without it.  Or your guests will.
5.  A cozy throw
I don't know about you but I use throws ALL.THE.TIME.   Every room needs a throw.  I'm looking around and can see three in my living room at the moment.  I'm a throw-hoarder among other things.  TJ Maxx has great ones on the cheap and you can find them in great colors and patterns.  They are cheap, instant style.  My black and white striped one was less than twenty bucks from IKEA.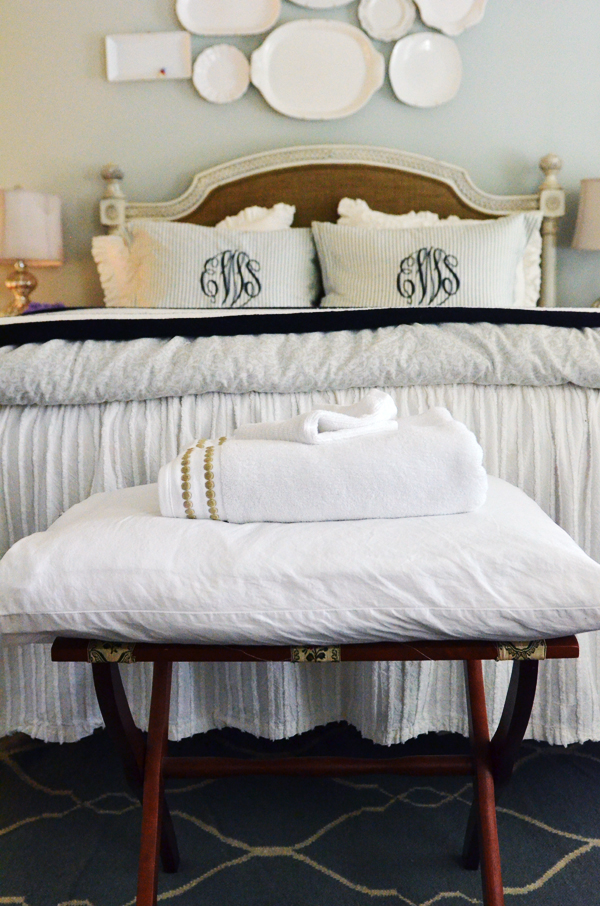 6.  Fresh flowers
If I don't have time to pick up flowers and there's nothing blooming in my yard, I'll snip a fresh magnolia leaf or something from the yard.  I think more than anything, this tells your guest that you were thinking of them before hand—that you care—-that they are important.  Fresh flowers add instant life and  beauty to a room  and make everyone smile:)))))
7.  Water pitcher
There's nothing wrong with handing your guest a water bottle  but a pretty water pitcher and a piece of beautiful glassware add such a nice touch.  Almost all my glassware is thrifted and I'm always on the lookout for beautiful pieces.   And this is where you don't need a whole set of matching glasses.  Next time you're thrifting, look for a few pieces for the guest room.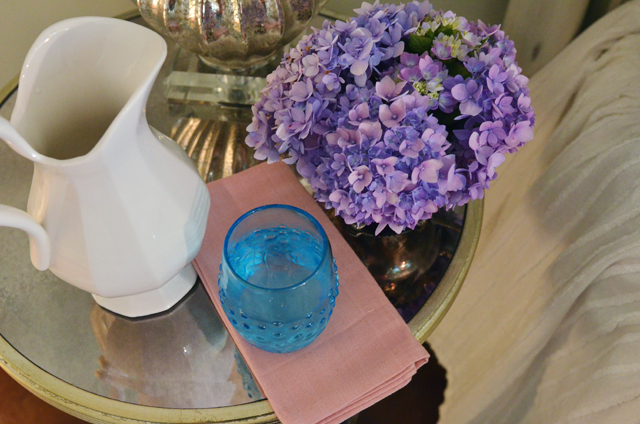 8.  Stationary
I  leave pens, pencils, paper, stationary and even stamps in my guest room.  This comes in especially handy if your guest has trouble sleeping.  Besides, writing hand-written notes is such a lost art!  If you don't have a desk in your guest room, consider thrifting one and repainting it.  Most people travel with electronics and it's nice to have a desk to work from.  I've also been hoarding extra chargers to keep in my guest rooms, which has come in handy more than once already.
9.  Books and Magazines
Decorating or art books, poetry, and books with essays are great to leave in your guest rooms.  And I even change mine out depending on who's gonna be staying with me.  I try to think of who I'm entertaining and then put a few books and current magazines that match their interests.  I just shop the house because heaven knows I have a book or two.
10.  Snacks
I usually make sure there's some good chocolate, mints, cough drops etc.  I just keep a drawer full of goodies and stock up when the goodies are  on sale.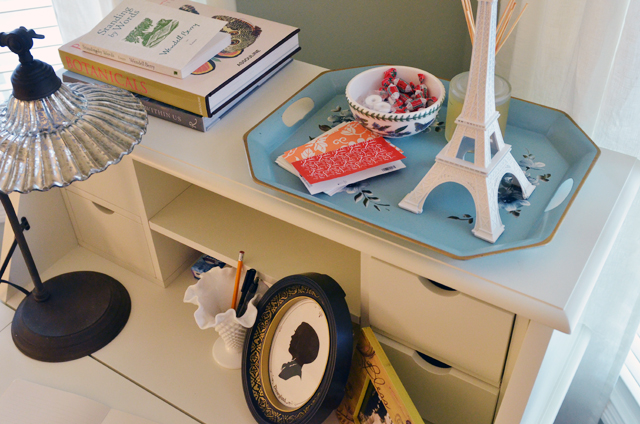 And for my guest room fragrance (and the one I use in the workroom!), I use Archipelago's Stonehenge diffuser. It's divine!
Hope you enjoyed the list.  Did I miss anything that you would add?  I'll tell you how I stock my guest bathroom tomorrow and if you were worried about the robe—it's on tomorrows list!
And if your children just so happen to place a small lego man on the plate wall for fun, you should leave him. He can keep your guests company. Like a little guardian angel.