This post has been in my drafts for 2 weeks but I thought you might enjoy my friend Susan's house pics, late or not.
It was a rough week for our family.  One of my very favorite uncles in the whole world passed away and my other favorite uncle is being treated for lung cancer.    I don't believe I've ever known two finer men.  Both true Southern gentlemen, both smart and successful business men and both committed family men.  I am heartbroken for my cousins and my aunt and all we could think to offer was our presence—which as it turns out, is almost always the best gift.  Life seems difficult at every turn and there is always a cross to bear.
So my mom, sister, and my brother and my little girls and I hopped in the car  and made a quick  road trip to Birmingham.
The visit was so therapeutic for us all.  Even my poor brother survived two days in the car with all us girls.
The visit with Uncle Troy and Aunt Rosie was so special.  I'm so glad we went.
These two uncles have been so influential in my life and my brother wrote this about them as a comfort to my cousin:
 "I too am sorry for the passing of a great, great man. he was indeed all those things you said he was and more. On our visit this weekend to Aunt Rosie's and Uncle Troys, we were reminded once again of the kind of men these guys were and are. Jack and Troy are two of the finest men I have ever known, the epitome of true "southern gentlemen". I feel the same as you, in that if I can be half the men that they always have been, I will have been a success."
My dear friends Johnny and Susan live in Birmingham and have a farm house that they so graciously opened to us.   We were so blessed by their hospitality and couldn't have eaten all the food in the fridge if we'd stayed two weeks.   Their farm was absolutely beautiful with every touch and convenience of home.   And every possible bow/gun/camo jacket known to man.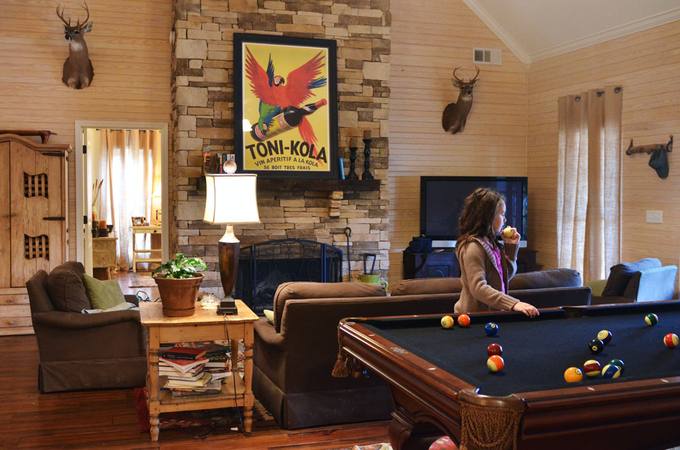 My favorite of Susan's tchotchkes was this priceless little number which played 'Sweet Home Alabama' when you pressed the button.   Which we pressed over and over and over and over.  The hunters' heads bobble to the music too.   I know, you're jealous.  You should be.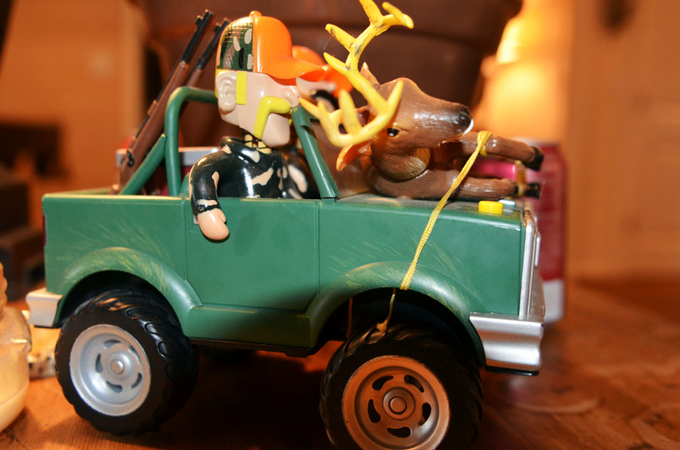 I loved everything about how she decorated the place but this custom piece of art was so cool.   There are meaningful words and names from their lives that are randomly placed on this canvas.  "Johnson City" is on there which is where Susan and I raised our oldest children together.   She taught me so much about mothering and Jesus and Southern charm.   She and Johnny are one of a kind and probably two of my favorite people on earth.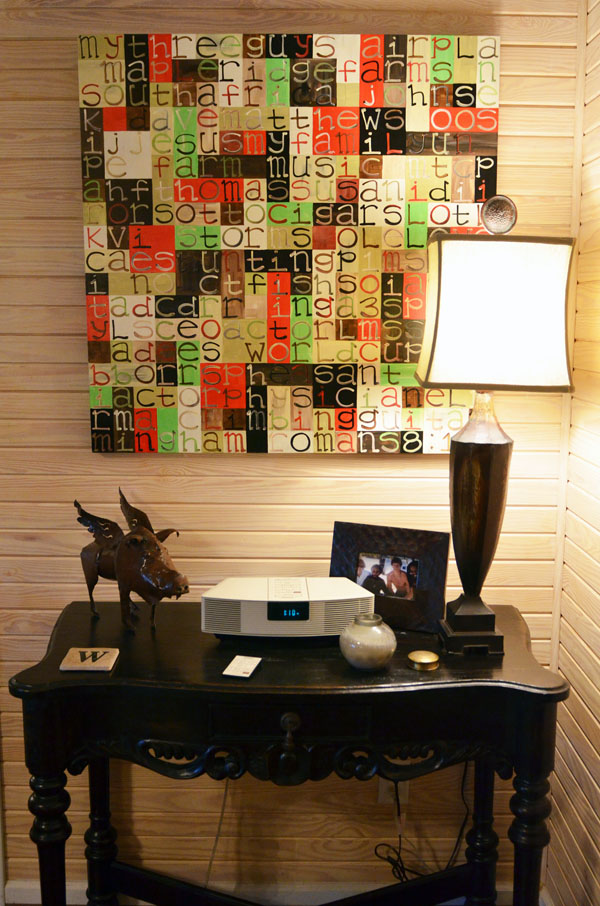 I love the antler lamps and light fixture.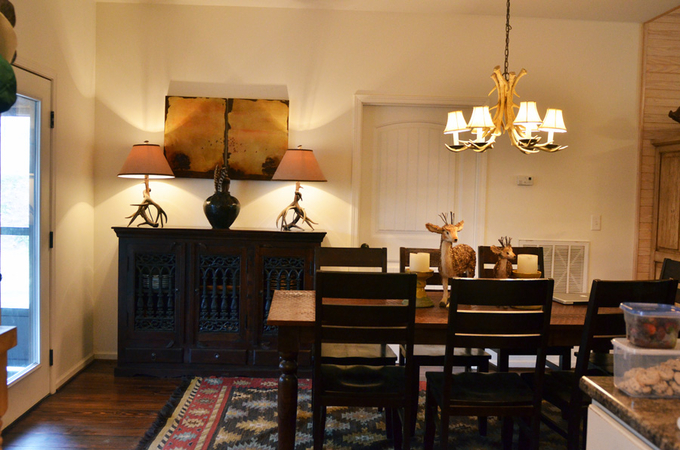 And all the bedrooms were perfectly outfitted with exactly what you need when you're staying overnight somewhere—-comfortable beds, warm blankets, chargers for all your electronics and beauty everywhere you turn.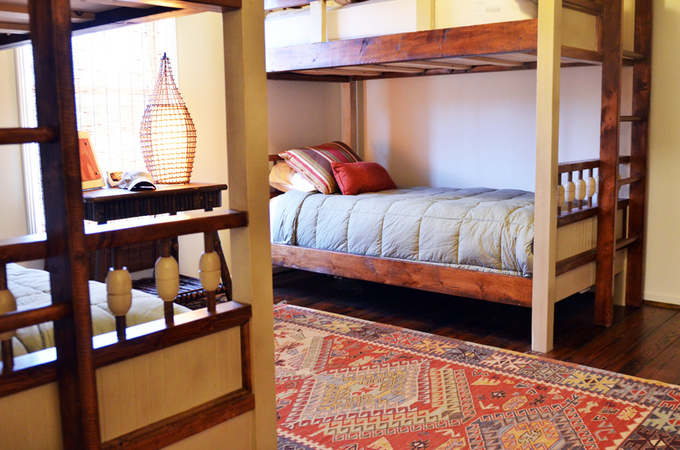 Another guest room…..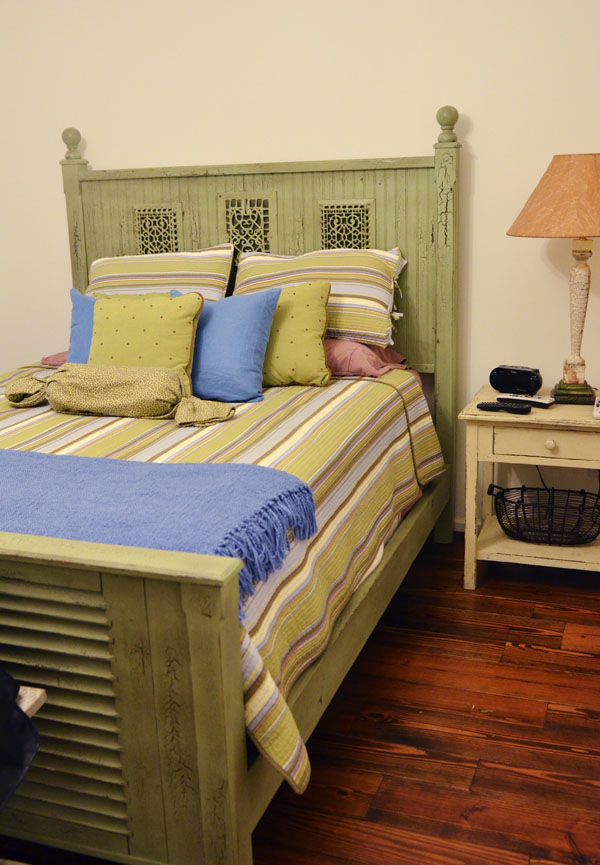 But the thing that took my breath away was the carolina jasmine.  Oh my heavens, I've got to plant some this spring.   Isn't it todiefor?
There's something so beautiful about Susan, that even from a long distance friendship, she can still inspire and nurture the best parts of others.  I've learned more from her about being a mom, wife, friend, and believer than anyone else I've ever met.  I'm so thankful for her and Johnny.  I'm only sad that I didn't stay at their house and stay up til 3 in the morning talking and laughing and crying.  I miss them everyday.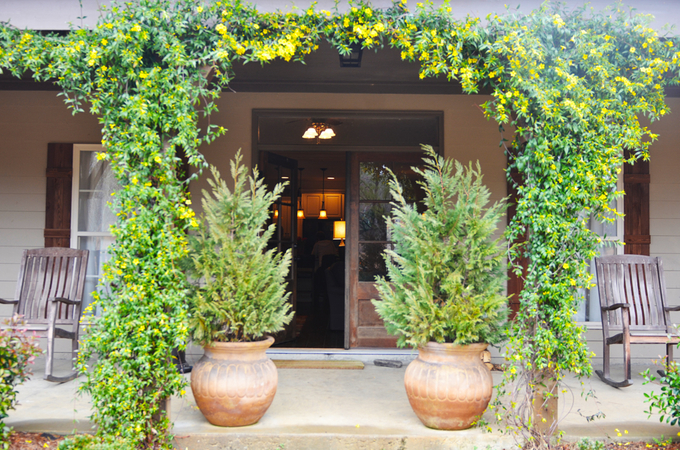 Then like all road trips, it went downhill on the way home.
We sang old school country music for far too long. My girls may never be the same. There was a lot of eye rolling.
I love my family so much and am thankful that even as adults, they're the best road-trip buddies ever.
Happy Weekend!