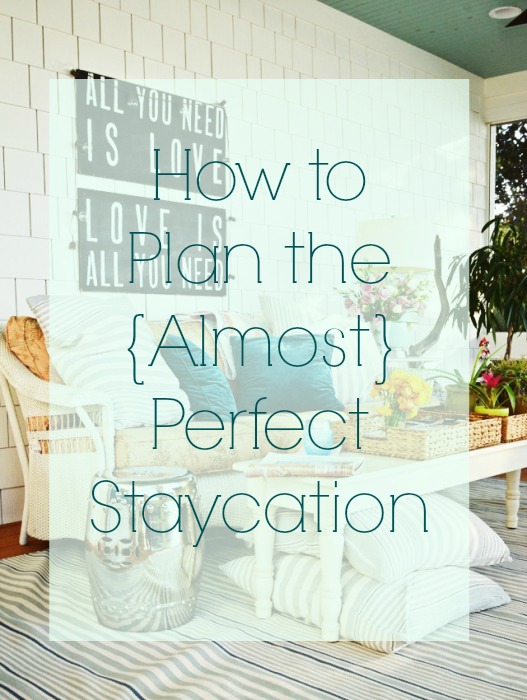 This is our 3rd year of official stay-cationing and we have come to LOVE IT.   Home is actually our favorite place to be so stay-cations are our love language.  But even if you're not planning a full vacation at home, this might encourage you for the occasional summer company.  Here's are some tips on preparing for some festive time at home!
Ready the House
Do your cleaning ahead of time just as if you were about to leave on vacation.  I don't know about you, but when I leave for vacation, I like to leave my house pretty spotless.  You know, in case the plane crashes and my mom and sister have to come and sift through all my chotch-keys, I'd at least like the place to be clean.  And I find that giving yourself a few hours of focused cleaning (on the bathrooms, kitchen, and places where guests will stay) is usually enough.  I rally the troops and we clean like there's no tomorrow so that it has that welcoming vibe and smell!  Then,  next week when it all looks like chaos?  Who cares?  We're on staycation, remember?
And while you're readying the house, don't forget to ready yourself.  Maybe you need a pedicure? Some new flip flops?  A cute sundress?
Prepare as if you were headed to Key West.
Change Your Mindset
You have to keep reminding yourself that you're on stay-cation, because it's easy to slip into your old routines.
Can't the laundry wait?  Maybe we should ditch dinner plans and go out?  Leave the dishes til morning?
YES, yes, and yes! YOU ARE ON STAYCATION.  Don't forget.
Kids wanna stay up late and eat popsicles at midnight? Well, of course.
Momma wants to get up early and read all morning?  I can't think of anything better.
Everybody sleeps in til 10 and we decide to start the day at Waffle House for brunch?  Sure, we're on staycation.
Staycation is like vacation—low on rules and high on fun, rest, and relaxation.  You'll have to keep reminding yourself, trust me.
Pencil in Your Festivities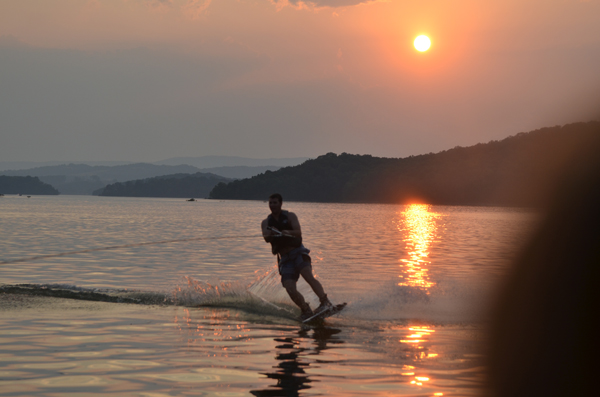 We're lucky to live on the lake so we have very little planning to do.  Hang out at the lake everyday—that's our plan.
But.  I do like to festive it up by having some fun photo booths, by having festive food, and by RELAXING enough to enjoy it all!
Maybe you'll do a day trip or two.  Maybe you'll stay up late and star gaze.  There's always homemade ice cream and picnics and campfires and (if you're at our house) plenty of corn hole.
Have a loose schedule and then follow your stay-cation whims wherever they take you.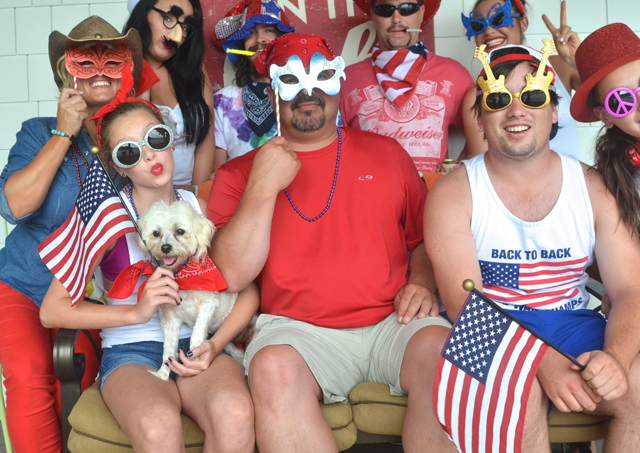 Plan Your Food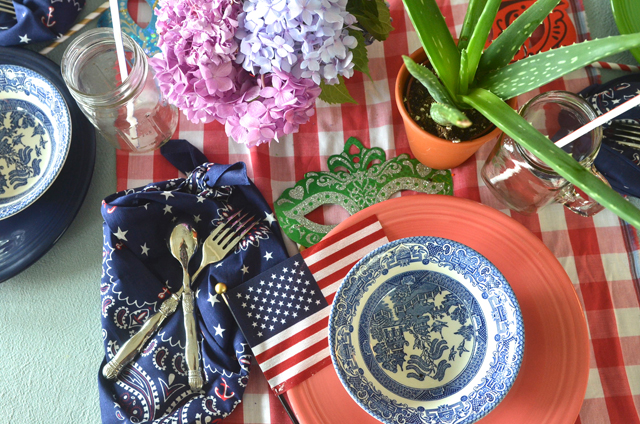 Don't like to cook?  Order out all week.  We're foodies, so part of the fun for us is planning ahead and enjoying some  good food together.
Also? We live in Bean Station, not exactly a metropolis of delicious eateries, although there is that one gas station where Stevie sometimes takes me for a date.
Anyhoo, I love a good menu plan and it gives us a guideline for the week.  We ditch it whenever we feel like it but you have to start somewhere.
Sunday
Monday
Tuesday
Breakfast—Bagels,  Lox, and Egg Sandwiches
Lunch—Picnic on the boat
Supper—Smoked Ribs and Homemade Pizza, and homemade ice cream
Wednesday
Thursday
Friday (the 4th)
Burgers, Brats, Hotdogs
Cowboy Beans
S'mores Bars
Rainbow Cake
Saturday
Breakfast—Waffles
Dinner—Marina
Okay, so tell if you've ever tried the stay-cation.  I'd love to know all about it!
(p.s. I had to make a quick road trip with my sister for family illness so the podcast is coming, just late.)
(pps. I'll be taking some time off from blogging beginning some time next week to dive into book writing and enjoy my people for the summer.  I'll be sending out some short updates via my newsletter, so subscribe here if you haven't.  I'll also still be on Instagram and Facebook, if you want to follow me there!)