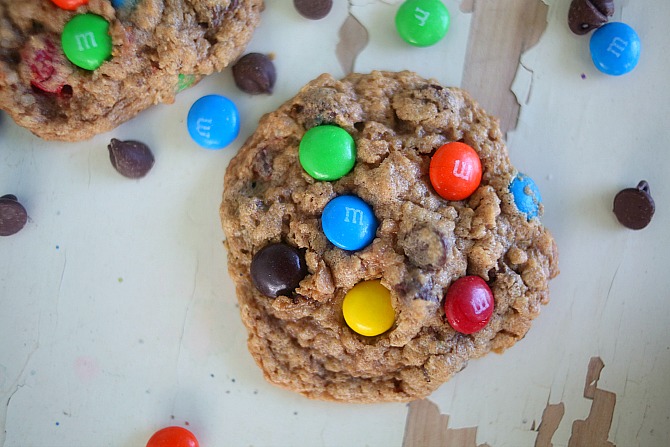 There's a good chance that a batch of these monster cookies will be made in my kitchen every weekend from now till the end of  August.  Why, you ask?  Well.  There's two good reasons.  The first reason is—these are the signature cookies that my beloved 12 year old makes and when someone else offers to make food around here, I do NOT,  I repeat, I DO NOT interfere.  The second reason is really four reasons wrapped into one.   These are the quintessential party/energy food when you live on the lake and your days and nights and meals get all mixed up,  because a) they can pose for breakfast in a pinch, what with all the oats and peanut butter, b) they can pose for lunch in a pinch, what with all the oats and peanut butter,  c) they can pose for dinner in a pinch, what with all the oats and peanut butter,  and d) they make the perfect middle of the night snack when the sky is too bright with stars to even think about sleeping.
All in all, this is a survival cookie.   That a 12 year old can make.  That tastes almost exactly like a beautiful summer hike.  Only better.  That freezes perfectly well.  That could well save you from having to leave the lake too soon on a perfect summer day.  And?  No gluten is employed in the making of these cookies, in case you're trying to stay away from flour.  Add them to your weekend to do list and you'll see what I mean.  Also, this week? I was shy a whole jar of peanut butter and substituted the rest with Nutella and I must say, THIS IS HIGHLY RECOMMENDED in the event your find yourself in this desperate situation.  Or even if you don't.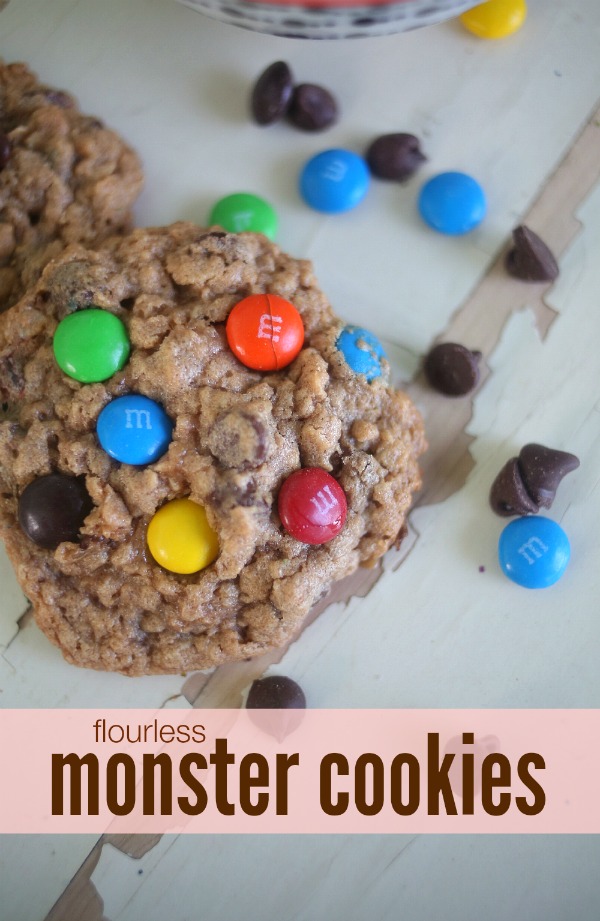 What you'll need:
1 stick of softened butter
1 cup sugar
1 1/4 cup brown sugar
1—16 oz can creamy peanut butter
3 eggs
4 1/2 cups oats
2 t baking powder
1 cup M & M's
1 cup chocolate chips
1 t vanilla
pinch of salt
What you'll do:
Preheat oven to 350 degrees
Cream butter and sugars well
Add eggs, peanut butter and vanilla and mix well again
Add the rest of the ingredients and mix well
Scoop them with a cookie scoop (or drop them with a spoon) onto an lightly greased cookie sheet
Bake for 11-13 minutes at 350
Let them cool on the cookie sheet for a few minutes before transferring
Or eat them warm off the pan, which is usually my preference!
Go visit my recipes page for more tried and true favorites!
Also, I just started a podcast series on Creating a Life You Love so head on over and join the fun!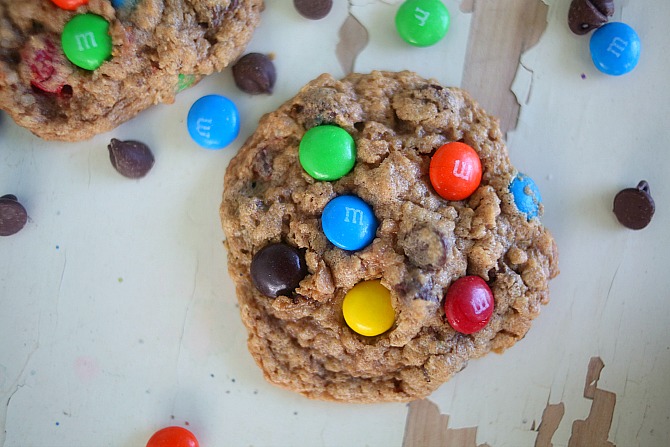 {Flourless} Monster Cookies
Ingredients
1

stick of softened butter

1

cup

sugar

1 1/4

cup

brown sugar

1

—16 oz can creamy peanut butter

3

eggs

4 1/2

cups

oats

2

t

baking powder

1

cup

M & M's

1

cup

chocolate chips

1

t

vanilla

pinch

of salt
Instructions
Preheat oven to 350 degrees

Cream butter and sugars well

Add eggs, peanut butter and vanilla and mix well again

Add the rest of the ingredients and mix well

Scoop them with a cookie scoop (or drop them with a spoon) onto an lightly greased cookie sheet

Bake for 11-13 minutes at 350

Let them cool on the cookie sheet for a few minutes before transferring