I'm so glad you're here! For my 6th year blogging anniversary, I decided to launch a new podcast!  Grace Talks is the podcast dedicated to encouraging and inspiring woman to live and love well by seeking to be agents of  grace,  beauty, and service.  Welcome!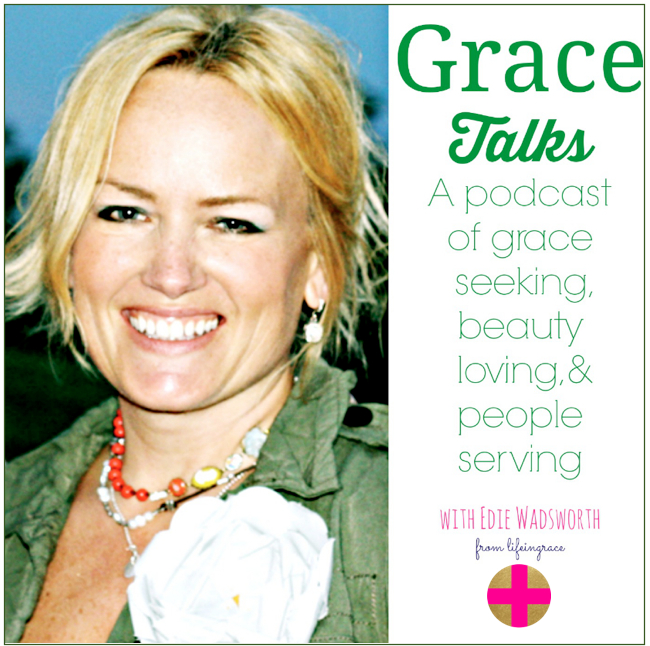 Podcast Episodes
Introduction Episode, The Life You Love Manifesto [5.12.2014]
Episode 1, A Life of Calling [5.19.2014] Episode One is the beginning of a series called The Life You Love Manifesto—A 7 Step Journey Toward Joy.  In this episode, we explore a Life of Calling, in all its ramifications.  We discuss the 2 key elements of calling and the magic that happens in your life when you learn to live where your passions intersect with your neighbor's need, giving you a job to do and someone to do it for.  We discuss clues to calling, along with how living for others is the key to joy and contentment.
Episode 2, A Life of Learning [5.28.14] There are so many reasons to pursue a lifelong love of learning but some of the most important are that it cultivates virtue, curiosity, and empathy.  It strengthens our ability to think for ourselves amid a world of chaos and distraction.  I give 5 practical tips for starting a reading plan and reference several good resources for books every one should read.  The most important reason for this pursuit of learning is so that we can better love and serve those around us!
Episode 3, A Life of Beauty [6.3.14] Beauty is not an afterthought with God.  It is essential to everything He is and does.  He doesn't not create things merely for function but fills this universe with reckless and extravant beauty.  This is manifest most of all as He gives His son over to die for our redemption.  The essence of beauty is giving.  We, too, are creatures in whom He has placed an essence of beauty and we live fully when we learn to share that gift, that beauty, lavishly with the world.  We must learn to love what is beautiful, aligning ourselves with His truth.  I give practical examples for living with more beauty in our world, in our homes, and in ourselves.  
Episode 4, A Life of Faith [6.12.14] I think this will be different than almost anything you could listen to on this subject.  I hope you'll give this episode a listen because these may be some of the most encouraging words I've ever spoken.  This is not a guilt trip.  This is not a  list of what you should be doing as a believer.  This is for those of us who never seem to measure up to our own ideal of spirituality.  This is a reset button for your struggles and your doubts in your faith life.  We will delve into the life of faith as a life of reception, a life of prayer, and a life of paradox.
Episode 5, A Life of Gratitude [6. 20.14] Gratitude is God's gift to you—The key to gratitude is not in our giving thanks.  It is a gift from God that He first bestows on you in Baptism and continues to nurture in you through His word and the Lord's Supper.  The word itself means undeserved favor, so even in the very meaning of the word, we see that this is not something we can do.  It is a gift from God that we can receive and in faith cultivate by partaking of His gifts.
Episode 6, A Life of Rest [6.30.14] Summer is a great time to talk about our need for rest.  We live crazy busy lives and often don't realize the toll it's taking on us until it's too late.  I hope this episode on rest will encourage you to make time for activities that fill you up instead of deplete you.  Learn to live your life with more margin for your health and well being and for the sake of those you love the most.  I address physical, mental, and spiritual rest and give some practical tips on making space in your life for the things you love.
Episode 7, A Life of Service [7.21.14] For so long I have searched for happiness, contentment, and meaning in all the wrong places.  I think I've finally figured out the secret to a joyful life—living it for others. In part 7 of this 7 part series on Creating the Life You Love, we get to the climax, where we discuss the ways in which we can begin to live our days in service of others and in doing so, find the life we've always dreamed of!
How to Listen to The Podcast
If you're a seasoned podcast listener, you know how wonderful it is to access great content from anywhere AND to be able to listen while you continue on with your daily work.  If you're new to podcasting, let me make all your mindless chores more meaningful.  Podcast listening is THE perfect way to multitask.  You can listen while you workout, fold laundry, wash dishes, sit in car line, or fall off to sleep. To make it even better, there are several ways you can listen, depending on preference.
 Listen here on the blog. Click the link above to the episode of the podcast you would like to listen to and click the play button at the beginning of the post. When I'm listening to podcasts at home, I normally just listen straight from the website (on my computer) while working on chores.
 Listen on your smartphone, iPad or iPod Touch – There are a lot of great podcasting apps. These applications make discovering, subscribing, and listening to podcasts so much easier.  They also automatically update your podcasts every time a new episode is released. I use Podcruncher for listening to my favorite podcasts, but since mine is brand new, it's not showing up yet on any of the apps I've checked.   When you listen through an app, you don't have to worry about syncing your phone with iTunes because it automatically updates with new episodes from the podcasts you've subscribed to.
Subscribe to the Podcast – just click here to access the podcast in iTunes. You can also search for it on your smartphone app (like the ones listed above) and subscribe.