This is part 4 of the 7 part journey toward Creating the Life You Love and this week's focus is a Life of Faith.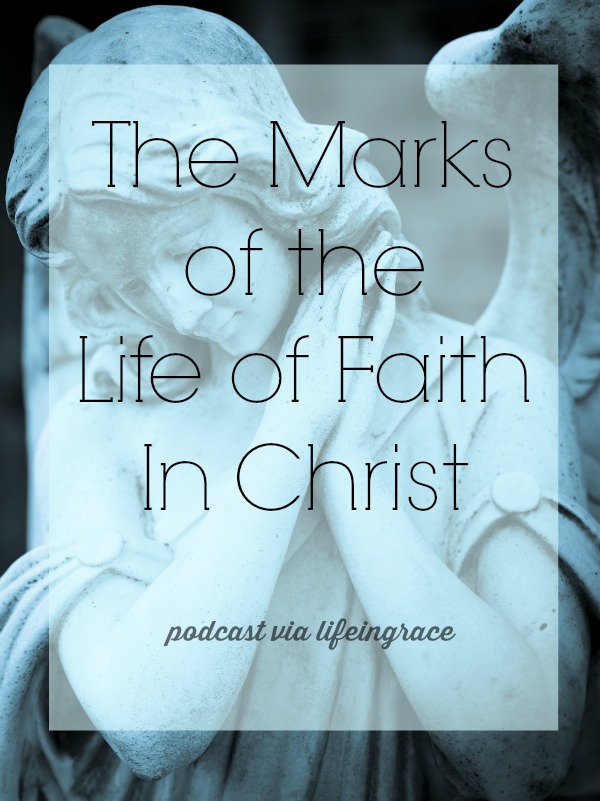 I think this will be different than almost anything you could listen to on this subject.  I hope you'll give this episode a listen because these may be some of the most encouraging words I've ever spoken.  This is not a guilt trip.  This is not a  list of what you should be doing as a believer.  This is for those of us who never seem to measure up to our own ideal of spirituality.  This is a reset button for your struggles and your doubts in your faith life.
You can also click here to and listen.
The absolute most important book on Christian spirituality in my life has been Grace Upon Grace by John Kleinig.  PLEASE consider adding it to your library.  You will hang on every word. You will wish you had read it ten years ago.  You will read it over and over again.
The Marks of the Life of Faith in Christ 
How does Christ impart His life of joy and abundance to us?  What does the daily life of the Christian look like and why can I never seem to measure up to the standards?
The great news is—our spiritual lives do not depend on us!
It depends on Christ, who has and will continue to do everything for your life and salvation.  Christ has made the great exchange in giving us His very own life.  We just receive what He in His grace gives. I talk about the importance of a Christ-centered church, where Christ is preached instead  of Christian improvement.  I talk about the regular receiving of the Lord's Supper and the assurance that provides for our struggling faith.   The parable of the Good Samaritan is the perfect example of this.
Christ is our Good Samaritan.  He has found us along the road of life, beaten and robbed and desperate.  He FINDS us, gathers us, rescues us, bandages us, saves us and takes us to the inn (the church) and pays our debt of sin and death.   The hero of the parable is Jesus, who died to save and ransom us—to free us from the law—so that we are now free to serve others.
 Jesus found me!  I didn't find Him.  He gathered me into His flock!  I didn't just wander into that big, beautiful church one day.  He is always the one doing the gathering—always finding ways to draw us back to Himself. He's always rescuing what we're always wrecking.  He's always seeking and finding.  We're always running and striving and losing. We often have it backwards, don't we?  We like to think we're good little sheep that are always following the Master, but we aren't. We are a bruised and broken people, in desperate need of a rescue.  We are all plagued with sin, doubt, fear, greed, selfishness, addiction, evil, and most assuredly self-righteousness.  We are harsh and unkind and lacking in mercy.  Or we are weak, undisciplined, and lacking in courage.  We are lost and alone, beaten and left for dead.  But, in our lostness, we are all the same. Fortunately for us, our Father knows it all.  He is not surprised or angry or aloof. He doesn't seek revenge but only redemption.  He became one of us to know the depth of our struggle and He is right there in the dirty midst of it all.
He won't leave.  He won't lose His nerve.  He will never give up.
So, when your strength has left you and you can't hold on, you need not worry.  Love holds. Love never fails. He—who is deeply acquainted with your grief, your sin, your struggle—will bear the weight of it all, and will never grow weary. Trust in your Father, who works every circumstance for the homecoming and healing of His glorious children. He will not rest until you are remade and restored. He will persevere until the end, because of Love. We desperately need the rescue of the Good Samaritan and He will find the one little lost lamb.  In the above parable, the Good Samaritan is a picture of Christ—who has done everything to bring us into the Church, the heavenly hospital—where He will feed us and nourish us back to health.  Just like Noah and his family were saved from the flood by faith, so we are saved by Christ and the Church will be our ark of refuge, bearing us home to be with him forever.
(If you're experiencing a famine of the Gospel, listen to his sermons and you will hear the Gospel in every single message.  Every sermon is about Jesus and his love and life for us.  This is a great sermon about God's house and what it's for.)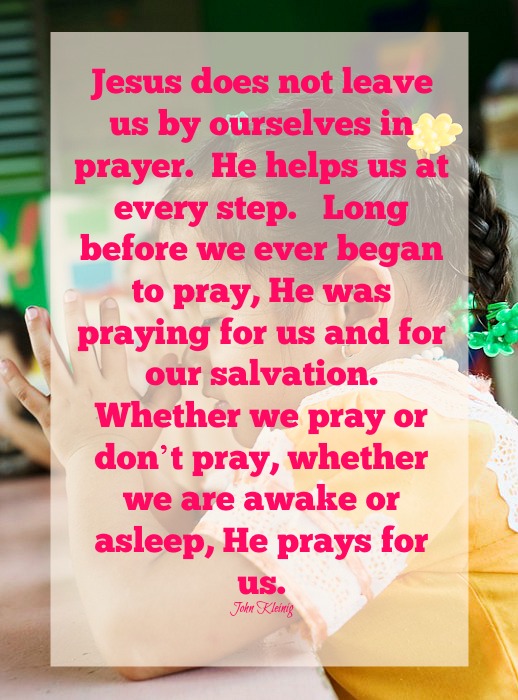 "Prayer should come as easily and naturally to us as breathing or eating.  Yet, we all know how hard it is to pray.  Prayer, mostly, seems to go against the grain.  Unless we are quite desperate and have reached the end of our rope, we would rather not ask God for help.   We know that we should pray.  We would like to pray more regularly, ardently, and spontaneously.  The harder we try, the more we seem to fail.  But that's how it's meant to be.  Christ lets us fail when we pray by ourselves so that we rely on His intercession for us.  Oddly, our success in prayer comes from our personal failure and our willingness to carry on as He works for us and with us.   Unlike us, Jesus is an expert at prayer…..He is its best practitioner…..He takes over for us when we fail, and intercedes FOR us.  He fulfills God's call to us to be praying people and get us to join Him in His praying.

Jesus does not leave us by ourselves in prayer.  He helps us at every step.   Long before we ever began to pray, He was praying for us and for our salvation.  Whether we pray or don't pray, whether we are awake or asleep, He prays for us….and he prays with us so that we can join Him in His praying.   Jesus teaches us how to pray by giving us the Lord's prayer.  This is His prayer, the prayer that He prays.  By giving us His prayer, He includes us in His relationship with His Father and allows us to act as if we were Him, dressed up in Him.  He therefore identifies Himself with us and our needs, necessities, sins and temptations.  He joins Himself to us so that we can join Him in prayer and borrow everything from Him.  He swaps places with us so that we can be where He is before God the Father.

We need not be anxious about whether God is pleased with us or whether He will give us a favorable hearing.  We need not worry about what to pray for, or how, because Jesus covers us with His righteousness and perfects our prayers.  Our performance does not matter;  what matters is Jesus and our faith in Him as our intercessor.

The Lord's prayer makes praying simple and easy for us because, as we use it, we pray together with Jesus.  It is much more important that we pray it regularly than that we wait until we have enough time to pray at length and in great detail with deep ardor and heartfelt devotion.  Satan,quite commonly, uses our spiritual enthusiasm against us.  He gets us to go on a prayer binge because he knows we will not be able to sustain it.  Then, when we fail, he uses our failure against to argue that praying is not for us.
I beg you to give Dr. Kleinig's podcast on prayer a listen.  Buy his book.  Let his words seep down into your doubtful, guilt-ridden soul.   You'll be reminded of just how much you are loved and how far the Father is willing to go to see to your restoration.
Also, my FAVORITE devotional tool is the PrayNow app which has an psalm, OT reading, and NT reading for everyday.  It also has a writing from a church father and a prayer and follows the church year calendar.  I HIGHLY recommend.  You can have access to it wherever you have your phone!
Saint and sinner—Love this podcast by Pastor Bill Cwirla
Law and Gospel—Love this podcast to explain the concept.
Theology of the Cross versus Theology of Glory—
Resources and Links:
I'd love to hear from you! What is it that you struggle with most in your faith life?