"The arrival of company at the house, the arranging of dinners and suppers, in style, awoke all the energies of her soul; and no sight was more welcome to her than a pile of traveling trunks launched on the verandah, for then she foresaw fresh efforts and fresh triumphs."~ Harriet Beecher Stowe, Uncle Tom's Cabin.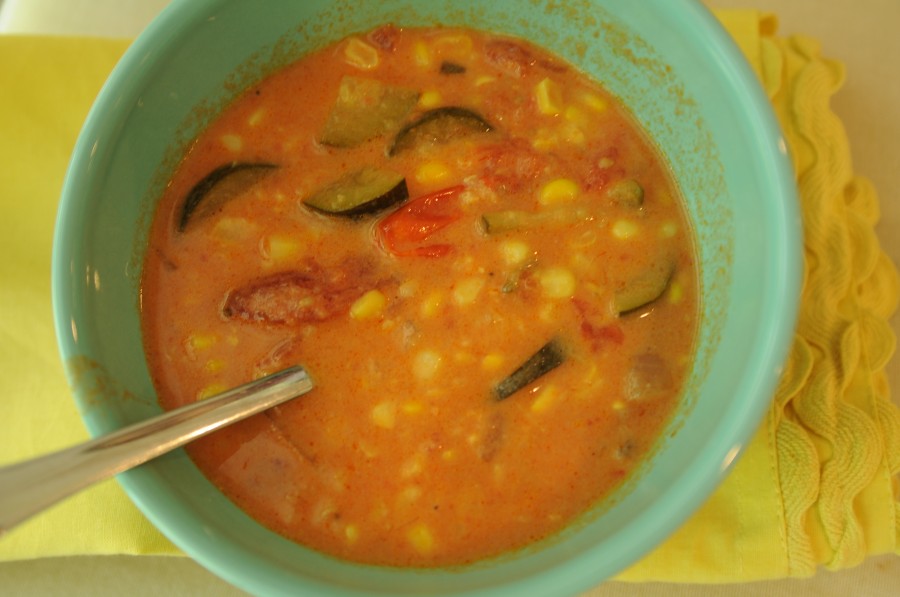 Ruth and her family are coming for the weekend and I couldn't be more excited.  Her sweet little Annie had the choice of a birthday party or a weekend away and she wanted to come to Miss Edie's house.  That little doll baby.  Don't tell, but I'm making her a rainbow cake and my girls have a little surprise for her, too.
So.  I'm busy with my cooking, froofing, taking my smelly dogs to the spa and in general making sure they know how loved and welcomed they are .  For lunch one day while they're here, I'm serving pesto paninis and my favorite warm weather soup—Summer Vegetable.   You NEED to try this.  It's everything you ever wanted in summer vegetables and more.
Here's what you'll need:
3T. of olive oil
 2T of bacon fat (this is the key to life itself)
3 zucchinis, cut in half lengthwise and then chopped into thin pieces
7-8 ears of fresh corn, shucked and cleaned and cut off the cob
6 large fresh tomatoes or 2-28 oz cans of San Marco or Cento diced  tomatoes
1 32 oz box of good chicken stock (I use Kitchen Basics)
3 T  heavy cream
a pinch of cayenne pepper
2 T honey
Add salt and pepper along the way, to taste
Here's what you'll do:
 In a large soup pot, saute one large onion in 3T. of olive oil and 2T of bacon fat.   Yes, bacon grease.   It can be our little secret.
Cut the corn off the cob into the pot.
Then scrape the cob with the side of your knife to get all the good 'milk' off the cob.
Next, I add  3 zucchini squash, cut in half lengthwise and then chopped in thin pieces
Add many (about 6 large) fresh tomatoes, chopped and then added with juice and all  (or use the canned tomatoes)
 Cook the veggies for about 10 min.   Add a pinch of cayenne pepper and then salt and pepper to taste
Add one box of good chicken stock
Finish with 3T. of cream and a tablespoon of honey
Add salt and pepper to taste
This only works with fresh, sweet veggies but you could substitute the tomatoes with Cento's chefs' cut canned tomatoes.  I'd use 2-28 oz cans.
It's really so simple and so delicious.   Hope you try it!  It's just pretty to look at too.
WINNERS!!
Okay, the winner for the 3 books on calling and vocation is—comment number 43,  Ruth!  Email me with your address and I'll get your books out to you!
Thank y'all so much for the kindest, most encouraging comments in the WHOLE world on my first ever podcast.  I'm so excited to share this series with you and I am so thankful for the warm reception!
The winner of the half-off scholarship to Anna Maria's quilting workshop is—
Y'all.  I couldn't just pick one.  Your stories touched me.  SO!  There are two winners—Christy Pixley and Gina Boswell!! I'm so excited for you and so excited to meet you both.  Email me soon and I'll let you know how to get registered.  Mwahhhhhhh!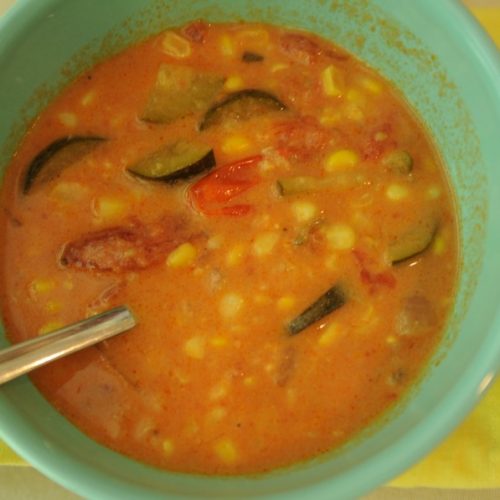 Summer Vegetable Soup {And Some Winners}
Ingredients
3

T.

of olive oil

2

T

of bacon fat

this is the key to life itself

3

zucchinis

cut in half lengthwise and then chopped into thin pieces

7-8

ears of fresh corn

shucked and cleaned and cut off the cob

6

large fresh tomatoes or 2-28 oz cans of San Marco or Cento diced tomatoes

1 32

oz

box of good chicken stock

I use Kitchen Basics

3

T

heavy cream

a pinch of cayenne pepper

2

T

honey

Add salt and pepper along the way

to taste
Instructions
In a large soup pot, saute one large onion in 3T. of olive oil and 2T of bacon fat. Yes, bacon grease. It can be our little secret.

Cut the corn off the cob into the pot.

Then scrape the cob with the side of your knife to get all the good 'milk' off the cob.

Next, I add 3 zucchini squash, cut in half lengthwise and then chopped in thin pieces

Add about 6 large fresh tomatoes, chopped and then added with juice and all (or use the canned tomatoes)

Cook the veggies for about 10 min. Add a pinch of cayenne pepper and then salt and pepper to taste

Add one box of good chicken stock

Finish with 3T. of cream and a tablespoon of honey

Add salt and pepper to taste