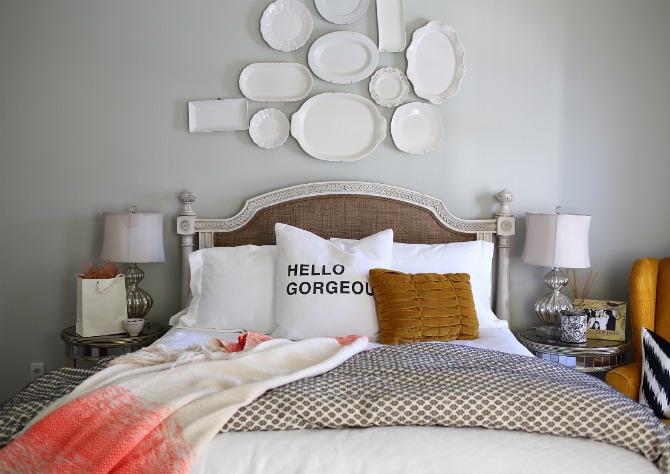 My love for hospitality began when I was ten years old and a giant ornate bar was delivered to our dining room complete with a crystal whiskey decanter and a set of brandy sniffers.  I don't think we had ever owned anything quite so nice and I was completely awestruck at the possibilities.  My sister and I bartended for hours on end, with the likes of chocolate milk, apple juice, sweet tea, and some fancy swizzle sticks.  Sometimes we would dress up in our snazziest clothes and pretend to be the patrons, holding our pinkies out just so while we sipped on beverages from dainty glasses.  Apparently, this was an eat-in bar establishment because my favorite part was to set the tables and take the faux orders of a host of make believe (and very demanding) restaurant goers.  I hustled.  I was in it to win it. I took CARE of my customers.  I hired my sister off and on but I didn't hesitate to fire her if her enthusiasm waned.  Now I'd give anything to work beside her everyday.  She'd keep me organized and she'd make me laugh all day.  Alas, I didn't know how good I had it.
(Go ahead and take a minute with this photo.  There's a lot to study here.)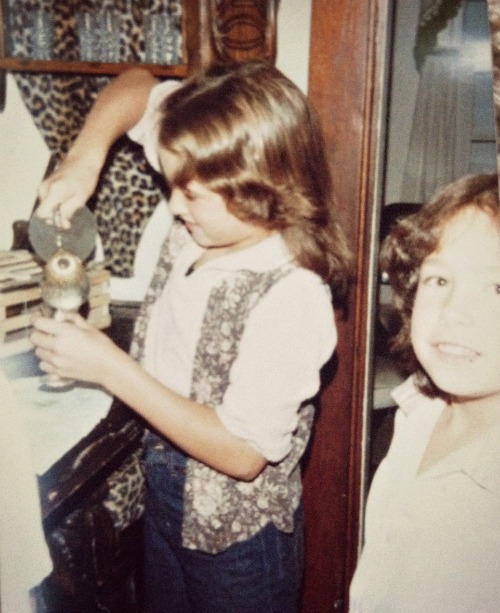 I perfected the art of running the home restaurant over the next few years until it all came crumbling down in 1983.  That's the year CMT launched and from then on, I set my sights on becoming a country singer.  I convinced myself I sounded just like Wynona Judd and spent all my free time parked in front of the television, fashioning microphones out of every possible thing.  Over the years, I keep coming back to my oldest passions so now I still sing karaoke and I read everything I can get my hands on about hospitality—what it really means and how we can incorporate into our lives.
(I even wrote an ebook about it, which I'm planning on beefing up and re-releasing later this year. So, if you want it in its current incarnation, you better get it soon because it will be removed from my site for a while.)
After all those years of serving and studying and reading, here are 3 secrets that will help you overcome resistance when it comes to sharing your life with others.
1. It's NOT about your home
You think it is but it's not and I would venture to say that you are waiting until everything is just perfect before you open up your home (or yourself) to others.  I wrote about this in my hospitality ebook and I still believe it's true.
Hospitality is not about inviting people into your perfect home, it's about inviting them into your imperfect heart.
People don't need a perfect guest room or a guest room at all.  They just need you.  The you that is comfortable enough in her own skin to offer herself to others.  The you that is not afraid to be vulnerable.  The you that will leave the to-do list undone in order to sit face and face and share your life and your stories.  I can't tell you how many things I left undone last week when Paige came to visit.  I had to keep reminding myself to choose relationship over perfection.  I hope she could feel how much she was loved and celebrated.  So many times I've screwed this up, but I'm finally starting to see the magic that happens when you make others your priority.  And if you need more help in this area (like I do)  my friend Myquillin wrote a book all about learning to love the home you're with.  And I'm always pinning stuff related to this topic on my favorite Pinterest Board, Hospitality with Heart.
2. It's NOT about your food
Now listen.  I know what you're thinking.  If you saw my Facebook post last night, you know that I'm always talking about food and how my husband adores me because of puffy tacos and the best beef stew and ALL THE FOOD that I love to yammer on about.  No ones loves or appreciates the power of good food like I do.  But guess what?  It's not the main thing.  Not even when you're having company.  Yes, I think we should try to get better at serving up some tasty food.  Yes, it's important to teach our kids the power of table fellowship.  But one of my favorite visits with a friend in recent memory had nothing to do with the food.  She bought a few store bought snacks and some fruit and we shared our hearts for hours.  It's not about the food.  Focus on people and the rest will work itself out.
3. It's NOT about you at all
This is the key to almost everything in life, not just hospitality.  If you can learn this precious lesson, your life will be full and blessed.  Train yourself to walk into every situation asking,  How can I be a blessing here?  How can I share myself in a meaningful way?  How can I break through the normal barriers of communication and get to the heart of things?  How can we laugh and have a good time?  What are this person's needs and how can I help meet them?
This one thing has totally transformed everything about my life.  I have to crucify my own doubt and insecurity and that nasty little voice in my head that wants me to always guard my heart.  It's daily, hourly work.  But you will find yourself with a full and beautiful life when you finally realize that it's not really about you at all.  What a relief!
 **************************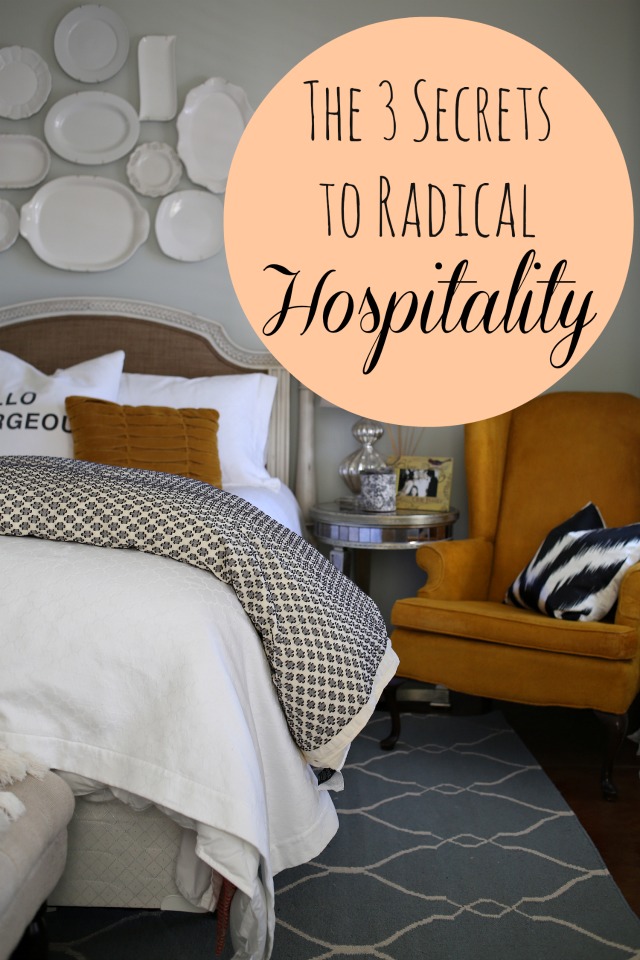 Ironically, I'm just as passionate today about feeding people and singing karaoke to them.  I wish you could get one without the other, but I never wanted to be a one trick pony. Back then, I couldn't have given two hoots about the disastrous state of my own room or of any other room for that matter.  I was there to serve.  I had a one track mind. And I think if my years as child restaurant owner taught me anything, it taught me that the people are the only thing that matters.
(The added benefit of loving people in this radical way is that they'll be crazy for you.  Just ask Wynona.)
What are the barriers that keep you from sharing yourself with others?
I have a list a mile long but I think speaking them aloud (or writing them down) is a good first step in overcoming them.