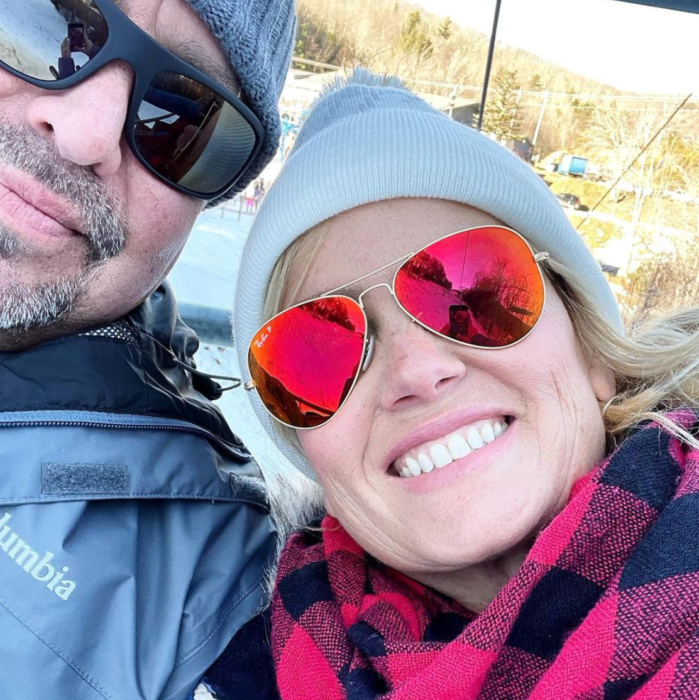 Sometimes do you find yourself in a season where you feel like you're busy, but you're not productive?
Your schedule is full, you're busy, you're doing things, but you're not moving the needle. You're not doing the things that matter most.
Or maybe you find that a lot of the things that really do matter to you don't end up on your schedule.
Some of you know that the fourth of January, was my birthday. Stevie and I took a little trip together, and we did some hiking, and we just had a great time together. We got away for a few days just by ourselves. We haven't done that in a long time.
We got out of the driveway and I started crying. Just unexpectedly tears filled my eyes. That might be the first clue that something has gone wrong, when you find yourself instantly in tears and you didn't expect it.
I was thinking about it as we were driving. Why did tears come so fast?
We had such a great time together. It was so good to reconnect, but what I realized was, because we've been on this adoption journey with Thomas, who's eight years old and has been through so much loss and trauma, and the process of trying to help him heal, and help him through his loss, and his grief, we just let things go.
You might be in a season of your life where whatever you're dealing with; maybe it's a health problem, maybe it's loss of job, or maybe something with one of your kids, and you feel like a lot of important things you just let go, because you were in survival mode.
I don't think I fully realized how much it was affecting me, and how much it was really a burden that I was carrying, and we're only human so we can only carry so much. Some of the things that you drop along the way are important things.
I realized that one of the things that I had basically dropped or let go, was just the priority of that most important relationship to me.
It was really amazing to have time together. I can't even tell you how it has changed our outlook over the past few weeks, just knowing that we can reconnect with each other, and that we can hold on to each other while we're holding onto him. It has just been a really, really good reminder.
If you've been following along with my live streams, or maybe you did our Live your Dream Challenge, you know I love setting goals at the first of the year. I've been asking myself a lot of questions.
What do I really want?
What do I really want this year?
What's most important to me?
How can I make time to actually do the things that matter, to actually focus?
I really do want to get to the end of the year, and have done the things that really matter. I'm sure you do too.
1. Decide what really matters and write it down
I think a lot of times we assume that we know what matters, and we assume that we're living a life that's focusing on the things that really matter. But if we're not actually deciding it on purpose, and writing it down on purpose, I think sometimes we really do forget.
If you're going to fill a jar, and you have big rocks, little rocks, sand, and water, there's a certain way you have to do it or it won't all fit.
You want to put the big rocks in first, and then you'll have room for the little rocks, the sand, and the water. But if you fill it up with sand and water at first, you won't be able to get the rocks in.
The rocks are the really important things in you life.
When I'm making my calendar every week, I put the rocks in first. For me, I have to prioritize my own spiritual, mental, and emotional health. Then I'm actually able to take care of the people that I want to help take care of, that I want to be a blessing to, and that I want to serve in my life.
The things I put there FIRST are the ways I can make sure I really am prioritizing health and sanity, and taking care of my mental health.
One of the things that I started doing at the first of the year that I hadn't been super consistent with is the relationship piece. I'm now making sure I put that piece in when I'm figuring out what I want my schedule to look like for the week.
Ask yourself:
What is my main priority?
What are the things for me that are non-negotiable?
What are the things that really, really matter?
Am I living my life as if they matter?
We can say they matter, but if they don't make it into our actual lives, then we're really not living up to the things that we say actually matter.
What are your big rocks?
What are the things that are the big things that you want to make sure you focus on?
What do you want to make sure you pour your energy into?
How can you add those to your life first?
How can you take your calendar, or your planner, and put those things in first?
Somebody asked me the other day why I put sleep in my calendar. Because sleep is really, really important, and if I'm not taking care of myself in that way I start to suffer, and the people in my life start to suffer.
I put things like sleep, make a healthy dinner, and go to the gym and lift weights. I put my church time in there. I put my quiet time. I put all these things in my actual calendar first.
I run two businesses from home, and the things that I put in my calendar first are the ways that I can make sure that I'm fit to serve. Those things give me the energy and vitality so I can do the things I really want to do.
2. Decide who matters most
This is where I was finding that I was lacking a little bit, and not out of not prioritizing the other person, For us, we were just trying to make sure Tom Tom was ok. He has taken priority, obviously, as it should be.
The thing I want to remind you of when you're making your list of who matters most, is not to throw a bunch of guilt on there. Stevie and I have been doing the best we can. We've been taking really good care of him. We've been taking good care of our other kids. We've been trying to take good care of each other. We're doing the best we can.
We want to look back with kindness to the season that we've been in.
We're all in different seasons, and we want to look with kindness to the season that we're in, and just give ourselves a little grace, and a little bit of a break. We're all doing the best we can.
When we think about who matters most, this may seem obvious to you. Of course, it's my spouse and my children, it's my faith, my relationship to God. It's the people in my community. We all would probably say the same things.
Here's my question. Is that actually how we live? Do we live as if those people and those things are really important to us? How do we know?
It shows up in the way we spend our lives, the way we spend our energy, the way we spend our time and our resources.
I think what happens to us if we're not careful, and if we don't do this with some intention, is that we end up spending time trying to please, or arguing with people we don't even really know on the internet, sometimes to the neglect of the people we actually love and want to be spending our time with.
How are we actually spending our time? Are we spending hours a day scrolling through, reading about people's lives that we don't even really know, or are we really investing in the relationships that we know we want to be investing in, that we know matter most?
One of the things I've been doing that really helps me is to pick a person of the week. You could pick a person of the month or a person of the day. I tend to do this by the week.
I kind of try to figure out whose birthday it is, or who in my life really needs my love and attention right now. Then I write it on my actual calendar, and for that week, I really try to be super intentional about how I love on that person.
It's so easy for us to take the people for granted that we love the most. It's actually almost always the people who we love the most that we take for granted.
I know that a lot of times for Stevie and I, we will have a busy week, taking care of all the stuff we need to take care of. He's doing his medical practice. I'm running my businesses from home. We've got Tom Tom, we've got our other kids. We have all the responsibilities that two people building a life together have, and sometimes the only pause I feel like we get is when we're at church together.
It's almost like we both just kind of collectively sigh, and he'll put his arm around me at church and rub on my shoulder. It's a moment of, "Oh yeah, this is what really matters." I want to build in more times like that.
We've been trying to be more intentional about how we can spend time together, how we can connect, even in small moments like moments together at church, or taking a hike together. Like the trip we took together. Really prioritizing what we say is important, and not just saying it's important.
3. Decide when you will focus
In my coaching program right now, Life Mentoring School, we're talking all about how to create pockets of focus.
Decide when you'll have your focus time each week and decide what the most important things that you can put into that time. Planning that time will really help move you toward the life you want.
Maybe it's a goal. Maybe it's a relationship. Maybe it's some dream that you have that you've been wanting to do.
Set aside time to do it, and decide when you're going to do it at the first of the week. Then put it in your actual calendar. For me, that's almost always those two hours in the morning before anybody else gets up. I call it my dream time, my sacred time.
I have gotten so accustomed to that time that I can barely stay in bed. I look forward to that time that I know I'm going to spend doing something worthwhile, making some dream come true, working hard at something that's really important to me. I want you to figure out when you could do that.
Be ready! If you're not used to sitting for two hours and doing something, you're, or for however long you decide your focus time is going to be, you're not going to be great at it at first.
You're going to get restless.
You're going to want to be distracted.
You're going to work for literally 30 seconds and think, "Yeah, this is not as much fun as I thought."
It's not that easy to sustain focus and to do something that really matters to you. You're going to have to practice. You're going to have to be willing to be bad at it for a while.
I know when I first started doing this, I thought, "Man, where has my attention span gone?" I had set aside two hours, but literally after three minutes, I'm was thinking, "Okay, I don't know if I can do this."
So just expect that it's going to take you a while to be able to get into the groove of really creating some focus time where you can do the things in your life that really matter.
There's a secret in life: What you focus on, that's where your energy go.
Even writing it down is powerful. Even if you do terrible at it the first seven times you try to do it. Just continually create that pocket of focus, where you're going to spend some time working on the things that really matter to you.
Maybe you know you need to write a book.
Maybe you know you need to get your health in order.
Maybe you're working on your finances.
Whatever it is, dedicate some time every week where you can really focus on that.
There are a lot of things that I have in place to make that time really precious to me, and make it the most productive part of my day. But if you haven't been in the habit of doing it, I just recommend that you set aside at least two hours a week and focus on what really matters to you.
We're going to decide what to focus on, and we're just going to write it down. We're going to decide who matters most to us, and then we're going to give ourselves these pockets of time where we can really do the things that matter.
We as women, we as doers, we as dreamers, we really do want to help. We sometimes get lost in doing things for people, in spending our time in ways that are not actually congruent with how we want to be doing life.
It's never too late to start. I'm so excited that we get second and third and fourth and millionth chances. So don't tell yourself, "Oh, I'm not good at this. I'll never find a way to be focused and make my dreams come true." Yes, you will.
You just keep starting, and you let yourself be bad at it for a while, and then pretty soon you find that you're consistently showing up for yourself, and you're consistently showing up to your life in the ways you really want to.