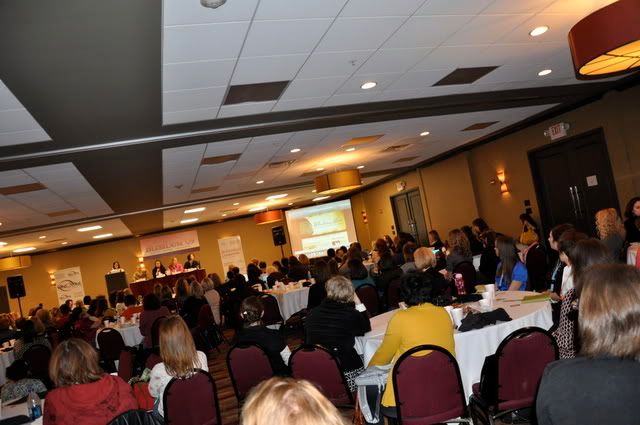 For those of you who couldn't attend Blissdom but who are interested in becoming a better blogger/writer, here's a few things I learned:
 Are you a daily blogger?  A twice a weeker?  A twice a monther? No matter what that rhythm is; try to establish one and loosely stick to it.  People like knowing what to expect when they come to your blog.  I have found that in my short blogging history, I already have fallen into some sort of rhythm….without intentionally doing so.   I usually post 5x per week.  On Mondays, I have often posted prayers.  On Tuesdays, I've done food.  On Wednesday/Thursday, I have tackled more serious topics like theology or homeschooling.  I have posted lots of pics on Friday or participated in link parties and on the weekends, I often do book reviews or decorating extravaganzas.  
I think I will try to be a wee bit more  intentional and try to loosely follow my own rhythm more often.  That said, I have ADD and am very spontaneous…..so just as soon as I commit in my mind to doing food on Tuesdays, I rebel and say to myself "Well, what if I don't want to do food this Tuesday….or what if  I do something exciting on Tuesday and want to blog about that instead?"  Long story short, it's my blog, right?  So I can set some kind of writing schedule and then change it when I want to.  Would you like knowing that if you came to my blog, say on Tuesdays, you would always find a cooking tutorial or a recipe?  What do you think about rhythm?  Do you like reading blogs that are very predictable?  Would you consider setting a schedule or rhythm to your writing?
This was the hardest one for me?  What do you want your blog to be about? What are your passions?  Find your 'niche' and go with that.  The trouble is, I am passionate about way too many things.  I can't write 87 different blogs; one each for theology, homeschooling, decorating, books, my children, cooking, gardening, andsoon.  I am not a niche blogger.   I have a style that's much more like The Pioneer Woman……a little bit of this and a little bit of that.   I think that's okay as long 'as you stay true to your voice', as we will talk about soon.  
So what do you think?  Do you like niche blogs better?  Blogs that are committed to one thing; ie…..The Nester is a decorating blog.  I love her blog and I love knowing that she's committed to decorating.   And since we're on this subject, let me just tell you….she is darling in person.  She's is warm and friendly and kind and beautiful.   The kind of person  with which you have instant rapport.  With the cutest black cocktail dress that you want to borrow.  But I digress.  I still think it's okay not to have a niche.  I'm curious about your thoughts on this though.  And how in the world would my ADD self ever stick to a niche.  I just couldn't do it.  But then again, I'm blogging to write.  And I love writing about all the things I love.  If your purpose is to sell ads and make money, then you may need a niche.  But I have a feeling PW woman is doing just fine.
This one sounds esoteric but I think I get it.  Be true to yourself.  If you've let your readers get to know you, they know 'your voice'.  Which thankfully is why when my email was hacked into, people didn't send money to England.  They know my voice.  And I don't say 'Best Regards'.  People are forgiving on grammar and niche and rhythm if you're true to who you are.  So apparently, I can keep on leavin' the g's off the ends of some words,  because I tend to write like I talk.  Unless I'm writing a more serious piece then I tend to be more serious about language as well.   But of all the advice that I got, I felt that this one comes the most natural.  Just be who you are. 
Think about your blog.   Have you let 'your voice' come through.  Are you true to that?  
This one I think, is a combination of all of the above.  This is where the title of your blog comes into play.  Does your title and tagline,  "lifeingrace. living a dream we don't deserve" , tell people what they can expect when they visit your sight?  Is your 'brand' strong?  The Nester's sight, for example, The Nesting Place is a very strong 'brand'……and she's carries the 'bird' thing off so well.   Does your blog design reflect your brand?  I recently had a blog makeover and I think I like the 'brand' I seem to have now.  It's a blog about all aspects of  my life (hence the title).  I will tend to reflect thankfulness (title as well) and the whimsical design let's you know that I don't take myself too seriously. ( Unless I'm talking about lip gloss or lamps).  
Overall, I learned alot and made some wonderful new friends.  A few other tips I thought were important:
1. Take good pictures.  Use flicker or some other photo sharing service instead of downloading directly to your blog.  If you ever change to a different blog platform (word press or typepad), your pictures won't transfer if they're loaded directly into blogger.
2. Utilize social networks such as facebook and twitter.  I have to say that I've strengthened friendships with bloggers using twitter.  And I've seen some really heinous high school pictures of myself using Facebook.  Both of these I consider a plus.
3.  Don't be 'shy' commenting on blogs.  But don't be compelled to leave a comment on every blog you visit.  I tend to comment when I really have something to say.  I love reading all your blogs, but I couldn't read them if I always commented on them because it would take too long. And I thought a lot about how important comments are to us bloggers.  And does that change what we might write or not write?  I love your wonderful comments and it's been one of the most rewarding parts of blogging, but I don't want that to make me shy away from certain topics either.  Jen at Conversion Diary closed her comments during Lent last year to re-evaluate what priority they really had in her life.  I'm pondering that too.   So how are you affected by comments?
4.  If your desire for your blog is simply to share your life with family and friends that live far away, then ignore all of the above.  It's your blog.  You do with it whatever you want.  I started my blog for that reason, but it has become my outlet, my platform, to share my mind and my creative life with others.  So although I am a storyteller for my family, I also want to find ways to inspire others; to use my blog to 'serve my neighbor'.  And I think that implementing some of the above tips will help me do that more effectively.
5. I violate all blog rules about politics and religion and family privacy.  It's a personal decision and so far, my family approves.  I write about them because I love them.  I share 'our' story in the hopes of helping others or encouraging them with their own struggles.  I am careful to not cross 'the line'.  You know that imaginary line in the sand that we're all trying to respect.  So far, so good.
6. Some blogs are skimmable.  Some invite you to sit down and read a while.  In case you haven't figured it out by now, I don't have a skimmable blog.  And I'm okay with that.  I find that I like blogs that are more personal…without a lot of ads and clutter….and in general ones that don't open with music. (I love music but I'm too distracted by it to read, so I always turn it off)  I tend to read blogs where writers are sharing their hearts….and not seeking higher stats.  I plan to keep mine pretty much the same.  Personal. Whimsical. Informational. But not professional.  I guess you have to decide that one for yourself.
Hope you enjoyed my 'cliff notes'.