This post could also be titled, "Closet Organizing, for the Ruth in all of us." Or, "How I Finally Learned to Clean Out My Closet, at age 43."
Also? Don't forget to check out Part 2 of this post, where I share all my favorite clothes!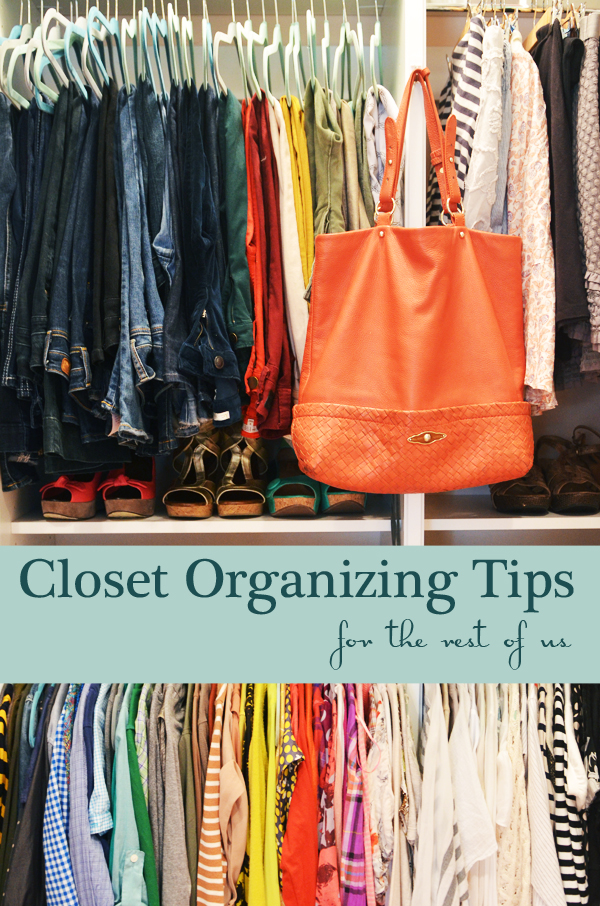 Organizing is not my love language, as my mother and sister can gladly attest. But I've learned a few things over the years of watching my sainted mother clean out my closet.
She's a pro. And I can at least pay attention.  It's almost as ironic as my post on making peace with your papers. It's been almost a month since I did this project and I'm happy to report, it's still looking mighty fine.
It's been a year and half since we moved in from our fresh, new rebuild after the house fire.  In other words, long enough for my closet to be a mess.  Last month, when we were all sick and thought we were gonna die, I stumbled into the living room in my bronchitis, viral, fever-y stupor and said,  "Girls, turn on the t.v.  and find a documentary."  They nearly fainted and scurried to find the 47 remotes to try to figure out how to turn the t.v. on.  (As a side note, I NEVER turn the t.v. on at our house, partly because our home is our school and secondly, because there are 47 remotes and turning our tv on reminds me of a pilot trying to initiate take-off.)  After that documentary, I told them to turn on another one.  They looked at each other, looked at me, shrugged their shoulders and watched three more.  After a few hours of this, my little one said she was bored and wanted to organize something.  I had just enough medication in me to think this might be a good idea.  So, off to land of clothes we went.  Here are some tips for how we did it.
1.  Purge 
Even after a short time living here, there are things I could purge.  (Mostly clothing people gave me after the fire that was ill-fitting but even a few things I bought myself that I never wear.)   I have a much smaller closet than I had in our old house, so that forces me to be choosier about what I buy and keep.  And don't we all wear the same clothes over and over again?  Try to figure out from those things you love what it is you love about them.  Is it the way they fit?  The color? And be brutally honest about the things you haven't worn and are likely not gonna wear.  Donate it to someone who will or decide if you can repurpose it into something you will wear and use.  I got rid of 3 bags of clothing and could probably have purged a little more ruthlessly.
2.  Stop Buying (as much)
I'm getting SO MUCH better at being very picky about what I buy.  I used to buy things on sale, just because they were on sale.  I buy WAY fewer clothes these days but probably spend more per item than I did before.  There are certain styles that don't look good on me and no matter how cheap they are,  it's not worth it if they sit in my closet and take up valuable real estate.  So be picky.  Be fewer things but invest in some pieces that are a good fit for you.  And come back this week for part 2, where I list a few of my favorite pieces.
3.  Take everything out.
And wear a mask.  It's a dusty proposition.  BUT, I'm so glad I took the time to take everything out and really clean the shelves and floors.  This is obviously time consuming but if you're like me and only doing this less than once per year, you owe to yourself to do it right. And trust me, I had a lot of shelving to dust.  I just mixed a little vinegar with water and used a microfiber cloth to really clean all the surfaces.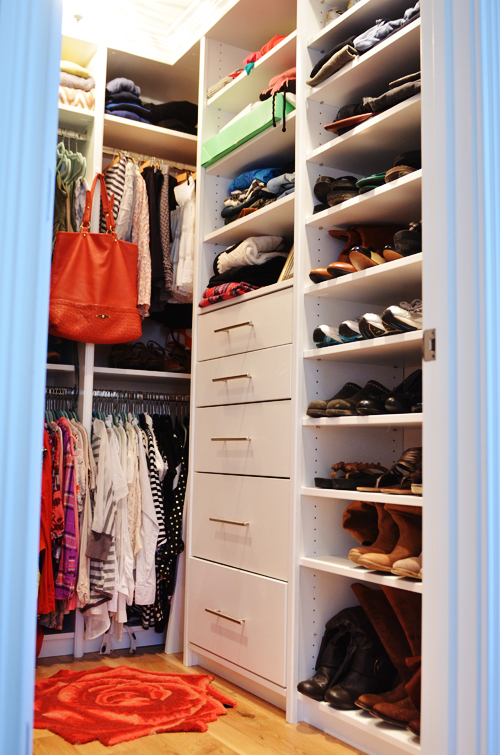 4.  Invest in good hangers.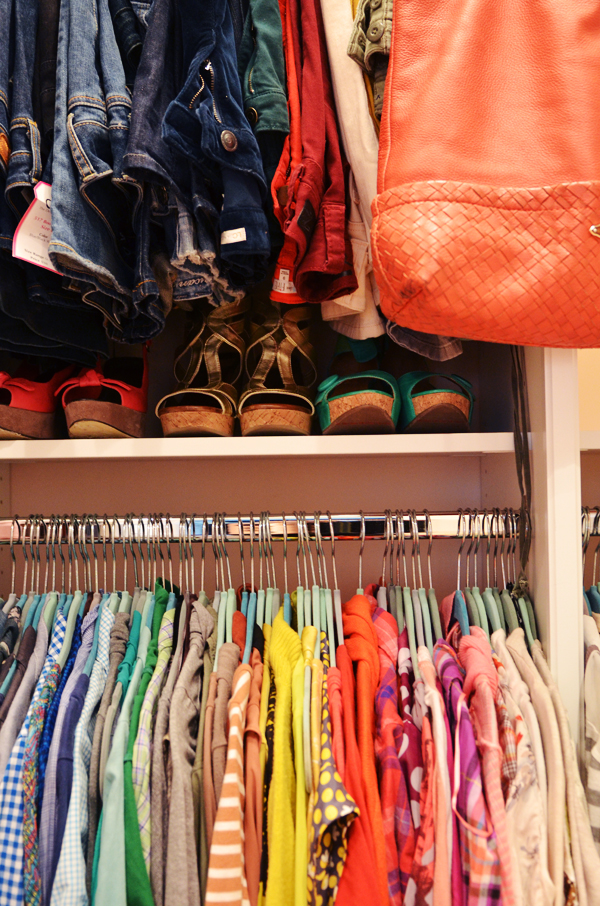 Even before the house fire, I had made the switch to good hangers.  Just do it slowly over time and eventually, you can replace all your white plastic hangers with felt or wooden ones.  I use wooden skirt hangers but for everything else, I use the felt/velvet covered ones.  Your clothes don't slip off and your clothes are less prone to wrinkle.  I bought mine at T.J. Maxx for pretty cheap but I saw that Walmart has them, too.
5.  Hang like things together by color
I love the rainbow closet.  It's so PRETTY!!  And it helps you see whether or not you have a predilection for all things tan and black.  Apparently, I like white shirts and blue jeans.  I like to say 'blue jeans' because that  reminds me of Leann Morgan's trip to 'The Ga-up' to buy some low risin' blue jeans.

But, I digress.  More on clothing in part two of this dazzling series.
6.  Don't let you ten year old talk into cleaning out your closet when you're sick……
Or have her sign an affidavit that she'll stay until the last shirt is hung.  Because she'll get a better offer.  And abandon you half way through to make duct tape crafts or read or some other such nonsense.
Amen.  And amen.
You'll find yourself sitting in a pile of tissues and tylenol and chloraseptic, drowning in  a room full of trinkets and stray belts that you don't know what to do with, cursing the very fact that you wear clothes at all.  You know that *point* you get to in every project where you just want to be done with it already? That's when you have dig down deep and find the eye of the tiger. Put on some good music.  Watch an episode of hoarders.  Do whatever it takes.  But finish strong and don't forget to display some cute things, like purses and cowboy boots, to make you space all the more inviting and fun.  Then, walk in there every 5 minutes for the next three hours to make sure everything still looks dandy.

Also, if you're building a house soon or want to add some architectural interest to your closets, try adding crown molding to the top and to the front of shelves. It's a fairly inexpensive way to make your closet have a boutique feel. I also chose a very inexpensive crystal light fixture to add some glam!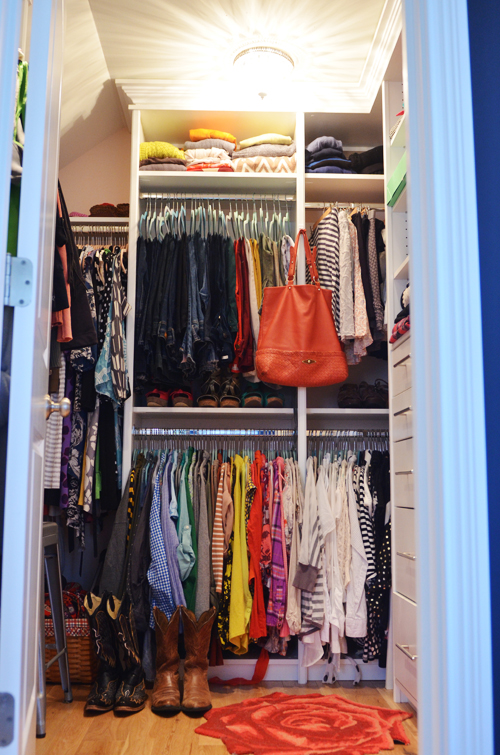 Now, all you organizing pros, tell us your favorite tips. Or at least tell how often you clean out your closet and if you keep it tidy. Inquiring minds want to know. Or at least this one does.