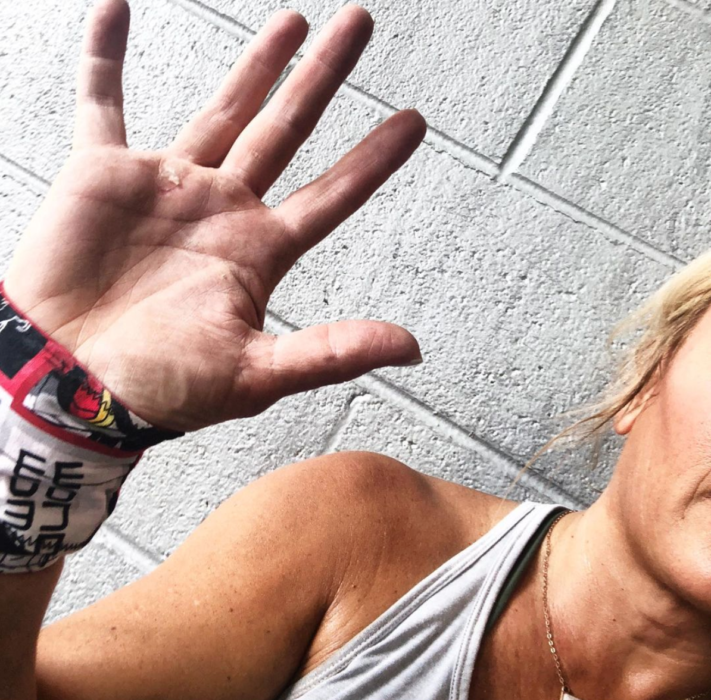 The more I learn, the more I read, and the more that I challenge myself to actually do hard things, the more I realize the amazing benefit and meaning that we get from choosing things that are hard or challenging.
Life is hard anyway.
It's going to be hard either way so choose your hard.
What I'm advocating is that you choose your hard on purpose so that later it can be easier.
What we like to do, and our culture is full of really amazing, fun, tasty ways to do this, is we choose easy now and then we end up with hard later.
What I have been learning is that the more we choose to suffer now, be willing to choose hard in the beginning, so that later on you can reap the benefits of that hard work.
For example, health changes are so hard to make. I've been doing CrossFit now for four years. Four years going very faithfully, working hard. I'm learning so much about nutrition, changing the way I eat, working on sleep. Sometimes there are blisters! Not easy!
The alternative is we just do whatever we want. We don't worry about it. We eat what we want. We don't move. We stay up all night. We don't prioritize sleep. Then we have all the health ramifications of that choice in 10 years.
It's going to be hard then. So choose hard now.
What feels like hard to make choices, better choices, to learn what our body needs and to move how our body needs to move, etc., choosing those sacrifices now, is a lot better than waiting on the hard and the sacrifice of ill health later.
You're going to sacrifice either way.
You're either going to sacrifice your health, or you're going to sacrifice your comfort right now. Choose to have it hard now, and be willing to do the hard thing now, so that you don't get all the consequences of choosing the easy way later.
This is true in your work life and in your relationships.
Choose to work hard and sacrifice now, get your education or whatever you need to do, so that later on you can set yourself up for being in the place you really want to be. Otherwise, you just do whatever you want now, and you're sacrificing your dreams. You're sacrificing your goals.
You are going to sacrifice. It's going to be hard. The question is, are you going to get what you want at the end of the hard or not?
It's so tempting to choose the easy way out. We all fall prey to doing this sometimes because it's easier, and because we can. Then there are consequences to pay.
Even something as simple as parking farther out in the lot. I've just trained myself now to park far out and walk a few extra steps. I remember a time in my life where I always wanted to get the closest spot. I didn't want to have to walk forever. But I trained myself to park farther to walk farther, choosing something that's a little harder now for a benefit later.
There's a million ways you can do this in your everyday life.
How can you choose something that's just a little harder now for what you really want ultimately. Can you sacrifice what you want instantly for what you want ultimately?
1. See it as part of a bigger picture.
I remember when I first started working on my past, it felt so daunting, so hard. I came into adulthood with some victim mentality, resentment, and some beliefs about myself, and about the past, that were not helping me. I was making my life way harder than it needed to be. When I started writing my book and writing things down, it felt especially daunting.
What I began to see is if I stepped back and I looked at the big picture of things, I could see it differently. When you're looking at something and you're right up on it, it's hard for you to get perspective. I kind of stepped back and looked, and what I found really surprised me.
I found that my brain had been focusing on everything that was negative, but there were so many amazing things. There were blessings everywhere I turned in my childhood. There were people who loved on me. There were experiences that I wouldn't trade for the world. There were ways to look at it that brought me so much joy and laughter when I finally allowed myself to see it in a different way.
A lot of times we hold on to this story that we're telling ourselves about this hard thing. We're really tied to the story. I was so tied to the story that my childhood was hard, and that I was fatherless, and I didn't get what I needed.
When I let my grip up on that story, and I was willing to see it in a different way, I realized I was given such an amazing blessing in my childhood. I wouldn't trade it for the world. I had an amazing, priceless, very difficult childhood, that caused me to grow into the person I am.
If you're willing to see whatever you're going through as part of a bigger picture, when the way you see it changes, the way you feel about it will change.
Loosen up your grip on the story you're telling yourself about this thing. Be willing to reinvent your story.
I teach my clients in life mentoring school to go on a treasure hunt in their past. I want you to go on a treasure hunt in that hard thing, that thing in your life that you feel is so difficult and challenging. If you open up your heart and mind to it, you will see everything there that is beneficial, everything that has been good for you, that has changed you and made you into the person that you are today.
2. Set your intention to grow from the challenge.
Just decide that this is going to be for your benefit and growth. Just decide it. I love reminding myself God is for me.
He loves me.
He's for me.
Everything in my life he does, and he allows, because he loves me and he's for me.
I want to begin to see it that way too. I want to set my intention that no matter what happens in my life, I'm going to grow and develop from it. I want it to make me stronger and more resilient.
You'll notice the more you begin to see challenge and hardship and sacrifice and suffering through these eyes, the easier it gets. I promise you. Doing this intentionally for the past several years, I find that not very many things feel that hard now.
I've trained myself to see hard things as just another way to grow, another way to change, another way to become more resilient, to become stronger, to become the person I was actually created to be.
When you start seeing things like this, it's almost as if, instead of resisting the hard thing, you just start to welcome it. You embrace it.
Bring it because I'm going to grow from this!
This is going to change me!
This is going to make me stronger!
This is going to make me more resilient!
I've found this the most challenging in the last couple of years with Thomas, because he can be a very high spirited little mustang to deal with. When we first brought him into our home, I would find myself at odds with him a lot of the time. I would think to myself, "I know I'm better than this. I know surely I can outsmart him, and I can figure out a way to motivate him and encourage him. This is so hard!"
A couple of mornings ago he had a full on meltdown, said he wasn't going to school, laid right there by the door, and hollered and kicked. In times past he and I would have gone back and forth about it. "You've to get in the car!" "No, I'm not!" 
But I've changed my attitude about him. I've started looking for ways that he's funny and adventurous and challenging. I've started asking myself, "Can you rise to the challenge?"
I decided to have a kind of playful attitude. He was melting down, and I just got into the car and drove down the driveway, like I was driving off. He watched me for a few seconds and the he started to chase me. I started going a little faster and then he started laughing! We raced to the end of the road and he got all of his frustration out and we had a great rest of the morning.
You can continue to see this relationship, this job, this struggle that you have, as a struggle, and you can just war against it, or you can ask yourself, "How can it change and grow me? How can I see it differently? How can I approach it differently? How can I not be angry in the morning and just decide that it's all okay?!"
I don't know if I'm winning any parenting awards, but what I want to tell you is let the hard things do their work on us. This is our curriculum. Thomas is currently my curriculum. I think it's sometimes way more about how it's changing and growing me, than how it's changing and growing him.
3. Seek like minded people to be in community with you when you're doing hard things.
This is true for all the times, but especially when you're in hard seasons.
It's so much easier together. It's so much easier when we remind ourselves that there are other people in this with us. I't easier when there are other people going through hard things, and even way worse things, but we can be there for each other and support each other and speak words of life over each other.
I just love that concept of being willing to show up for each other. Sometimes I feel like we're so busy critiquing each other, and comparing ourselves to each other, and judging each other, and resenting each other, that we forget everybody's fighting a hard battle and we need each other.
If you don't feel like you have the community that you need for your hard thing you're going through right now, you know how you create it? You show up for other people. You be there for them. You be willing to take the first step. You be willing to create the connection. You be willing to create the community.
At the gym this morning we did a really hard workout, and after we finished, our coach started doing the workout by himself. Now the only reason I made it through it was because I had a partner, and we were pushing each other and doing it togther.
I suggested we all do the last round with him, and all the people who were still there, put their bags down, and did another round to cheer our coach on.
Everything feels easier, and everything feels lighter when we do it together.
I know that life is crazy and hard and we've had a crazy year. You're probaby feeling like, yeah, this has been a hard season. But we make it harder on ourselves when we add on top of that resentment, and making ourselves feel like a victim, and blaming other people, and all the things that we heap on top of it.
Instead of doing that, would we be willing to see it differently? Would we be willing to let it be our curriculum, to let it soften us, to let it change us, and mold us and make us into who we could be?
Would we be willing to seek out community, to be there for other people in their hardship and really support them? Would we willing to be there for each other, to do hard things with each other, to bear one another's burdens, to rejoice with those who rejoice, but to weep also with those who weep.
I hope you will make it easier on yourself with these three little tips. I hope you'll reach out to somebody today. There's somebody in your life today that's really struggling who could use your touch, your word of encouragement, you cheering them on, you jumping in to do the last round with them.