I posted this on Instagram this past Friday and was blown away by the number of comments, texts, emails, etc about all our #oldladyproblems associated with being 40-somethings.  So, I thought I'd share a few thoughts on the subject! (If it's any consolation, I like my 40 year old self way better than my 20 year old self.  I'm way more interesting now, despite the fact that the body can't keep up as well!) My favorite line about the 40's, borrowed from Toby Keith and my father in law?
I ain't as good as I once was, but I'm as good once as I ever was. ~Toby Keith
Here's my advice for staying and feeling young and vibrant and healthy:
Learn something new

—Are you bored with your life?  Are you tired of the same old/same old routine?  Then, do something about it.  It's never been easier to learn something new.  It keeps your brain from checking out and operating on autopilot.   Surprise yourself and sign up for a class or check out a big stack of books from the library.  I took quilting workshop this Wednesday with Anna Maria Horner and it was a dream come true for me.  Was I a little nervous? YES! But mostly just excited to be around someone who is overflowing with gifts and creativity.  I also love to cook and write and use social media for good so I take classes on those things and try to always keep learning. Reading is my favorite hobby and you can find some of my favorite books here.

Sweat More

—Now,  you're free to decide how to get your sweat on.  I'm not the boss of you.  But,  there is nothing like working your body hard enough to be drenched in sweat.  And guess what? Besides the fact that your knees and joints ache, you'll feel like you're 20 again. I've been running since I was 20 years old and now it requires SO MUCH high maintenance prep work to even get out on the pavement. I need the right shoes, the right orthotics, the perfect headphones, the perfect playlist, bubble gum, KT tape and about 6 different essential oils.  BUT.  It's so worth it.  I feel like myself when I'm exercising.  Your body needs to move.  So move it, baby!

Get More Sleep

—This may be the VERY most important advice I can give you.  YOU NEED MORE SLEEP.  Period.  Go to bed earlier.  There's an old wive's tale that says that every hour of sleep you get before midnight counts double.  I believe it.  You know that first wave of sleepiness you feel around 9 or 10?  Listen to it.  Be ready for bed by then.  Don't watch just one more episode.  Jack Bauer will be there tomorrow, I promise.  I don't think I slept through the night in ten years until I started using Young Living's amazing oils and products.  Most night, I use Lavender oil in my diffuser or a dab under my nose and sleep LIKE A BABY.  I also love Natural Calm (a Magnesium powder supplement) and love the way it calms my restless legs.

Pursue something creative

Want to know why people are drawn to musicians and artists?  Because unlocking the creativity that lives within you is makes you come alive and we are drawn to people who are fully alive—people who have the courage to be vulnerable and to peel back the layers that are covering their truest selves.  It's downright irresistible.  So use it to your advantage.  Want to be more beautiful?  Tap into the well of creativity that lives in you and people will see you differently. They will notice how your eyes like up when you talk and how passionate you are about what you do.

Drink more water than you think is necessary—This is key to so many processes in your body. Your skin needs it, your hair needs it, your gallbladder needs it, you get the idea.   Get a cute water bottle and keep it with you at all times.  This is my favorite one and I love a drop or two of lemon or grapefruit oil in water to help cleanse my body first thing in the morning.  You will drink more water if you get in the habit of using a water bottle, I promise.
Eat food that is as close to God made it as possible—Lots of vegetables, fruit, lean meat, eggs, good fats, and less of all the stuff in the center of the grocery store.  I used to always draw a picture of the grocery store for my patients and tell them to shop 90% from the perimeter.  The processed/boxed/canned/packaged food is all in the center aisles so be very choosy about what you buy from there.  And then cook your own food.  It's so therapeutic if you stay at it long enough to get pretty good.  It's a change of pace from your regular work day.  Put on some good music and chop and sauté until your heart is content.

Use less pharmaceuticals and more supplements

—I am currently retired from medical practice, but when I did work, my goal was always to get folks off 90% of the meds they were currently taking.  I know there are some things that require pharmaceuticals, but not as many as you think.  And doctors can be the worst at perpetuating our overmedicated society.   That said,  I'm all for supplements and have even recently started some bio-identical hormone therapy for my waning hormone levels.  I'm about 10 weeks into treatment with the Sottopelle injection and I'm loving it. I'm also using some bio-identical compounded progesterone cream as well.  I feel like a MILLION BUCKS. No, wait, I feel like a 20 year old with a MILLION BUCKS.  And I no longer want to cyclically hurt people, which is certainly a plus. I feel like myself again, like things are right in the world.  I have that sense of well being back that had been lost for the last year or two.  Don't wait until you're completely miserable to have your hormones checked.  Do it soon, my dear 40 somethings!  Also, I'm always on the hunt for the next best thing in supplements, so currently I'm taking  a few Isagenix cleansing products,  Fish Oil, Probiotics, Vitamin D3, Magnesium (Natural Calm before bed is the best supplement I've ever tried for relaxation, sleep, prevention of grinding your teeth at night, etc)  There are tons of other supplements and I'm always reading about them and experimenting with them.  Nothing beats good food, though, so don't rely on meds or supplements to fix a horrible diet.
Laugh more and quit taking yourself so seriously.  Nothing is more depressing than someone without a sense of humor.  Life is hard, yes, so all the more reason to ease the burden with laughter.  I went to lunch last week with my girlfriends and they nearly ran us out of the restaurant because we were having way too much fun.  Schedule a date with your funniest friends and laugh until you cry!
Put a little effort into your appearance—I feel slightly dishonest saying that because I get ready in approximately 20 minutes.  I'm faster than most guys.  BUT.  It's important to take some pride in how we present ourselves to the world.  Beauty is important to all of us.  It's not an afterthought.  It matters more than we would like to think.    And, it doesn't have to break the bank.  A few small changes can go a long way.   Get a new haircut or some highlights.  Find a few pieces of clothing that make you feel pretty.  Whatever you do, get some jeans you love and that fit you perfect!  I've been using StitchFix styling service for 7 or 8  months now and I'm totally loving it.  You get five new items of clothing to choose from every month and if enough of your friends sign up with your referral code, you can get them free!

If all else fails, get a spray tan

—Didn't lose that 5 pounds before the summer wedding?  Get a spray tan.  Feeling bloated and miserable the day before vacation?  Get a spray tan.  Celebrating the big birthday and nothing fits right? Get a spray tan.  This is not a word of a lie—a spray tan is a temporary but glorious fix for whatever ails you.  You will feel younger and healthier almost instantly.  And your honey will be very intrigued about your dewy glow.  VERY intrigued, indeed.
I love this quote from the book Captivating, because nothing is more attractive than a woman who makes herself available in vulnerable intimacy to others.  Giving is the hallmark of beauty.  That means that you are some of the most beautiful women I know.  Thank you for so freely sharing yourself with others.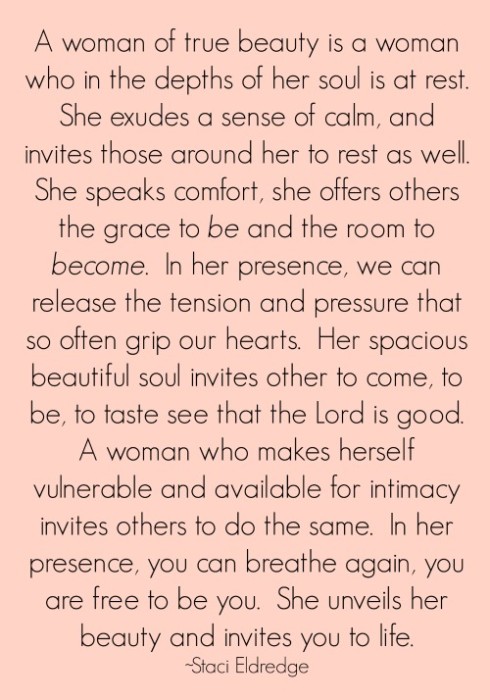 Okay, what are your secrets for staying young?  I've got pen and paper in hand, but talk slow because you know, the arthritis and all.