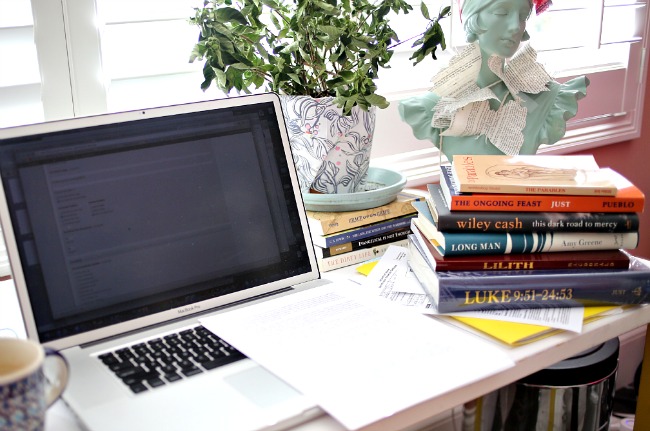 Since we took a break from homeschooling this year and my girls are at a Classical School, I've had to figure out what to do with my time during the day.  I DON'T do it all and for everything I say yes to, I say no to twenty more things.  I am loosely organized with my time and try to stay home about 3 full days a week.  The other two days, I do more chores, errands, meetings, lunches, and then work from home in the morning or afternoon.  This sample day is a day I work from home all day, which has been a challenge for my extroverted self.
(You will often hear music playing while I work but you will never find the tv on. As a result, I never know what's going on in the news or in pop culture.  Stevie keeps me informed enough to keep me from embarrassing myself!  (My girls asked me the other day if I had heard of the show The Voice.  That's how bad it is.)  But we can't all be good at everything so I've had to let current events go.
(I have heard enough about the show on Preppers to realize that if there's one thing I should be stockpiling, it's most certainly  hair color.  Heaven help us if I run out of that.)
5 am
Wake up without an alarm (because early rising is in my blood)  and tiptoe into the living room, so as not to wake up the (very smelly) dogs.   Check email/blog comments and answer as many as I can in about 20-30 min.  Inevitably, said smelly dogs start to wine and want to join me for my very peaceful morning hours.  Hank tries to sit on the sofa and I shoo him away, so he takes the nice upholstered chair instead.  Let's pause and take a moment for Hank.  He's the biggest, smelliest, fluffiest doll baby ever.  I try to combat the smelliness by using my favorite diffuser reeds on him, running the wooden sticks right up his back.  Works pretty good up to a point.  It's even worse in lake season because there is no cure for wet smelly dog, no matter how resourceful you are.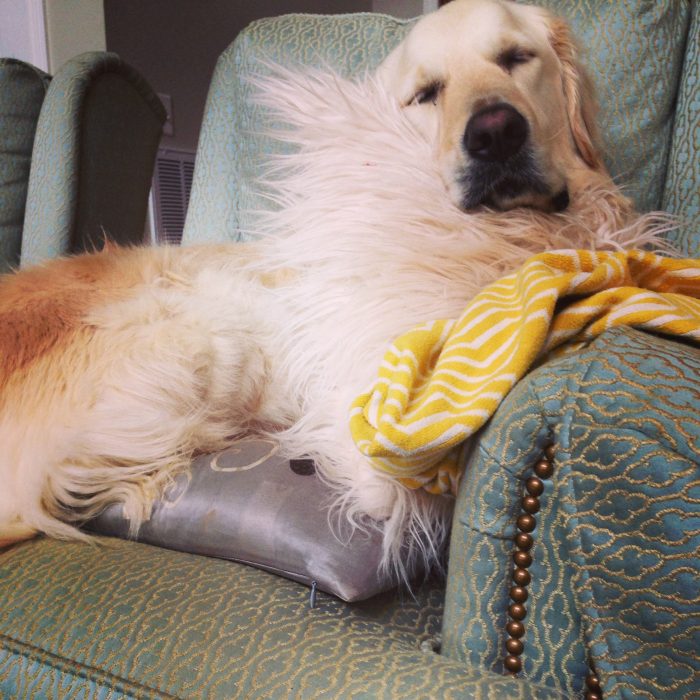 5:30-6:00  I use the Pray Now app for morning bible reading/devotions.  I can't say enough good things about it.  I love it more and more as the years go by. Every day, there's an psalm, OT reading, NT reading, prayer, and writing from one of the ancient church fathers.  You can get it in book form too, called the Treasury of Daily Prayer.  The readings are paired to go along with the church year and also to complement each other.  If it's a saint's day, as in today, which is St. Patrick's Day, there will be a writing from that father as well and a brief story of their life. During Lent, there's also a short Lenten catechesis teaching taken from the Small Catechism.  It is THE most wonderful devotional resource I've ever used.  You can get it in book form here or download the app from iTunes.  It's the best $8.99 you'll spend this year, I promise.  When you open the app, it automatically opens to the right day but you can use the calendar function to find any day's devotion you'd like.
6 am
If it's a day I'm doing a blog post, I usually work on the post for an hour or so.   I often start  posts in my drafts and then work on them for a week or two or a month (or 6 months) before I post them.  I try to keep an editorial calendar but often I find that my natural tendency and rhythm can't always be tamed by a schedule.   This morning, because I know I'm posting Day in the Life, I'll spend probably 2-3 additional hours today working on it before it gets published, but I'm so glad I've at least started it.   I like working ahead like that so that I trick myself into how much actual time it takes to do a post.  (It takes a long time, no matter how I try to lie to myself.)
7am
Get ready for my  run, girls come downstairs for breakfast, and we talk through what we have going on today/this week.  I normally have a protein bar or protein shake and the girls eat a rotating breakfast of  turkey bacon, oatmeal, bagels, and waffles.  I steal all the leftover turkey bacon.  Then, I take my handful of supplements (that's another post!) and drink a couple glasses of water.  (A runner must hydrate.  I use the word runner with air quotes and wonder if I'm doing a disservice to runners everywhere by calling myself one?)
We leave for school about 7:20 and the girls read the psalm for the day aloud in the car (from the PrayNow app) and we say the Lord's prayer together.  Then we talk and laugh and I usually go into some schpeel about loving your neighbor and being kind and avoiding girl drama at all cost.
8am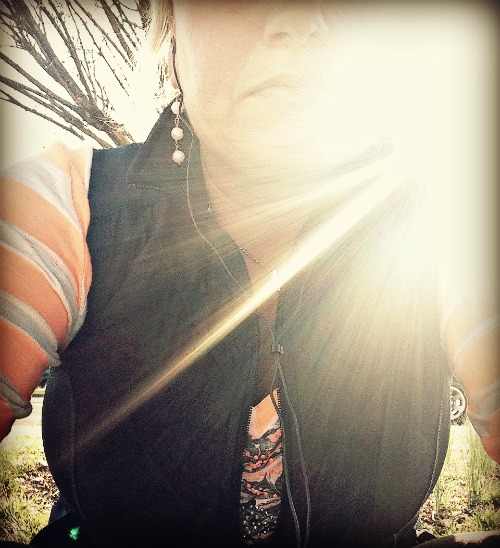 3-4 mornings per week, I go for a "run"  with a heavy emphasis on the quotes.   And by that I mean, I run a little, text a little, stop for water, stop to stretch, run a little more, come up with ideas for writing so stop to dictate them, and finally finish the complicated ordeal that is the middle aged 4 miler.   It looks like pretty soon I'll giving up running for power walking at the mall.  I never leave home without my tunes, some jewelry, and my favorite hat. Why exercise without pearls if you don't have to?  I've actually had a really tough year physically.  I still feel like I'm recovering from my torn calf last year and I haven't been able to make any real headway with my running.  I really want to run the Country Music Half Marathon again but I don't know if I can be ready by then.  I just keep trudging along, trying not to lose any more ground.  I've gone through seasons where I weight train and cross train, but for now during this season of writing, I hold on tight to a few runs a week, more for my sanity than anything else.
9:00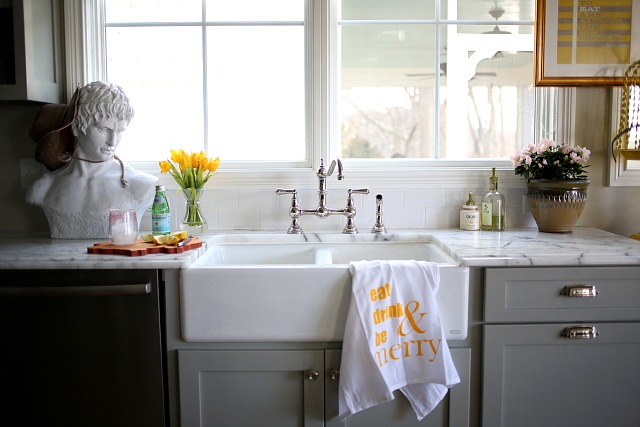 9:00-9:30  I do house chores as quick as I can do them because life is short and who wants to clean house all day? I work fast like I'm in it to win it and do things like make the bed, tidy the kitchen, clean a bathroom or two, vacuum the high traffic areas.  I really would like to hire help and as soon as my income warrants it, I probably will, but for now I do all the cleaning around here—usually in fits and starts and never as thoroughly as I'd like.  It always looks picked up and nice and I open the doors and windows a lot to let the fresh air make up for my lack of strenuous cleaning on my part.  I have a schedule (mostly in my head) that I follow for cleaning but it's nothing fancy and I don't stress if I don't get it all done.  I'm a stickler for clean and cleaned off counter tops and I like our master bath to shine.  I'm in a constant battle with books in my office, but I've finally (mostly) tamed our papers, so that's a huge relief.
I've grown to love the menu plan over the years,  to ease the general wailing and gnashing of teeth that occurs in hungry children at approximately 6:00.  If I'm doing a soup or a crock pot meal, I get that started in this little window of time.  I also throw in a load of laundry.  After about 30 minutes, whether I'm finished or not, I make myself move on, otherwise, I'd never get my blog work done.
9:30- 10:00  Shower and get ready.  Can we just take a moment right now to say how much I loathe the getting ready portion of the day?  It seems like such a complete waste of time.  And I've gotten it down to a science and can do it quicker than most men.  But still.  Also, I listen to podcasts while I do my hair and make-up and that makes it feel a little less my life is passing right before my heavily made up eyes.
10:00-12:00
This chunk of time is usually devoted to blog writing.  If I'm done with a post, this is usually when I publish it. Then, I spend a few minutes on Facebook, Instagram, and Twitter to let you know I have a new post.  I spend the rest of this time on starting other posts,  brainstorming for future content, developing and photographing recipes, working on house or DIY projects, etc.  I do all the things that bloggers do to keep the creative and original content flowing. Some weeks, I have so much going on and so many ideas that these hours are magical.  Occasionally, I feel like the well is dry and I spend the two hours reading a great book or cleaning or gardening.  I listen to a lot of podcasts, so if I'm doing something that doesn't require quiet, I'm listening to podcasts.
12:00-1:00
Lunch with Stevie.  He comes home everyday for lunch and we usually have sandwiches or leftovers.  Like Nester, we LOVE cheese tortellini soup leftovers or ANY soup leftovers, for that matter.  Occasionally, I'll have book club or lunch with a friend or volunteering at school, but most days, we're both home for lunch and we chat a little when he gets home and then do our news reading while we eat.  (He actually reads news and I read blogs.)  Sometimes, on Fridays, we go out for lunch and I love that too.  We catch up, talk about the kids and projects we're working on and how many purple martins he's spotted in town.  But the every day working lunch is my favorite.
1:00-3:00
This is my time to work on bigger projects like writing chapters, or articles, or longer blog posts.  I try to resist doing chores during this time and I often keep my phone in a different room.  I try to get into the zone because I have SO many ideas floating around in my head that I fear I'll lose them if I don't get them down.  I'm always looking up passages in books I love or in the Scriptures.  I'm literally surrounded by books and depending on what I'm working on, I need them very close.  When I did a series of blog posts on vocation, I read everything I could get my hands on about it and then try to write about it from my unique point of view. I wrote an article for our church body's publication called the Lutheran Witness and it ended up being the cover story for March.  (I will post the pdf soon!)
3:00-5:00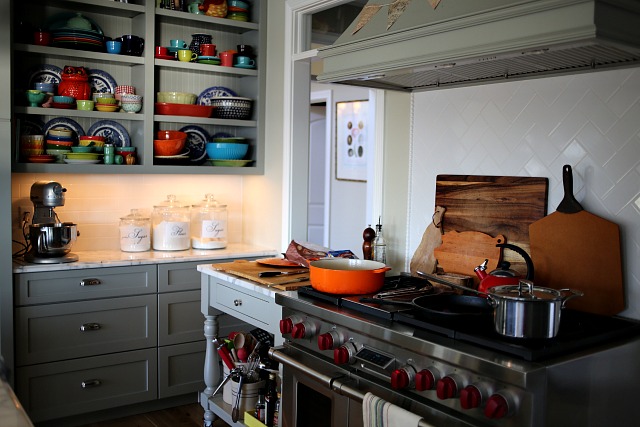 3:00 —I pick up the girls from school at 3 and then we head home.  They start on homework and I start on dinner.  I listen to podcasts (are you starting to see a pattern here?) or pandora and play on social media while I'm getting dinner ready.  Tonight we're having corned beef and cabbage soup so it'll be an easy dinner night.  I usually have time to actually sit on the sofa and read, which is always a treat!
As far as podcasts go, I love Tsh's podcast (she just recently interviewed Susan Wise Bauer!), Pastor Paul Buscher's sermons (my pastor) (he hits it out of the park every Sunday, with Christ centered Gospel preaching, Pastor David Petersen's sermons (very literary, more intellectual preaching and brilliant!), all the podcasts from the Circe Institute (mostly Classical Education but SO helpful for parenting and living), and then nearly EVERY hour of broadcasting by Issues, Etc (they cover theology, current events, culture and the show has been THE most important tool in helping shape how we think about the world.  I HIGHLY recommend!)
6:00-8:00
Supper time and any extracurriculars that we have going on.  Tonight we have tap dance and I'll probably do some reading or visiting with friends while the girls practice.  I also scan social media during this time and try to read/answer comments from the day's post.  We almost always are able to have dinner together and that makes momma happy!
8:00-10:00
Girls are getting in bed/ready for bed.  Stevie and I sometimes watch a show or two and then I head to bed. I'm usually finishing things up on my computer while we watch.
I always use Natural Calm (a natural magnesium supplement) at night and I swear by it.  I'm a restless leg, teeth grinding sleeper so this helps me so much at night.  Stevie monitors whether or not I've taken it, because otherwise, I'll be thrashing and grinding all night and neither of us will sleep well.  I try to read for a half hour or so before bed because nothing puts me to sleep like a good book.
So, there you have it.  A day in the life of a blogger/writer trying to carve out space to do what she was made to do.
(Side note:  Most of my intensive reading/writing takes place on the weekends when I have larger blocks of time.  We try to keep our weekends low key.)
I came up with this self imposed schedule because otherwise it'd be so easy to squander the days away.  And sometimes, I do that too.  But, I'm learning to cherish these pockets of time that I carve out to do my work.  They are important because this is one of the ways I am called to serve my neighbor.  I always have her in mind when I'm doing my work.  This is important because this is for her.   Knowing that gives me strength for the hard days, when all I want to do is watch reruns of Friday Night Lights, eat cookies, and quote Coal Miner's Daughter.
Okay, now tell me all your productivity secrets!