Thank you for all your kind comments on our dorky homegrown videos yesterday and on Melanie's book. You are the best kind of friends!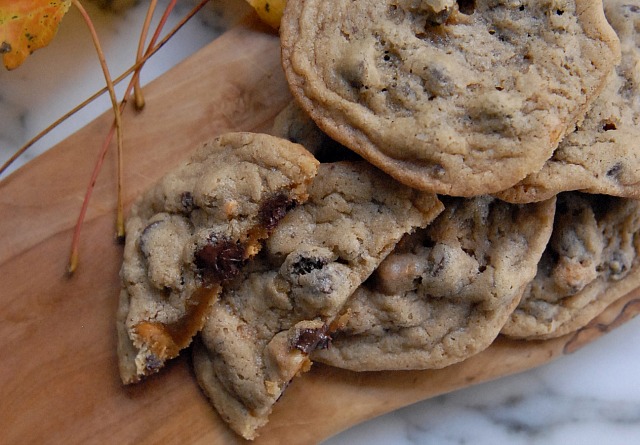 Chocolate chip cookie recipes are like purses to me.  There's one for every occasion.  Actually, that's not true at all, because I've been carrying the same purse for over a year.  And making the same chocolate chip cookie recipe, too.  But, I do have at least 4 CC cookie recipes I love, so let me introduce you to this one and I promise to make them all known to you in coming months! I can't promise I'll rotate my purses because I've come to realize that I'm far too lazy for that.
I accidentally discovered, after "burning" a batch of these (read: cooking them until they are done), that they are great when cooked to a biscotti consistency.  They dip perfectly in coffee and the overcooked butter flavor is TODIEFOR.
And while we're on the topic, let's discuss my overall disdain for over baked cookies.  Cookies are done when they're still gooey in the middle. End of discussion.
Except, I'm in the mood for discussion today.  So.
The cookies will keep cooking on the pan, even after removed from the oven. If you take them out of the oven when they still are a little shiny in the middle, they'll be perfectly soft in a half hour.  And perfectly gooey right away, which has always been my preferable way to eat them. I've tossed many a batch of cookies due to overcooking.  I'd rather not eat them that way.  I love good food and life is too short to eat crunchy cookies.
UNTIL.  I decided to try the overcooked version of this one.  It's perfection.  And don't get me wrong, they're perfectly delightful when you take them out gooey, as I did in the batch you're seeing.  PERFECT in every way.  But the batch I "burned" became a nice breakfast treat when dipped in coffee and could easily be called biscotti in anyone's book.  Long story short, this is one of the few cookies that you're allowed to overcook and still be my friend.  Okay, we can be friends even if you always like your cookies crunchy.  I'll just do the baking when you come over.  Deal?  Let me know if you try these!
 What you'll need:
2 sticks butter, softened

1 cup dark brown sugar
3/4 cup white sugar
1 egg
1 tsp salt
1/2 tsp soda
2 tsp vanilla
3 cups all purpose flour
1 cup chocolate chunks
1 cup toffee pieces
What you'll do:
Preheat your oven to 350.
Cream butter, sugars, and egg until fluffy.
Add the rest of the ingredients and mix well.
For best results, use a scooper to scoop cookies onto cookie sheet, that is lined with silpat or parchment paper  (I HIGHLY recommend the silpat! SO worth it!)
Bake at 350 for 10-12 minutes until the edges are slightly brown and the middle still glistens
Eat one warm with a glass of milk and thank your lucky stars for the small pleasures in life
Here's what they look like on the pan when I call them done:  still glistening in the middle of the cookie, the edges firmer and slightly browned.  Don't mess with a foodie.  I could describe this perfection all day.  And don't worry, I've taught my girls well.  They watch the cookies like a hawk, so as not to overbake.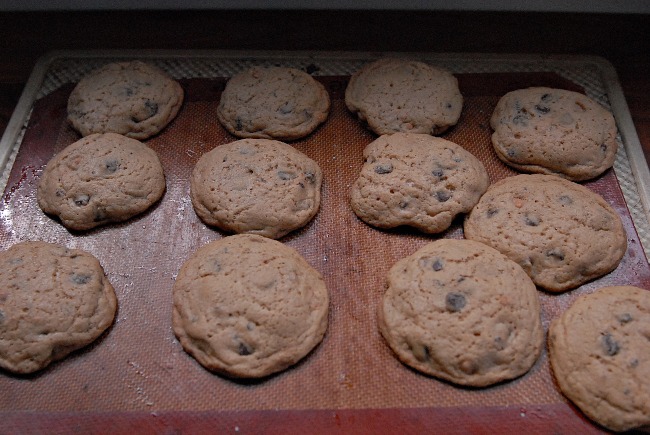 So, there you have it.  And?  The best news is—you can substitute almost whatever you like for the toffee chips.  Peanut butter chips, Andes mint chips, nuts, dried fruit, mini Reece's, caramel pieces, and the list  goes on and on to near infinity.
Try these for your Valentine's Day celebrations and don't even worry if you overcook a batch or two. Have a friend over for coffee and dip away!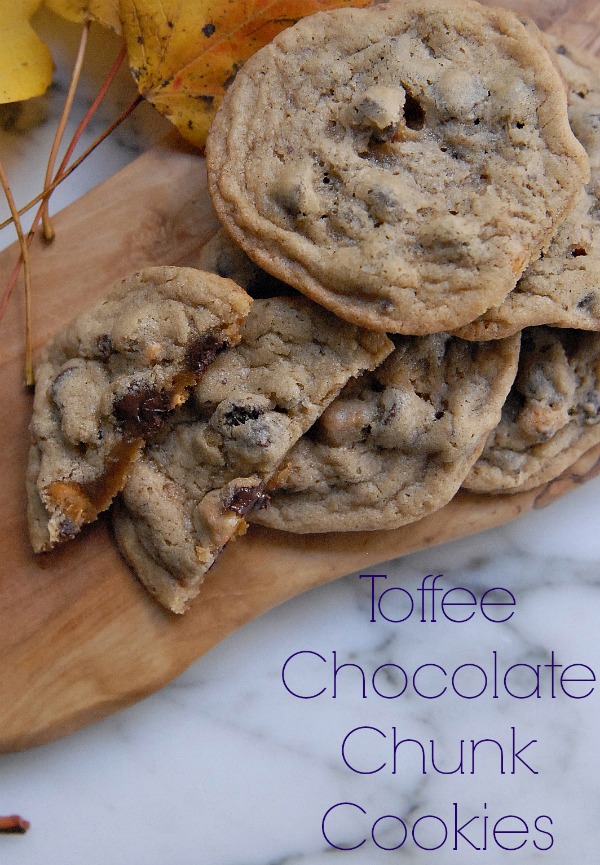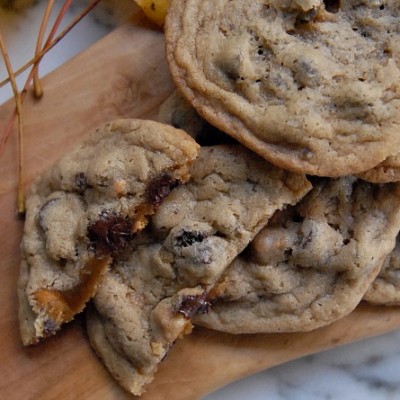 Toffee Chocolate Chunk Cookies
Ingredients
2

sticks butter

softened

1

cup

dark brown sugar

3/4

cup

white sugar

1

egg

1

tsp

salt

1/2

tsp

soda

2

tsp

vanilla

3

cups

all purpose flour

1

cup

chocolate chunks

1

cup

toffee pieces
Instructions
Preheat oven to 350

Cream butter, sugars, and egg until fluffy.

Add the rest of the ingredients and mix well.

For best results, use a scooper to scoop cookies onto cookie sheet, that is lined with silpat or parchment paper (I HIGHLY recommend the silpat! SO worth it!)

Bake at 350 for 10-12 minutes until the edges are slightly brown and the middle still glistens.

Eat one warm with a glass of milk and thank your lucky stars for the small pleasures in life