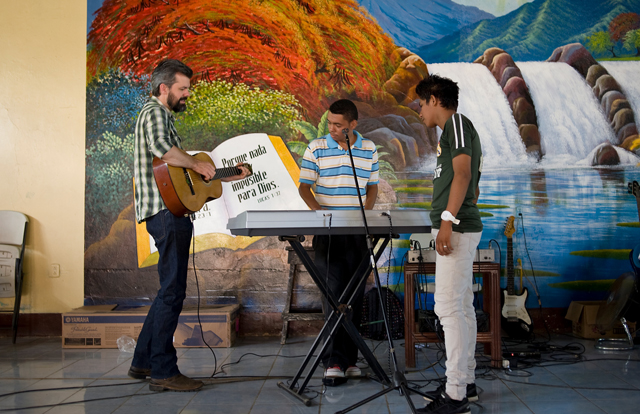 I am emotionally exhausted.  My leftover tears from yesterday starting flowing this morning on the bus and would. not. stop.  As an interesting aside, lest you think I could be in danger of dehydration from all my blubbering, let me reassure you that our trusty Compassion staff is committed to child poverty and blogger hydration.  Like a boss.  As I cried, they pushed water intake.  Totally endearing, if you ask me although they don't seem to be as committed to taking the hydration commitment to its logical conclusion.  Ask Shaun, he'll tell you.  #howlongcaniholdit
I read some of your comments and emails on the ride to our Compassion center, about how you shared the joy and heartache of  Diana's story with me, and I wasn't sure I could pull myself together.  Then we got to the center and found out it was vocational training day.  The students would be giving us manicures and making pizza for us.  We were were in for a treat and one that just might have the power to stop the cryfest.
We started in the church, where the young folks that have been learning music played for us. What a treat, to hear them sing praises to God in full voice and playing the instruments they had been taught to play at this center, the largest Compassion project in Nicaragua.  They nurture nearly 800 kids here every week.  In a church of 400 people.  The pastor told how much of an impact Compassion has made in the lives of these young ones.  I saw evidence of that all day long.  They sang,
"Open the eyes of my heart, Lord.
Open the eyes of my heart.
 I want to see you.  
I want to see you."
I saw evidence of Him everywhere today, shining bright in the darkest eyes.
We were supposed to observe the young whipper snappers in the class and assist them as they made pizza and cake.  You had me at pizza but cake just adds another level of love and communion into any fellowship.   Do you have any idea what it's like for some of the kindest, most grateful kids in the world to make lunch for you?  And homemade pizza, no less? I might coulda hitch-kicked at the thought of it all but I'll remind you of some of the side effects of militant hydration.   I was in charge of chopping the tomatoes and mint and peppers, under the careful supervision of understudy, Celia.   She kept saying to me, "Un poquito, señora."  And every time I chopped the peppers smaller, she would say it again.  After four times of 'un poquito', I finally asked Carlos how to say, "Honey child, this ain't my first rodeo."  And as proficient as Carlos has gotten at translating Appalachian into Spanish, I rendered him speechless.  Celia was so darn cute with her corrections to my chopping skills that I took it all back and hugged and smooched her right on the cheek.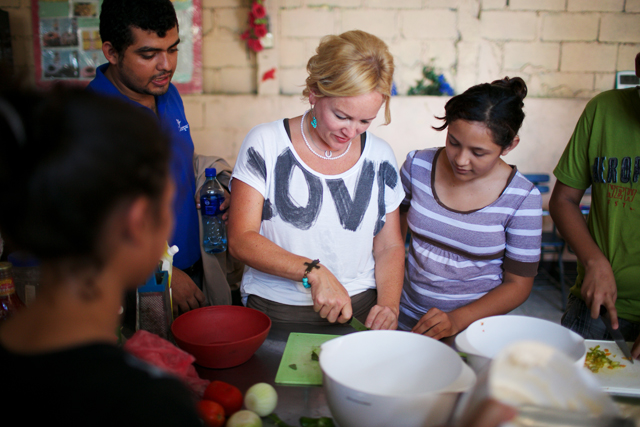 These vocational classes are the coolest thing ever.  Compassion provides opportunity for  the kids to study  in a variety of fields including training in hair, nails, computers, pottery, cooking, and music, and more, depending on the specific center.
They are learning to make pizza, my friends.  This is a life skill that I've tried to get y'all to practice with me.  I hope Celia and her friends will shame you into dough making.  These girls are bossy pants when it comes to all the details dough rolling.  Someone has taught them well.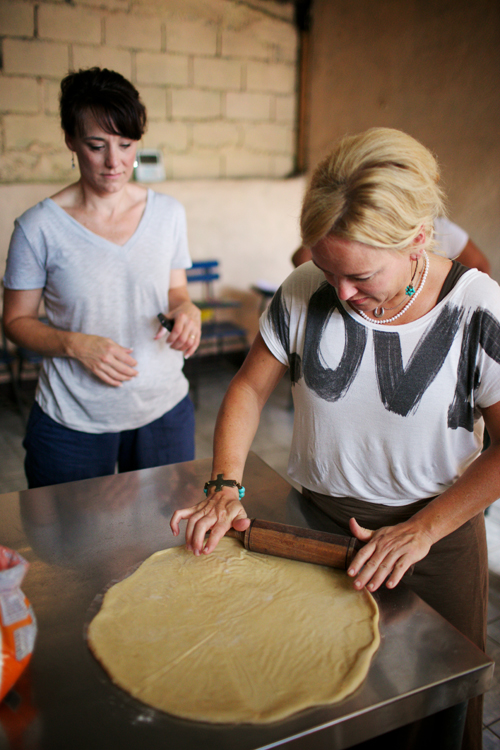 We ate our delicious pizza and cake and headed out to do a home visit with Antonio, a charming five year old with all the promise in the world of having Shaun Groves hair when he grows up.
Look at those eyes.  
I asked his mom where he got those and she pulled out a tattered photo album with pictures of his father, still living with them, but working to support five kids.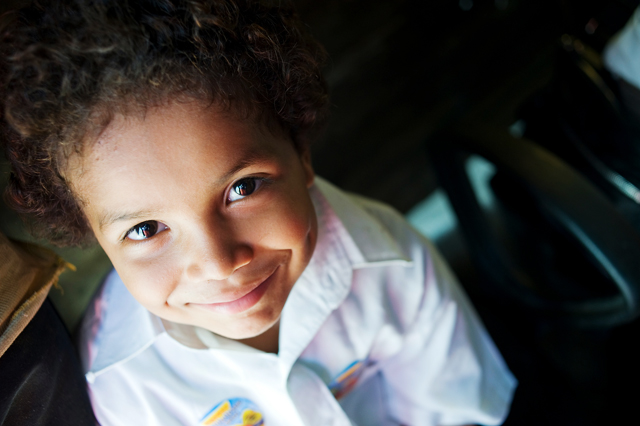 He's got his papa's eyes.  And he was so proud to point him out to me in every picture.
He was also pretty excited to put 400 smiley face stamps on his sister's arm!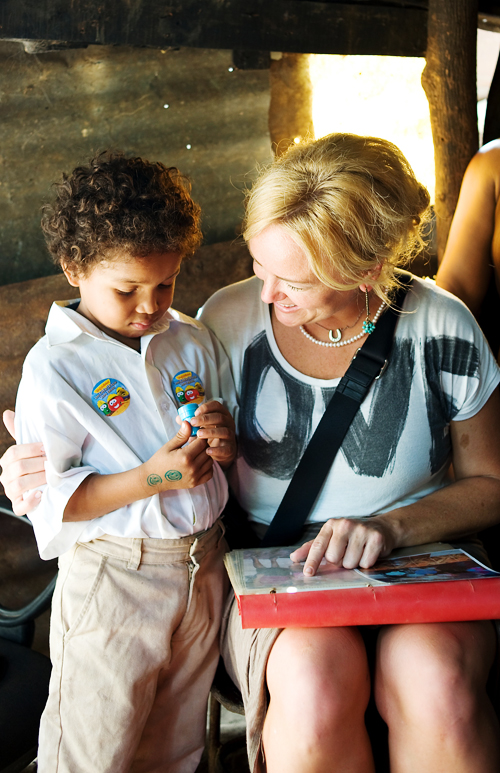 The rains came down as we left his house and I immediately thought of the ark and how Antonio is safe in the fold of the Church and under Compassion's care.  I left with hope that he will one day take classes like Celia and learn a skill that will give him confidence and the hope of finding a decent job.  But more than that, I pray that He will learn to trust His heavenly Father, that he will learn to see with world through the cross of  Christ.  That Antonio will recognize his neighbor in every dark and lonely place. And that Jesus' will shine in him that like the warm June sun.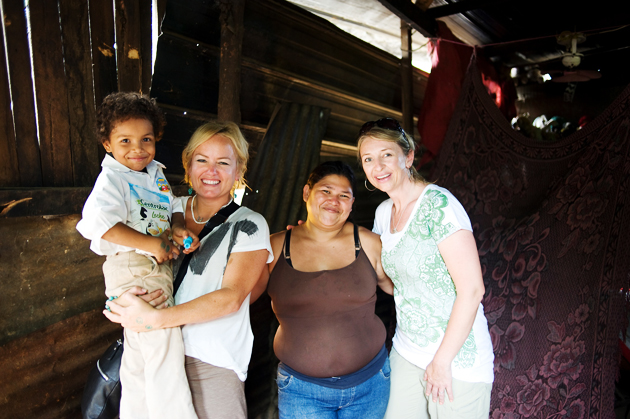 It all seemed just fine and dandy until we got back to hotel.
I started sifting through pictures and grasping for words.  How do you tell a story like this and tell the truth, with tenderness and sufficient urgency but without manipulation?  How do you stand up for the children who are at risk for being orphaned, or sold into prostitution, or left to fend for themselves in a drug-ravaged land? How do you help others to see when it took coming here to open your own stubborn eyes?  Today, I am their voice and I crumble under the weight of it.  I don't have the right words.  My blindness sickens me.  I come up empty, fumbling around in the dark and frustrated by my own lack of understanding. I pray that God uses my frailties.  I pray He opens my eyes. I pray He shows me all the empty places in my heart.  I hope He crushes my self-centeredness and self-greed and pride. I beg Him to replace this heart of stone and give me a heart of flesh— bright red, that beats with passion for even just one that is missing from His fold.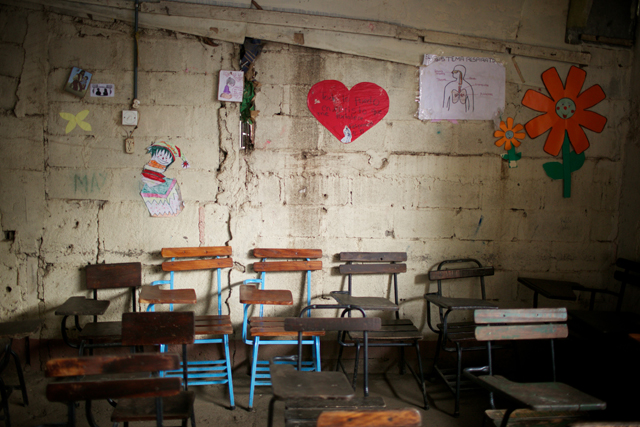 I turn to the psalms and read this:
Give thanks to the Lord, for he is good;
his love endures forever.

 Let the redeemed of the Lord tell their story—
those he redeemed from the hand of the foe,
 those he gathered from the lands,
from east and west, from north and south.

 Some wandered in desert wastelands,
finding no way to a city where they could settle.
They were hungry and thirsty,
and their lives ebbed away.
Then they cried out to the Lord in their trouble,
and he delivered them from their distress.
 He led them by a straight way
to a city where they could settle.
 Let them give thanks to the Lord for his unfailing love
and his wonderful deeds for mankind,
 for he satisfies the thirsty
and fills the hungry with good things.
He opens our eyes with His Word.  
And that Word is powerful and does what it will do.  If only, we bring them to the fold to hear.
Some will be safe, inside the arms of Christ's love tonight.  They will be led by a "straight way to a city where they can dwell."  They will be redeemed from the hand of their foe. Their thirst will be satisfied and their hunger will be filled with good things. They will tell the story of how they were redeemed and they will cry out to the Lord in their trouble.
And they will do that because you say yes.  Because you give them a chance to see Him.  Sponsor and child and open your eyes and heart to a love like you've never known.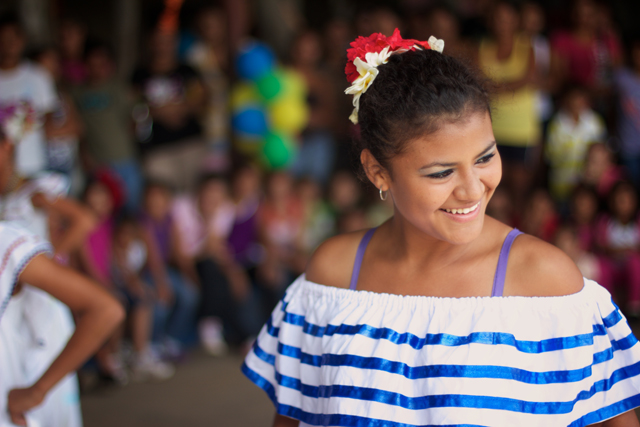 Follow the other compassion bloggers here!  And my dear friend, Traci, wrecked me with her post today.  But more than that, she poured out her heart in our hotel room tonight and we cried like babies. She's something else.  You are gonna be blessed!
****************************
I am loving my new friends so much.  Make sure you check out Christy and Kelly's blogs and Shaun's precious story of Sambaji.
Four exhausted girls, who are feeling inadequate and missing their kids will wave and send you hugs and kisses  from Nicaragua and say thank you for taking this journey with us.  Thank you for praying, for sharing your love, for taking the time to bless and strengthen your sisters.
We love you and couldn't do this without you.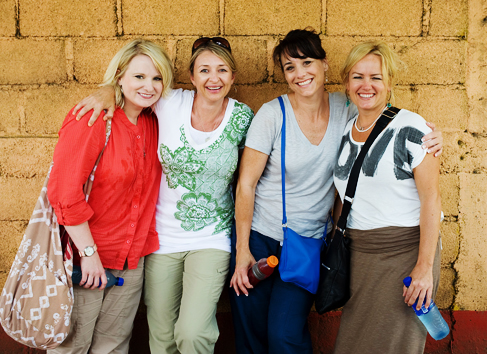 p.s.  I cannot tell a lie.  I am Keely Marie Scott's newest super fan.  She is AMAZING!  She has taken most of the photos I've used in my posts and she is all kinds of charming with these kids. If you're not following her on Instagram, then that's a crying shame.  Join the fan club.  Also? I'm gonna try to steal all her jewelry before I leave.