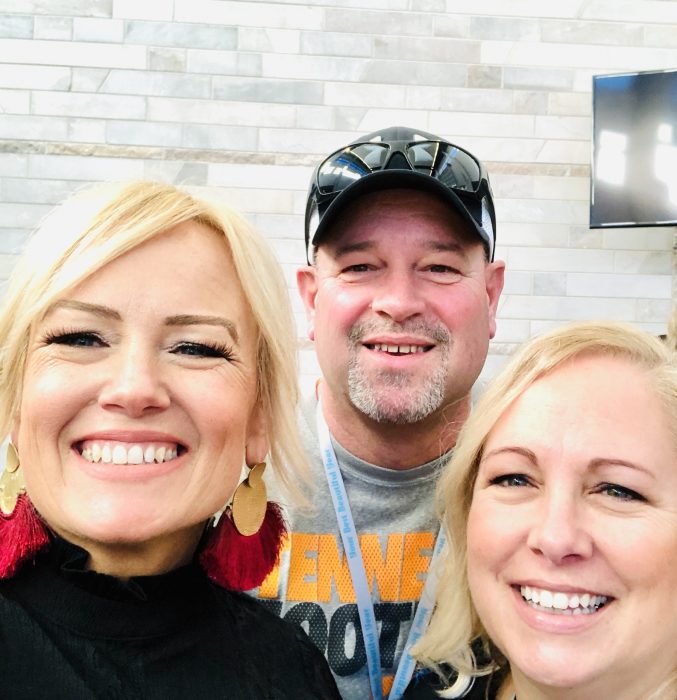 One of the highest engagement I've ever gotten on an Instagram Post was my tribute last year to my brother, Todd.
I ADORE him and the post was pretty sweet and very heartfelt. You can read it here.
I think one of the reasons it struck a chord with many of you was that our relationships are so very important, and most of us spend very little time cultivating the relationships we want.
Todd's birthday was on October 7th so at the top of my planner for that day, I wrote his name and surrounded it with hearts–like I was channeling my inner 8th grader.
I thought about him and all the things I love about him throughout the day.
When I sat dodwn to send him a message, it was so easy to think of so many things I'm grateful for about him.
Part of the reason for that was that I directed my brain towards him early that day.
Our morning habits and morning thoughts are so important, because they set the tone for the rest of the day! Today, I want to tell you about FIVE morning habits that will CHANGE YOUR LIFE! Buckle up buttercup–you are going to love this!!!
One – Prep For The Morning The Night Before
Does this one surprise you? Here's what I mean.
It is so, so, so important that we all prioritize our sleep. The research is unequivocal on this people! The first step in prioritizing your sleep is to have a good evening routine so that:
you are going to bed EARLY ENOUGH to get a good amount of sleep
it's EASY to fall asleep
you actually GET the sleep you need
Really, really prioritizing sleep makes everything better.
If you want to live your best life, you have to get your sleep.
So one of my favourite parts of my nighttime routine is to lay on my bio mat! Have you heard of a bio mat? Mama, it is the ultimate! It is like a revved up heating pad and I love, LoVe, LOVE laying on it–it relaxes me so! I will take my evening supplements. I take a yummy hot Epson salt bath–usually with a variety of AMAZING essential oils that help me sleep. I can't even tell you how much better I sleep when I don't rush to bed and just do my little routine. Hot bath with essential oils? Check! Evening supplements? Check! Lay on my bio mat while reading? Check! I often also listen to something–a podcast or whatever–while I am winding down.
So, there it is! Your number one habit is your nighttime routine and making sure that you are going to bed early enough to get enough sleep.
While winding down I am also thinking ahead to what I need to accomplish the next day–your number two habit!!
Two – Make Tomorrow's List Tonight
Here is the thing about this and its so simple, but so POWERFUL!
When you direct your brain somewhere, that is where it will go. Simple, right?
For example, say I know that I have to write an email the next morning, make an outline for a livestream, go to a hair appointment (Yay for the Hair Wizard!!). Here's what happens. I start thinking. I know my topic. Here's what I'm going to be talking about. I just get my brain thinking about it and, "Oh, okay, good." I don't actually DO THE THING–I don't write the email or make the notes but I got my brain percolating on it so that when I wake up the next morning–MOTIVATION CITY!!! This is simply because I already know what I need to accomplish and most of the time, I can get one or two things off my list before I wake Thomas up.
I think a lot of times, instead of looking ahead, we replay our day. We think about things we wish we wouldn't have done or said, things we wish we had done–thinking that is very focused on the PAST.
I love thinking ahead, "Okay, what kind of day do I want to have tomorrow and what do I need to accomplish?" So, when I wake up, the anticipation of the day is so motivating and allows me to JUST START.
Being intentional about my evening and mornings sets me up for a fantastic day!
Three – Wake Up Without Delay
The number three habit is waking up–without delay.
Waking up with intention.
Waking up rarin' to go!!!
Obviously, it really helps to do morning habits one and two, but it's pretty much the first thing you do every day. If you train yourself so that the first thing you do every day is delay your day–can you see how that isn't the greatest?
I first heard about this concept from Mel Robbins in her book The Five Second Rule. Here's an excerpt from her book:
Start by counting backwards to yourself: 5- 4- 3- 2- 1. The counting will help you focus on the goal or commitment and distract you from the worries, thoughts, and fears in your mind. As soon as you reach "1," move. That's it.
Mel Robbins said the habit of launching herself out of bed and starting her day this way (and then using it in other situations) changed her life! (P.S. I highly recommend this book!)
So wake up without delay and just commit to, "This is the time I wake up." Because if you do, you're going to have 30 minutes, 45 minutes, an hour before other people get up. Of course, this will be easier if you've gone to bed early enough and gotten adequate sleep.
Four – Thought Download
I grab water, start my coffee and then I do a thought download.
By thought download I mean I do a little bit of journaling, "Okay, here's what I woke up thinking about." Or, "Okay, here's what I need to remember today." Or, if it's grocery store day, "Here's the list." I usually wake up with a full mind and I want to transfer all that "fullness" onto paper so that it's not clouding my mind when I start my work. I want to start my work with intentionally. THIS IS SO IMPORTANT!!
Five – Pick The Thoughts You Want To Think AND The Three Things You Want To Get Done
I have a list of intentional thoughts that I like to keep on hand, "This is what I want to train my brain to think." Some of my favorite morning thoughts came from ideas I got from Louise Hay. It's a POWERFUL list.
I experience love wherever I go. I am surrounded by loving people and easily give love to others.
I begin and end everyday with gratitude.
My heart is open and I am willing to experience anything God brings my way.
I am full of creative ideas for my life, my family, and my business.
My body is strong and I create abundant energy for myself by how I eat and move and rest.
I easily forgive myself and others and joyously accept God's truth about my worth and value.
I am surrounded by love. All is well.
I show up with love and service for myself, my family, and all those I meet everyday.
I live and work from a place of sheer abundance. My heart and life are full and overflowing.
Now you're going to say to me, "Dr. Edie, I don't wake up feeling these thoughts everyday."
Neither do I, but I tell my brain that this is what I want to look for.
If you tell your brain to look for that list of things, you're going see love everywhere. You're going to see how abundant your life is. You're going to see reasons to send people love notes and write amazing posts about them instead of complaining. Complaining about politics or the restaurant you went to that didn't get your order right.
Do you see the power our words and our thoughts have that we aren't using?!? We just let out thoughts go to the "default". And since we are human, it defaults to sin. It defaults to complaining. It defaults to blaming. It defaults to resentment and unforgiveness.
But you are the BOSS of your brain and you have to tell it what you want it to think and do.
See why the thought download is so important? Because you will realize, if you do this for awhile, that sometimes you don't wake up with the most wonderful thoughts.
You have the power to change that.
You have the power to direct your mind, to think about what you want it to think about.
That, my friends, is life changing
After I download my morning thoughts, I organize that thought download into a meaningful list. Then, I pick three things that I want to get done that day. THAT'S IT. If I get more than done–YEE HAW–I love it when that happens!
Most importantly, when I make my list of the three things I want to do, I do it with my intentional thoughts in mind. When I write an email to you, I do it with the thought in mind, "I'm surrounded by loving people. I live in abundance. I work from a place of love and service."
When I've got these intentional thoughts in my head, I generate good work. I generate things that are helpful for people. It allows me to do my work in the world without worrying about what other people think of it. I'm thinking, how can I love and serve? How can I embrace the hard things that come? How can I keep my heart open?
What's your FIRST morning thought? Is it about the past or about the future? Is it positive or negative? Does it make you worry? Feel fearful?
Or does it motivate and energize you?
Imagine starting everyday with a handful of positive, intentional thoughts.
How would that change your day? Your relationships?  Your life?

I'm so excited about our Honor Challenge based on Romans 10:12
Love one another with brotherly affection. Outdo one another in showing honor.
It starts November 2nd! We are going to take 12 ordinary days and create 10 life-changing habits! Sign up here and get your FREE download!