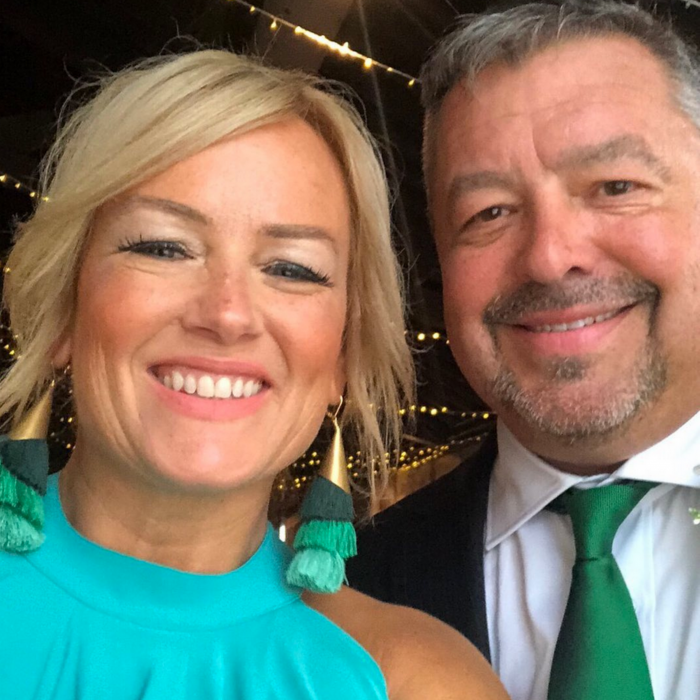 When I went in this morning to give Stevie a kiss goodbye, I was already thinking, How can I show up with love today? How can I show up in a way that makes him know how much I love and appreciate him? How does Stevie feel loved?" I had five seconds before I had to have Thomas out the door, but lingered . "Good morning, I love you," sealed with a smooch!
Just that little bit, one second in the morning, could change your whole day. Imagine what accumulating a bunch of days, a bunch of months in a row, or a whole year would do! Imagine your capacity to love!
It's so easy to think of everyone and everything that needs to change in order for things to be right in our world.
My husband needs to be more attentive, my children need to listen, my coworkers need to be kinder, my mother-in-law needs to stop offending us.
But the truth is, the only thing that needs to change is you, and me. That's the ONLY thing we can change!
How can I love unconditionally, even in hard situations? How can I see the truth in the criticism and still show up with LOVE?
How can I increase MY ABILITY to love and be loved, by just deciding that that's what I'm going to do?
I know it's possible and I know that no one else needs to change. Just you and me.
The question I'm perpetually asking myself is how can I see things differently, better, more clearly.
YOU'RE THE ONE MAMA!
It only takes one emotionally strong and committed human to change everything. Are you strengthening your love muscle, towards your spouse? Towards your children? Towards the ONE person in your life that you are still letting offend you? Take your power back!
There is no greater power on earth than LOVE!
Where can you UP YOUR LOVE GAME?
Love is the one word that will simplify everything in your life, the one word that makes everything better. Love is a skill that we get better at with practice. When you start practicing, you become conscious of it, and you become so aware of how many ways you're not loving. You realize how much you're comparing or judging, and how much your expectations of someone is causing you to resent them.
The paradox of this is, when you practice unconditional love, you are the one who gets to feel it!
The more you practice it, not only do you notice that everything in your life gets better and everything in your life is simpler. There's no drama and there's no resentment. When you slip into a place of unconditional love, dare I say, it takes away all of the problems!
What I've learned the last few years, as I've consciously been practicing is; how to realize when I'm not in unconditional love, and how to train myself to go back there. What I notice is that my capacity for love is so much greater than it used to be. My capacity to be kind and patient with everybody is so much greater, but so is my capacity to love myself. My capacity to have patience with myself, and to forgive myself is so much greater.
I've been thinking about this a lot in the last year with Thomas. He had a lot of behavior issues, and it was always really easy to slip into anger or think, Things should be different, or his behavior should be different. Instead, I try to practice staying really centered. "What would love do in this situation?"
How does love show up?
When I started practicing this with him, and in every situation asking, How can I show him 100% how loved he is, it changed everything. I have watched so much of his bad behavior just melt away, because unconditional love is pretty irresistible!
The same thing happens with people in your life. The same thing is true for our marriages. Ask yourself in every single situation
How does love show up here?
How does love respond here?
How does love act?
How does love think in this situation?
I feel like everything opens up when we drop our expectations of what everybody else should be doing, and instead focus on the only thing we ever can change, which is us.
How can I really practice unconditional love for myself, for my life, for my work, my marriage, my children, the people that I see in my everyday life?
If you really become aware of it, what you'll notice when you first start paying attention is that you're not practicing unconditional love most of the time.
Most of the time you're comparing yourself to other people. You're trying to figure out if it's fair, or if somebody hurt your feelings. You're really not in a place of unconditional love 95% of the time. This is how it was for me when I first started practicing this and I would have considered myself a very loving and patient person. Then I started paying attention and I noticed how often I wasn't!
I started practicing!
What would it look like in this very situation to drop the judgment, to drop any weird expectations of other people, to drop my own agenda? What would it look like if I just decided, I'm going to show up with the life changing question, How can I show up with love today?
I really want you to think about this with the people in your life who you've had a hard time with. I want you to re-think that whole relationship.
If I'm having a bad day because someone said something or treated me a certain way, I give away all of my power to that person. They can totally set the tone for the whole day for us, because we've given away all our power. What if we just decide instead of being influenced by all of that, we are going to feel and give love as our default!
Love is now my default, and feeling and giving love is the way I'm going to operate.
Here's what will happen, difficult people won't seem difficult anymore. You'll see them differently. You'll understand a little bit why they do what they do. I think it's why the scripture says you must love your enemies. There's something that your enemy says that has a little kernel of truth in it. Can we receive that in love, and still show up with love, and not lash back at them?
This practice has changed my life more than anything else. In every single situation. Especially in the hard situations, in the situations where I used to get offended really easily, or make me angry, or hurt my feelings.
I decided, I'm going to take the most powerful stance in the universe. I'm going to take the stance of unconditional love in this situation!
You can give that person the benefit of the doubt, and you can probably see a little bit of why they show up the way they do. Then you can practice how you want to show up!
What relationships in your life do you most need to practice this in? Is it your marriage? Is it your relationship with your children? Is it your relationship with your mom, your dad, your mother-in-law?
Pick the hardest relationship you can think of. How can you decide that you're going to change the quality of that relationship, without them even knowing it? You're just going to decide, I want to feel love, so I'm going to show up with love in this relationship. There's nothing more powerful in the world, and it doesn't make you weak. Try it!
You have never been in a place of more calm, peace, and power, than when you are operating in unconditional love.