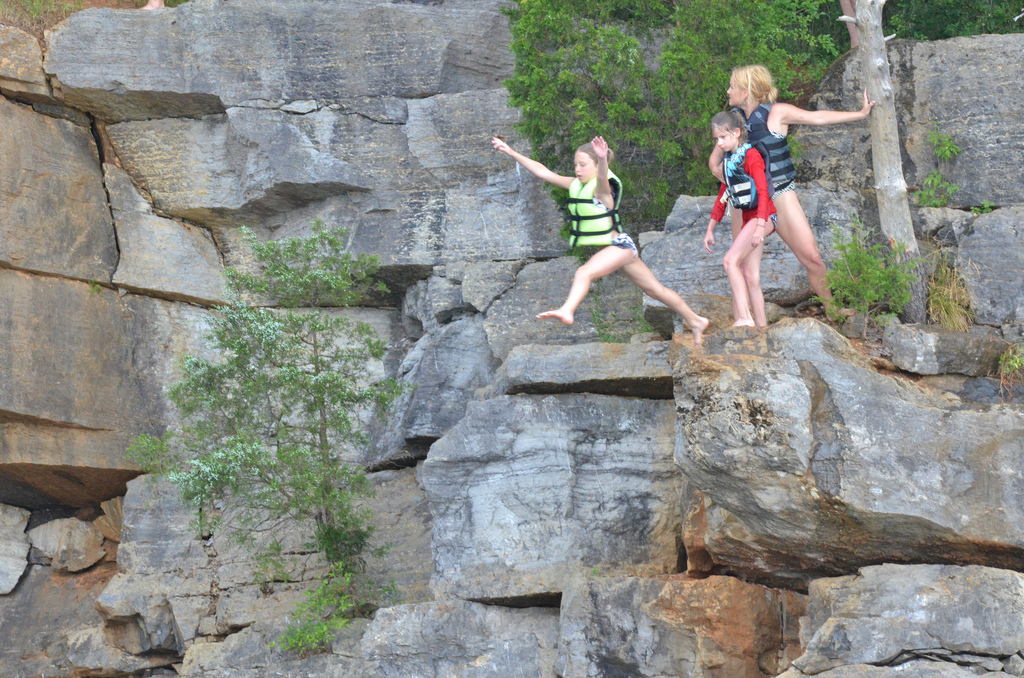 Two (three?)(four?) summers ago, I stood on the edge of a cliff that overlooks the lake we live on with my daughters, my cousin, my nieces, my sister, and our guys. It's probably 25 feet high at most but it felt like jumping off the Empire State Building to me.
All the kids took a look over the edge, didn't think too long about it, then jumped. After a few minutes, I was only left at the top. Everybody else was laughing and swimming in the deep end, waiting for me to find my courage. My daughters kept yelling, "It's not as bad as you think, Mom, just jump." And on and on for a good ten minutes, while I hemmed and hawed and yelled over to Stevie about what I wanted at my funeral in case I didn't make it.
(In case you're wondering, I asked them to have a church funeral followed by a square dance. If they could bury me in a dress and cowboy boots, with Tammy Wynette and George Jones twanging away in the background, then all the better.)
This was all part of my procrastination scheme so I wouldn't have to jump. I thought about hiking back down the rocks and swimming back over to the boat and maybe that would have been just fine too. But they'd all stayed in the water waiting for me. I knew I had to jump but I was scared.
I finally realized that the fear was only getting stronger the longer I stood on the edge. While they were all talking amongst themselves and not even really looking up at me, I finally jumped.
Today with my memoir releasing, the feeling is eerily similar.
Here's what I wrote in the introduction to All the Pretty Things:
On January 4, 2016, my forty-sixth birthday, I am standing on the precipice of Cherokee Bluff, staring down into the cold waters of the Tennessee River. My sister, my cousin, and I, accompanied by our girls, have hiked (in not-so-appropriate shoes) a mile out to see the bluff, as a sort of memorial to Daddy, the man who gave us a life of equal parts blessing and curse.
With the winter wind howling, we cinch up our coats, laughing most of the way, and keep climbing until we reach the infamous spot a relative recently told us about—the place where Daddy pushed a blue Malibu right off the cliff nearly forty years ago. It says so much about our family that this story has just surfaced, not considered even remotely bizarre enough to count of as one of the "greatest hits" we've been recounting to each other over the years.
While the bare branches of the dogwoods flail in the frigid gust, I sit down on a rock and dangle my feet over the edge, imagining all the stories that lay cold and swallowed up by the river below, all the pretty things that lay rusted and buried beneath silt and debris.
I think about the book I am writing, the book about Daddy and me.
It's the story I never wanted to tell.It's the story I've been trying to run from for forty years and the story I've been skirting around for nearly three as I wrote. The words in these pages are all raw and fresh and hard-fought. What I don't want to write about is the thing that scares me to death. What I don't want you to know is that fatherlessness is my deepest ache, and being untethered and unspoken for is my suffocating fear. These are the memories that have wrecked me for far too long.
Above all, this is the story of my homecoming; the demons that are always holding me back and the legions of angels that keep me safe along the way; the way everything was always falling apart and the beautiful ways God has been piecing it back together; the dark and lonely parts and the parts where God dazzled me with His light shining deep into my heart; the way I was always trying to hide and the way He never stopped finding me.
A sliver of sun is now warming the edge of my face. I stand back up, peering down over the edge of the rocky outcroppings. The view is stunningly beautiful, but fierce and dangerous, too, as the wind whips the river into swirling motion. Standing there, at the top of that drop-off, I think of you, my reader. I imagine that you and I and a multitude of our sisters are huddled together at the edge of the bluff, wondering what it'd be like to jump, to live our lives from the deep end, unafraid to be jolted awake from the sleepy lies we've believed about who we are and what we were created to do. I look around and see courage on your face, bravery in your eyes.
In my mind, I take a running start and leap wild off the edge, arms and legs flailing against the free fall, splashing into the deep blue river. For what seems like a long time, I am underwater and everything is in slow motion. But then I spring up toward the light—that same light that is always calling me home.
Breaking the surface, I gasp and choke, and then I cry—sob, even—surprised and thankful that I am still alive, that I have breath. Tears turn to laughter as I yell back up to you who are still poised on the edge of the precipice, "Come on, my sister. Don't wait until you're not afraid—jump scared."
This book is my cliff jump.
I pray it will lead you to your deepest bravery, your most vulnerable self, knowing that your Father who has baptized you with water and blood and fire will turn your sorrow to joy, your suffering to gifts of grace, your terrifying deep waters into soul- quenching cisterns that refresh us all as we walk through fire, together toward home.
See you soon, dear sister.
I'll be waiting for you in the deep end.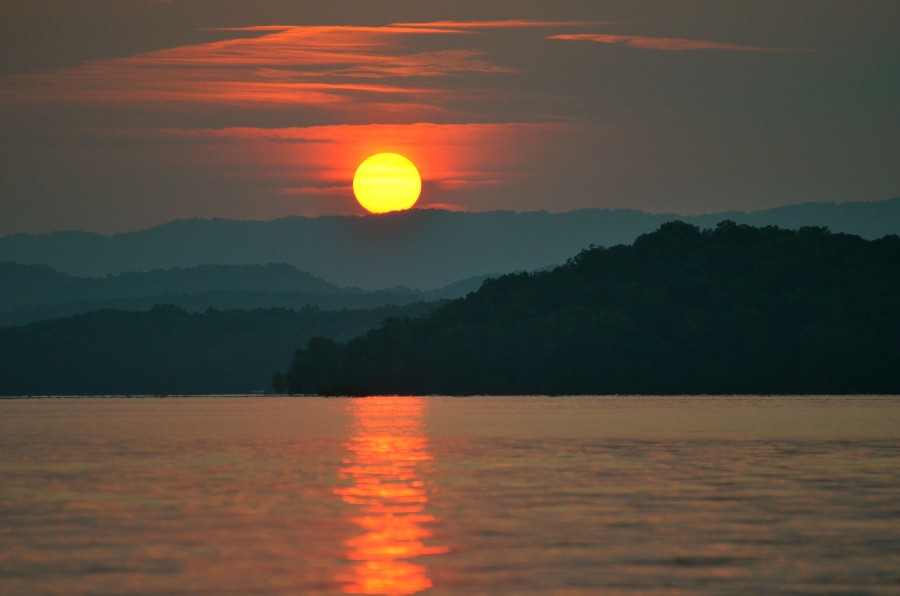 ********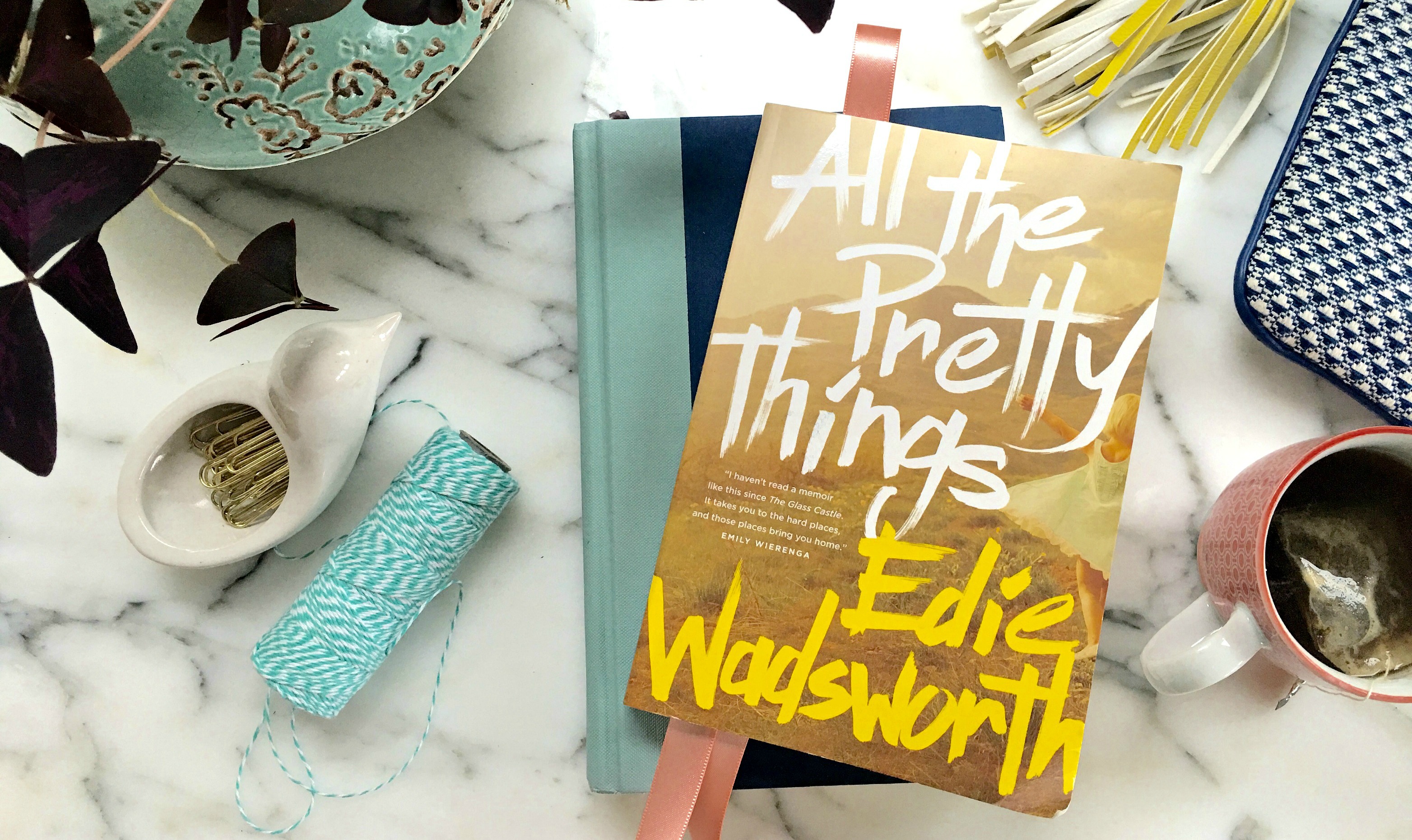 If you've lived too long with shame and guilt about your past, this book is for you.
If you've been paralyzed by the parts of your life that have been swimming in pain and loss and chaos, this book is for you.
If you've wondered how God could possibly forgive you and love you and make you His own, this book is for you.
If you've struggled with doubt and fear and insecurity about who you are and what you were made to do, this book is for you.
This book is for those whose hearts are broken with loneliness, abandonment, and mind-numbing grief and those who just want to feel some sliver of hope.
This book is my song, my strained anthem, my broken hallelujah and it for the mama who fears she's messed up too much and the daughter who feels she never measures up and the sister who wonders if God has forsaken her.
It is for you and me and for all of us who need healing and hope and resurrection.
It's me climbing back up the rocks to walk you down because sometimes jumping is not an option. It's all of us huddled together, promising to give our sisters a lifeline, a much needed measure of compassion, the ever fading benefit of the doubt in a world hell bent on destroying us and seeing us silenced.
Jesus stands arms outstretched as a signpost to us that ALL IS WELL, no matter what our circumstances might say to the contrary. Not because we jump or don't, but because He loves us no matter what.
He cross is the only way to make sense of this world. The cross is the Father shouting to us that it is FINISHED. His love covers us. He is for us. There is nothing left to do. The forgiveness and peace and hope we long for can only be found in Him.
I pray, if anything, my book turns our eyes toward the One who has promised to get us all home safe.
******
As Daddy would say, IT'S HOWDY DOODY TIME!!! Today, All the Pretty Things is available in bookstores and online!! It feels like a long time coming. To celebrate, I'm doing weeklong giveaways on Instagram (cowhide rug, and other pretty things!) and if you use the hashtag #alltheprettythingsbook and take a picture of yourself holding the book and share on any social media channel, we'll be picking multiple winners on Friday to receive Amazon gift cards, leather earrings, tea towels, and more!
Two more things:
In case you missed it, I did an interview on Friday with my favorite radio show Issues etc. You can listen to the replay.
I'm guest posting over at Melanie Shankle's blog!