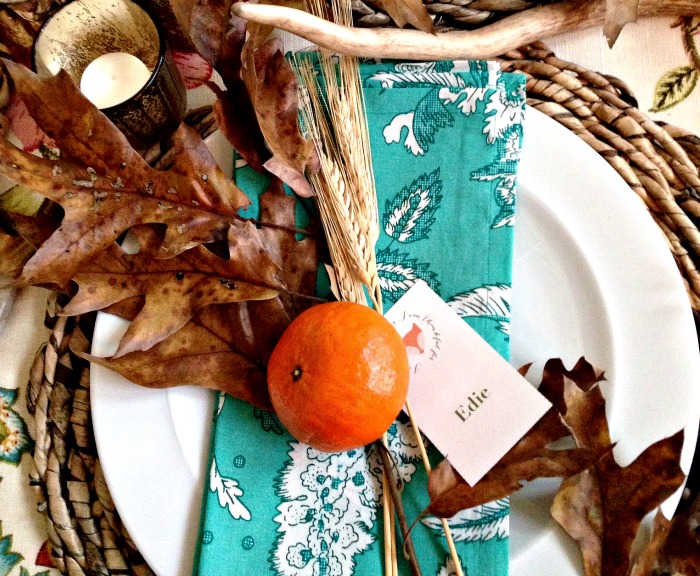 Would you hate me if I told you that I've only left the house twice in six days?  I'm the homebody of all homebodies.  We had such a wonderful Thanksgiving and a perfect long, relaxing weekend.  I've got a huge pot of red beans and rice on the stove and only wish I had a fun knitting project started to give me an excuse not to get out of my comfy chair all day.  I suppose I could make a new pom-pom wreath to add to my Christmas decorating from last year but then I'd just be procrastinating what I should be working on, which is my FIRST EVER LIVE WEBINAR!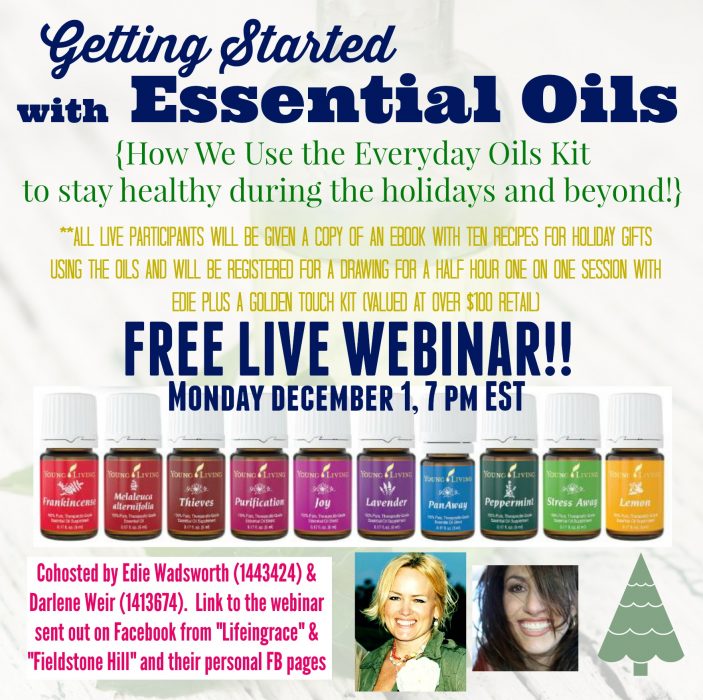 Y'all.
At 7pm it's not at all impossible that I could blow up the internet.  I'm hosting my first live webinar and I'm shaking in my cowboy boots.  So if you've been wanting to learn more about how essential oils have changed our lives or would like to hang out with Darlene and me or would like to witness two 40 somethings bumble their way around the internets, then tune in tonight live!  If you've recently purchased a starter kit, this webinar will be SO HELPFUL as you get started using the oils everyday.
If you happen to tune in live and if you happen to watch the whole hour-ish and if you happen to decide to try out the oils via the Premium Starter Kit ($300 worth of oils and stuff for way less than that) you will get a free Essential Oils pocket reference book plus you will be entered into a drawing to win a 30 minute one-on-one chat with me about oils or whatever you want AND a free Golden Touch Kit (which contains some of my favorite oils and is worth $100+).
Either way, it should be entertaining to watch.  I hope to post the live webinar onto my blog tonight but if that doesn't work, we will send out the link via my FB page (you should like the page now so you'll be able to see the link later!) about 15-20 minutes before the webinar starts (7PM EST) so you can just click the link and follow along.  That makes it all sound so easy but I guess we'll see if it turns out to be.
I'm not much of a Black Friday or Cyber Monday shopper but I wanted to tell you about two things I love.
First, I just ordered my Day Designer from Whitney English for 2015.  I LOVE this planner so much I can't even tell you.  And I think dalmation dots are gonna be my theme for the new year.  Her shop is only open in spurts so get yours while you can.
And second, my dear friend Ruth has opened up her blogging course for a few days.  This course will change your blogging life.  Everything I know about blogging I learned from her and if you are seeking to grow your blog or turn it into a business, you so need Ruth's course.  It's normally $399 but for the next few days is only $299.  It's so comprehensive and so full of bonuses that she could charge $2,000 and people would still feel like they got a deal.  This is the BEST investment you will make in your blog/business.  She's the master.
It's called Elite Blog Academy and it is the BOMB DIGGITY.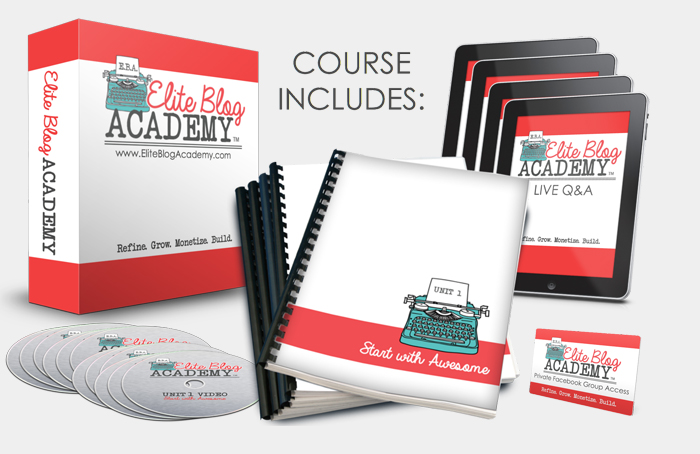 I've watched her brilliance shine over the past few years as she has successfully built a thriving online business, where she now generates enough income from her blog and her products to more than support her family doing what she loves to do.  Watching her succeed has been such a joy.  And now she's sharing ALL her secrets with us.   This course is unbelievable and I can't imagine where I'd be if there had been something like this available when I was starting out.  There is nothing like this out there and this 12 module course will literally knock your socks off it's so good.  What's more?  She's offering double your money back if you don't see measurable results.  It's that good!  You have nothing to lose and everything to gain.  Registration for the course in a couple of days and won't open back up until the Spring.  The course begins as soon as you sign up.
Click the graphic below to read more about the course and learn. how to build a blog into a sustainable business from someone who's done it first hand.