This may not interest some of you, but this is the underbelly of what it takes to run a blog.  This post contains my personal revenue and expenses information—and  might help you understand my vocation as blogger a little better—along with how much work goes on behind the scenes.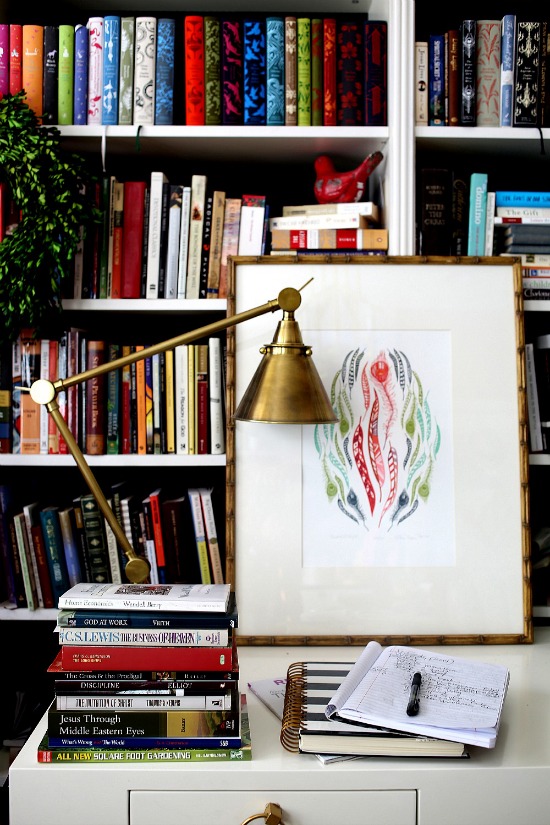 I've been blogging for six years, which, these days, is a long time to do anything consistently.  It started as a online scrapbook for me—a way to journal the life and times of our family.  Within a year, I knew I had found my sweet spot—that place where you know you're doing what you were made to do.  And it began to feel less mine and more His and yours.  I've been writing about vocation and in some ways, I was 38 years old before I settled into mine.  I am a writer/blogger, seeking everyday to use my gifts to serve my neighbor.
I started blogging a few months after I quit working.  It perfectly filled the void to do creative, meaningful work.  It has changed my life in so many ways and I am eternally grateful for the chance to speak into the hearts of thousands of people everyday.  I know how unqualified I am and how much I must depend on His grace. With this honor comes tremendous responsibility.
I spend, on average, 30-40 hours a week here at lifengrace.  More than that some weeks.  Way more.  Less than that other weeks.  It takes a LONG time to consistently generate fresh, relevant content and present in a beautiful way.  Just ask anyone who has tried it.  I work hard at what I do.  I get up early, work diligently most days, struggle with balance, and often wish there were more hours in the day to do what needs to be done. I probably read and researched for 15+ hours on the posts I've written so far on vocation.   I take this chance to speak seriously and I do it with fear and trembling.
As a lifestyle blogger, here are some of the activities I do regularly:
writing

editing
reading/researching
brainstorming/planning content
developing recipes
planning and buying supplies for projects
taking lots of photos
editing photos
photography classes to improve my skills
writing workshops to improve my craft
developing and nurturing relationships with other bloggers
facebook/twitter/instragram/pinterest to connect with you and find other kindred spirits
answering emails and comments
supporting the work of other bloggers/artists
maintain/update all the tech equipment I use everyday
And that list isn't even exhaustive.  There's so much that goes into doing this and doing it well.  I have the utmost respect for my other artist friends who pursue creative work.  As creatives, we love the work we do, and often do it for free, for years, knowing that most of the reward is in the act of doing what we do and sharing it with others. It's a privilege and I am so blessed to be able to do it.  This is my dream job and I pinch myself everyday that I live at such a time as this, where nearly every opportunity is available, for those who are willing to work hard, be patient, be generous, and be authentic.
For  4 years, I ran this site for free—paying hosting fees, design fees, etc  myself and working hundreds of hours with ZERO monetary gain.  And if the circumstances were the same, I'd still do it for free.
But, here's what changed.
My traffic grew and so did my hosting fees.  I needed technical and design help in various areas, in order to keep the site up and working properly.  The site outgrew my ability to keep up with it all myself.
Currently, running my blog costs me about $500 per month, with hosting fees, email service fees, design and technical support fees,  and occasional part time help.
In April of 2012, I joined my first ad network and made about $300 per month for the first few months.  It has grown consistently and I've joined a few other ad networks.  Last month, after taxes, and after I paid all my bills, I was able to pay myself  $1000—which works out to far less than minimum wage.  They don't call us starving artists for nothing.   And, December is always the highest revenue month for bloggers, so in January, I may not pay myself at all.
Compared to other bloggers who monetize and have  been doing this as long as I have, I'm probably on the lower end of income.  I have at least twenty friends who make a full time living from their blogs, many in the six figures.  Mine is not one of them.  But, my goal is to make enough blogging, so that if I ever needed to go back to work to help support my family, I wouldn't need to do that because my blog would be making enough to allow me stay home.
Don't get me wrong.  I'm so thankful for the money.  I get to do what I love,  from home, and make a little money doing it.    Still, we have five kids that we're helping through school, and I'm feeling the need to contribute as much as possible, to help our own kids and to support other ministries that are important to us.
Because I'm committed to good, original content, I turn down almost every offer I get to do sponsored posts/paid advertisements/guest posts,  etc.  I am very protective of my posts.  I want them to be helpful/encouraging/inspiring/challenging.  I want the photography to be the best it can be.  I guard that little space like crazy. I could make a lot more money if I monetized my posts more, but that's not my heart and passion.
The bottom line is this.  I'm so grateful to be able to make some money, while doing what I love from home.  But, it's work—a lot of work.  And I'm not getting rich.  And I left a six figure income to be home with my kids before they all left for college.  So, my income, while much appreciated and helpful, doesn't come close to what I made when I worked (even less hours) as a physician part time, and it isn't enough yet to really make a dent in the money we spend each month helping our kids all get through school.
So, when I get feedback that is critical of ads on blogs, I wish I could sit down and explain all this.  I'm not being greedy by having ads.  I'm just trying to keep this site up and running and full of great, helpful content.
How can you support your favorite creative entrepeneurs?
I'm so glad you asked.  So many of you are so supportive of the work I do here and of many of your other favorite creatives.  You faithfully read, send the best emails, share the work with others, and link to me on your own blogs.  I couldn't do this without you.  So, thank you.  Keep doing that for all the bloggers you love, so that they can keep doing good work for all of us. These things help so much to encourage and support people who do most of their work in isolation, day in and day out.
Ways you can and do help—
At least occasionally, let them know you appreciate what they do.  Send a note, a text, an email, a card, a comment.
Support their work by sharing it—via email, on Facebook, on Twitter, or Pinterest.
Put up with the ads, because it pays their bills, allows them to do what they do, maybe even pays their kid's college tuition.
Donate to them directly.  I would love to go ad free, but I would need your monetary help to do it.  If you'd like to donate directly to lifeingrace, I'd be honored. I have a million ideas that I don't have time to implement, so I'd love to increase my revenue so I could afford to hire more help!  If you're interested in direct donation, my paypal address is livinglifeingrace@gmail.com.  (I give directly to one site I love because I so believe in the work.  If we all did this, maybe our favorite creatives could drop all their ads?!)
Click on their affiliate links, because a portion of that money gets to them.  I usually link to things on Amazon that I use all the time.  If you buy something through one of my links, those pennies add up to dollars by the end of the month and year.
Love a blogger? Buy their books or their products.  Like their Facebook pages.  Follow them on Twitter or Pinterest.    Help them get their message out! You are so important in their success and in whether or not they can keep doing what they do.
Thank you for supporting writers/artists/bloggers and thank you especially for supporting me.
I am so honored to do this everyday.
I am thankful to you and to ad companies for making it possible.