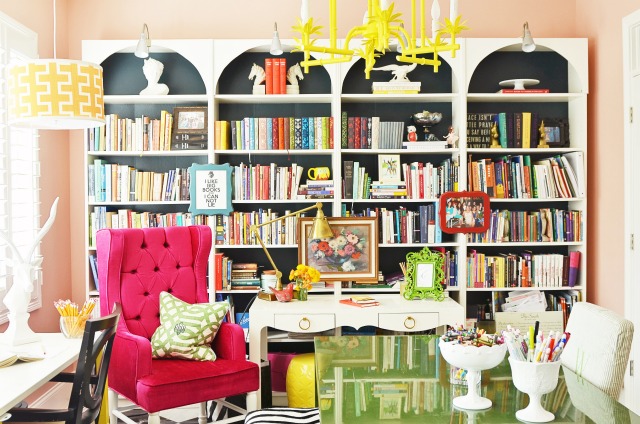 This is where I do my work everyday.  I love my desk.  I love my computer, my journal, my favorite pens.  I love my books.  I am in my element when I sit down here to write.  But it took me most of my life to settle in to what I was made to do.  I hope this post will encourage you to wrestle with your calling and finally, to answer yes.
I was in my first year of residency on surgical rotation.  Think vintage Grey's Anatomy and I'm Izzy.  I loved my  surgical rotation and convinced myself during those two months that I should be a surgeon.  Never mind that I had already decided that year that I wanted to be a family doctor, but had changed my mind on every rotation, because I loved them all so much.  In other words, I've never met a vocation I didn't like.
I was scrubbed and gowned and ready to assist in a pancreatic resection.  The chief resident was doing the case and my favorite third year resident was first assist.  I was probably somewhere down by the foot of the bed, after the all the scrub nurses and other residents took their place. I knew this patient better than anyone in the room.  He was my first *real* patient.  He was a veteran of the Korean war and he felt like one of my relatives.   I had spent long hours with him and his family, during his month long stay at the VA to figure out what was causing his pain and weight loss.  The day I told him about his diagnosis of pancreatic cancer, I promptly left his room and began sobbing.  Maybe that was my first clue I wasn't surgeon material.
"You've got potential as a surgeon, but you  get too attached to the patients," my attending told me.  "We're here to cut out the bad stuff, that's all.  They've got family doctors and psychiatrists to deal with all the other problems. Here, we just do our job and don't worry about the rest."
I went home that night and wrote in my journal something like this.
"I don't think I'm cut out to be a surgeon.  I don't think I can ever just do my job.  And I'm hopelessly attached to people.  This is true."
Early on in my life, there were two important clues to my calling.  The first clue I should have picked up on is that I need to write to process things.  Writing and a love for words has been a constant theme in life, but I only see that now that I have enough distance and perspective.   The second is, I get too attached to people.  So, I should have known that my calling would have something to do with writing and people.  Many years later, here I am, sitting in my sweet spot, using my love and gift of writing in hopes of  encouraging and inspiring others.  I didn't see the clues then, but I see them clearly now.
We've talked about Finding God's Will for Your Life, and we've even defined  Who The Neighbor Is and How Vocation Frees Us to serve our neighbor.  It's easy to see that I'm a mom and need to serve my family, or that I'm a accountant and need to figure my client's taxes.  But, what about those things that you're passionate about, that you do when you finally have free time?   Could those actually be  part of our calling as well?  If so, what are the clues that will help you to discern what you were created to do?
Here are 5 practical clues that might help you find your calling.
1.  You've actually been called to do it.
A calling implies a caller.  Ultimately, God has called us to Himself as believers in Christ and He is our first and most important Caller.  But, there are secondary callings.  True callings choose us, more than we choose them.  What I mean by that is that someone has actually called on you to do something.  The word call comes from the latin word vocatio, which means a verbal call or a summons. When I started practicing my hobby of writing, people asked me to do more of it.  They don't ask me for help with their taxes or legal problems or web design.  Do people ask or call on you to photograph their family or help them decorate their house or teach them to cook or bake them a cake?  Those are clues to what your calling is—people actually call on you do to it.  They see your gifts and talents and they summons you to do more of that thing that you're good at doing.
What do people ask you to do for them on a fairly consistent basis?  I love to sing karaoke, but no one is beating my door down to have me come entertain at their parties.  As much as I love singing Coal Miner's Daughter at full throttle and think I'm good at it, it's probably not my calling in life. (And that's a hard pill to swallow for a girl who loves karaoke night!)  But,writing has been different.   The more I write and practice my craft, the more opportunities I get to write.  I work hard at improving my craft, and people take notice and ask me to keep doing what I'm doing.  That's when you know you are close to your calling.
2. You are passionate about it to the point that time stands still when you do it.
When I was actually calculating the hours that I spend writing and blogging, for the post I wrote on The Nitty Gritty of Running a Blog, it astounded me.  I would have guessed that I spent about 15 hours a week doing it—which is about half the time I actually spend.   But, when you're doing what you love,  you lose track of time. What is the thing you do, that when you do it, time stands still?
3.  You'd do it for free.
Your calling in life often begins as a hobby.  You do it  because you love it.  How else do we find out what we love, other than trying things that interest us? So, we pursue our passions and often for a long time, and often without ever making any money from them, before we finally realize that this is what we were made to do.  And maybe be never get the chance to do that thing for a living, maybe it's always our hobby.  That's okay too.  But the difference in hobby and calling is that your calling is done in service to your neighbor.  Your hobby is usually done for you.
4. You are in your element when you do it.
I first heard this from a talk Tsh gave at Allume when she quoted Eric Liddell.
I believe God made me for a purpose, but he also made me fast. And when I run I feel His pleasure.
What is it, that when you do it, you feel God's pleasure? What is that one thing that, when you're doing it, you know you're in your element?  Now, is there a way to do that and also to serve your neighbor? You may have found your calling.
5.  You have been gifted in this area.
You probably know what you're gifted at.  People have been telling you for years about how talented you are at suchandsuch.  But, here's where calling is different from giftedness.  In our modern world, giftedness is a kind of buzz word, and when we follow our giftedness alone, it can lead us down a path of selfishness.  Calling is different.  Calling asks you to lay your giftedness down on the altar in service of your neighbor.  And when you use your gifts in service of others, you've found your calling.  I love this quote from Os Guiness' book The Call.  He says,
"God normally calls us along the line of our giftedness, but the purpose of giftedness is stewardship and service, not selfishness."
Having a plethora of gifts and talents is great, but they are not something you dreamed up yourself, and they are not even really yours.  They are given to you by God so that you can use them to bless others. Yes, you have been gifted, but more importantly, you have been called.  And your calling is the means by which God works in the world to strengthen and bless His flock in every imaginable way.
 A job is a vocation only if someone else calls you to do it for them rather than for yourself. And so our work can be a calling only if it is reimagined as a mission of service to something beyond merely our own interests. Thinking of work mainly as a means of self-fulfillment and self-realization slowly crushes a person. ~Tim Keller
Helpful Resources on Vocation