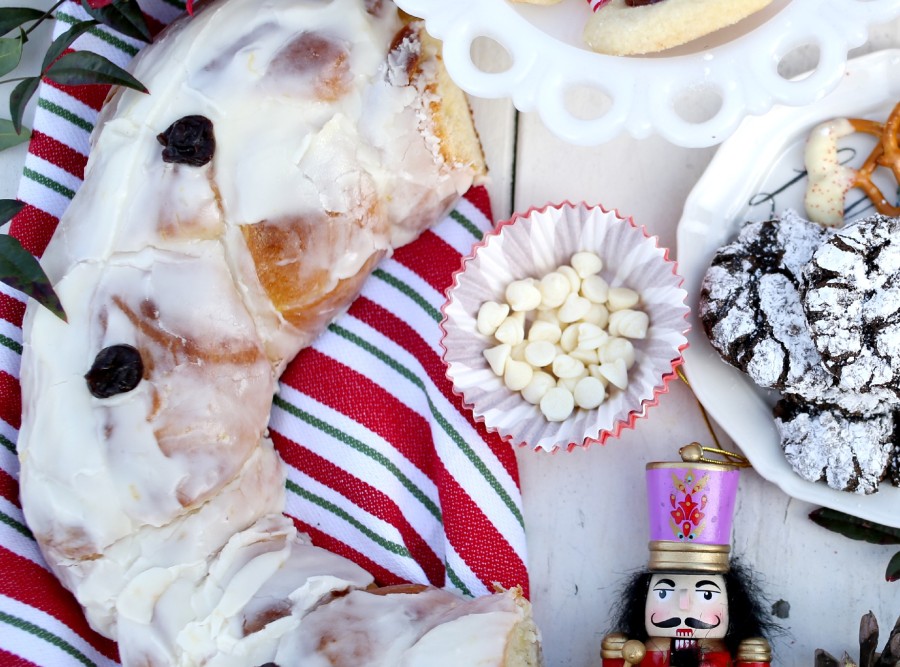 My mother passed the baton to me a few years ago, so now I host Christmas Eve Brunch for my family.  It's one of my favorite traditions.  I thought I'd share our menu, in case you might hosting breakfast or brunch yourself. Also at the bottom is my recipe for Jam Thumbprints.  Besides fudge, they're my favorite Christmas treat.
Here's what we're having:
Homemade Waffles ( I have changed this recipe a little to make it my own, but it's a wonderful waffle and pancake recipe.  It's a little labor intensive to make the baking mix, but once you make it, it'll last for a couple of months, depending on how much you make waffles.  We're on a nearly every Saturday schedule!)
Biscuits and Gravy—we're Southern, what can I say.  I have no apologies to make.  I use equal parts bacon fat and flour (usually 1/2 cup of each) and brown the flour until it's medium brown.  I then add a little sugar (maybe 1 t.) and a little nutmeg, salt and pepper.  Then I add a can of evaporated milk and probably 2 cups of regular milk.  Stir  over medium heat until it thickens a little.  I make these biscuits and then I cheat and use frozen biscuits.
Quiche Lorraine—if you haven't tried this one yet, I beg you, BECAUSE ham cooked in bacon fat will change your life. Amen.
Dutch Babies—aka German pancakes.  They're amazing and I can't get enough.
Ham and Swiss sliders—everybody in the South makes these.  If you haven't tried them, do yourself a favor!
Bacon, Sausage, and Ham—(I try to precook the meat the day before and then reheat Christmas Eve morning, otherwise, my whole house smells like bacon.  Not that there's anything wrong with that, mind you.)
Variety of sweets, including Grannie's fudge, Jam Thumbprints (recipe below), spritzer cookies, chocolate crinkles
Mimosas and wassail
24 Hour Cherry Salad—THIS? Is my favorite food of the day.  Here's how my mom does it.  Take 1 can of pineapple tidbits, drained, and mix with 1 jar of chopped marachino cherries and about 12-15  large marshmallows, cut into twelth's—each piece being about the size of miniature marshmallows.  Why can't you use miniature marshmallows?  Because my grandmother says it doesn't turn out right and grannie's know best.  Let that sit overnight and then in the morning, whip up about 1 1/2 cups of heavy whipping cream, adding 1/2 cup of sugar and 1 tsp of vanilla.  Fold the fresh whipped cream into the fruit and marshmallow mixture.  I use about 3/4 of a 20 oz can of pineapples and a ten oz jar of cherries.  This is how we cook around here, what can  I say!?
Challah or Swiss Braided Bread or Santa Lucia Braided Wreath—this is a great breakfast recipe, and the one you see in the above picture.  We make it for St. Lucia's day on Dec. 13, but I'm making for brunch as well.  It can be served plain with butter and jam on the side or served with a citrus glaze, as shown above.  There are lots of recipes for this out there, but I use this one, usually.
Yes, I must get busy.  But, first I wanted to leave you with my jam thumbprints recipe.  The key to these is good jam.  Don't skimp. Use all fruit or some other good brand of jam.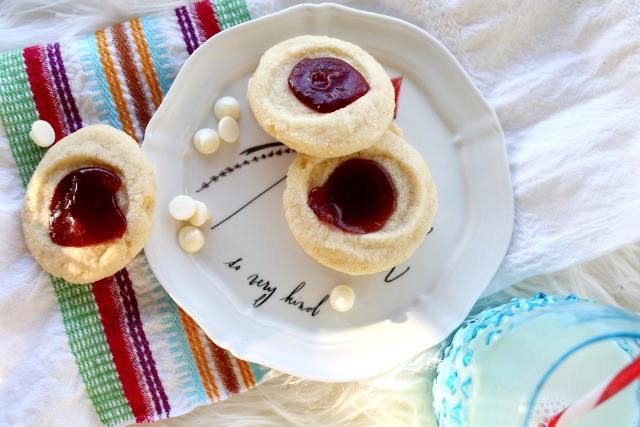 3 sticks of  butter, at room temperature
1 cup sugar
1 teaspoon pure vanilla extract
3 1/2 cups flour
1/4 teaspoon salt
your favorite good jam
What you'll do:
Mix together the butter and sugar until just combined and add vanilla.
Add the flour and salt to the creamed butter and sugar.
Mix until the dough starts to come together.
Dump on a floured board and roll together into a ball.
Wrap in plastic wrap and chill for 30 minutes.
Pinch off the dough into equal sized balls, sized how you want.
Place the balls on an ungreased cookie sheet and press a light indentation into the top of each with your finger.
Drop 1/4 teaspoon of jam into each indentation.
Bake for 20 to 25 minutes, until barely light brown around the edges.
*****************************

In response to the controversy lately in the news regarding our Christian faith and culture, I wrote a very long piece about Why Theology Matters.  You can read it here.
Blessed Advent to you and yours.
xoxo,
edie