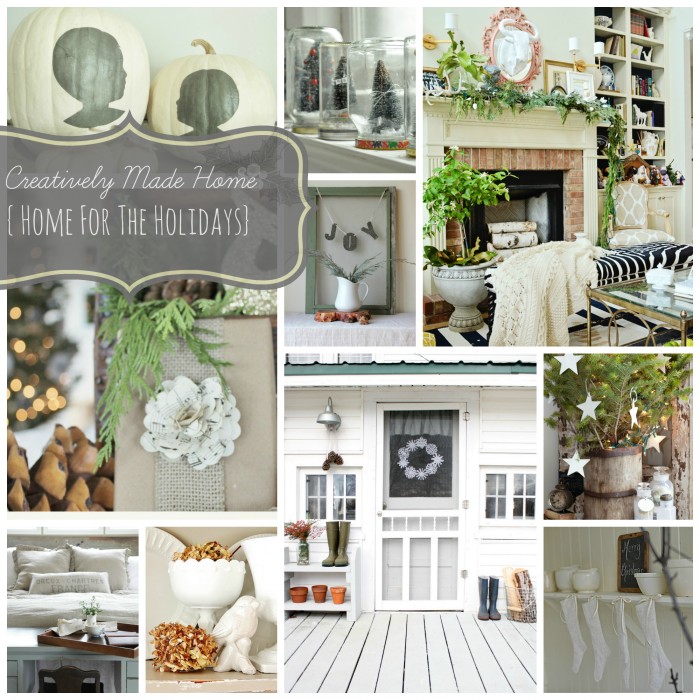 I am so giddy with excitement to share with you a project I've been planning and working on this summer.  I will be teaching an e-course, hosted by Jeanne Oliver as part of her Creatively Made Home series called, Home for the Holidays.  There will be 8 other VERY creative women as we will be share our hearts through projects and videos on how we make the holidays special for our families.
They are: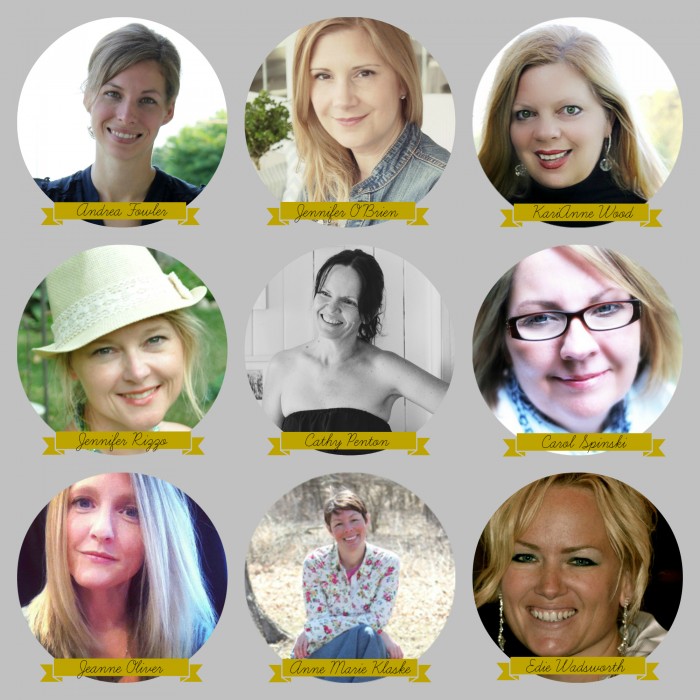 (Jen Rizzo, Jennifer O'Brien, Karianne from Thistlewood Farms, Jeanne Oliver, Anne Marie Klaske, Cathy Penton, Carol Spinski, Andrea Fowler.)
The course will include recipes, handmade decor, handmade gifts, and stories of our favorite holiday memories.  Early registration for the course begins Monday and if you register during the first two weeks of early registration, the course (normally $58) is $48.  The course will run for four weeks but you have access to the videos for one full year.  Some of the most creative bloggers I know are participating and you have access to ALL their videos and projects plus those I will be teaching.  The course will start October 1st, in plenty of time for you to use many of the ideas in your holiday decorating and cooking this year.
Here's the description of the course and what is included with your purchase:
Fall is right around the corner and a time when many of us start making our homes warm and cozy for the seasons and holidays ahead.
Because the holidays can also be a time of stress, conflict, loneliness, sadness and disappointment, I want this course to be a reminder of what you bring into your home, your family and the beauty that your life and gifts bring to those around you.
You will be encouraged as you hear honestly from each woman about the times things did not go as planned during their holidays.
You will hear honest discussions about their own journey of hospitality.
You will walk away inspired as you hear about the traditions and special moments from their childhood and how they create special moments with their families today.
You will be able to watch beautiful videos with gift giving ideas, decorating projects and favorite family recipes.
We all want to create authentic moments with our friends and family.
We all desire for the ones we love to leave our homes knowing that they were welcomed and loved.
My hope is that this course will help you to slow down and find the joy and beauty in the holidays.
 WHAT IS INCLUDED
* Each week you will have amazing truthful videos from the nine teachers.
* There will be 30+ project videos.
These will be incredible videos that include everything from cooking, gift giving and decorating.
                                *Tons of beautiful house photos from each of the nine women
*Supply lists and PDFs for each project
*A digital recipe book of the recipes shared in this course
This course is about loving your home, loving your family and blessing those around you….and having fun doing it.
If you have taken my other courses you know how much I put into them.
This course will lavish you with ideas, beauty, inspiration, joy and encouragement!
Come and play with us.
Registration is open NOW and you will have access for one full year!
*******************
Because of the nature of the course there are no refunds.
All other refunds before the course begins fall under the policies in my shop.
**********************
If you would be willing to blog about this project, you can take the course for free.  Just email with the post link, after you have blogged about it and we will get you signed up to take the course for free.
I'm also giving away two spots in the course today to anyone who comments and shares the course with some form of social media.  I trust you so just tell me in your comment where you plan to share the link.
If you decide to register in the early registration phase, you will ALSO  need to register at jeanneoliver.ning.com after you pay for the course.  This will give you access to Jeanne's teaching classrooms.   You will create your own login and password and will have instant access on the day the course begins, which is October 1st.
I can't wait to share some holiday inspiration with you!