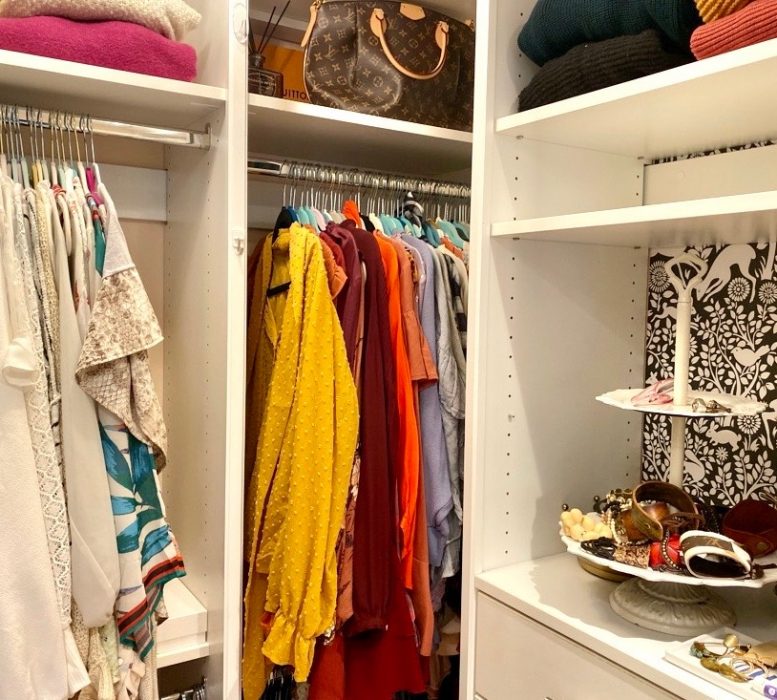 We sold our VRBO lake house last month and have a house full of stuff to give away or sell before November 8th.
It's a good problem to have and it's been fun to let my kids and family pick out what they want from that adorable place.
I actually hired movers last week to bring some of it here to my house, so I could switch out older, more used things for newer things.
But that created a temporary mess where we had lots of piles of stuff that needed a new home. (It's still a work in progress)
Editing my spaces is one of my favorite things.
Deciding AGAIN whether or not I want this or that in my house and in my life is a GOOD THING. And it brings peace to make decisions ahead of time, so that I'm not tempted by every cute thing at Target.
All that moving around and shuffling led to a massive closet clean out and boy was I overdue. PHEW!!
I guess adding a rambunctious six year old to my life has for sure been a huge priority and I feel like I had pretty much let everything else go.
As it should be.
But cleaning out my closet reminded me how much I love and crave things to be a little simpler.
It's easier to get dressed when I'm looking at fewer things that I love instead of a closet full of things I like.
And that led me to making a list of more things I want to simplify and edit in my life.
Your Stuff
If you need to edit, the NUMBER ONE thing you should edit is some of your stuff!
Why? Because some of your stuff–especially when we have too much–can just weigh you down and you don't even know what you have. Can I get an AMEN?!?!
I know it sounds trite, but I'm telling you if you haven't cleaned something out lately, you need to. In my coaching program, The Life Mentoring School, we are talking about mindset and managing our thinking. Surprise, surprise–just like our closets, our minds get cluttered with LOTS OF THOUGHTS that no longer fit, that aren't serving us, that we've outgrown.
I challenge you.
Pick one area of your life that's driving you CrAzY–your closet, the cabinets underneath the sink, your purse, your car–Your Choice!
BUT (and this is important)…
Before you start the project, come up with a thought that you want to think when cleaning out that area. "I love the peace and energy that comes from being organized" or something motivational like that.
What can you get rid of to give yourself more peace? The bonus–you can let someone else have that thing who can really, really use it. I find this type of editing so helpful!
Want to know why?
After you do this and are out somewhere tempted to buy something, you say to yourself, "Oh wait, I have 16 slots for socks and they are already full." Apparently I don't need any socks. Or, do I love this so much that I'm willing to donate something I already have? Conversely, you can also discover that you don't have enough of something. For me it was pajama bottoms–I did not HAVE ANY that were presentable!!
So, I challenge you to pick one area of your stuff and edit it. What do you need to get rid of? What do you need to clean out? You will get so much peace of mind.
This process is such a gift and will domino into other areas. You will soon be saying, "'Okay, now I want to clean out this and this and then this…"
So edit your life, edit your stuff.
Your Time Commitments
Some of you are volunteer crazies–you volunteer for everything!
I used to volunteer for everything because I wanted to be helpful and contribute, and, because I wanted people to think a certain thing. "Oh, she was so helpful." "She brought this." "She did this."
Here's the thing.
If I fill my life up with tasks like volunteering, sure it probably helps someone else but it isn't really in the sweet spot of what I'm good at! I won't have room in my life for the things that are actually important if I just fill it up with random things.
So here's what I don't do anymore.
I don't really volunteer at school. That might sound bad, but I'll send everything you need. We'll read to Thomas at night. I will do all kinds of things to give you the best child that I can give you. But, I know that in order to be the best mom I can be, I can't be at school all day and then try squeeze in all the other things that I have to do (including work) at night (often after everyone else goes to sleep).
So I've figured out that unless something is really in my sweet spot, I just don't volunteer or do those things.
Here's your challenge. I want you to be way more intentional with how you give your time. Think, "Is this the best way of using my gifts?"
For me, I really want to pour into my family first, the businesses that I run from home, and making sure I take care of myself. It's important to me to honor the things I've already committed to. As a result, I am super picky about how I spend my time outside of my family.
How can you edit your time commitments to give you more peace?
Paper
I throw 99% of the paper in my house away.
Do I sometimes throw things away that I regret throwing away? Yes.
I love throwing things away because most of it–say 90% of the mail for sure–I don't really need to see, so I have a very low threshold for throwing things away.
I have clear acrylic bins to keep receipts for my business, etc. so I do keep a few papers. But when you compare it to what comes into the house, I keep very little. I've had a lot of kids now and I realize that you just can't keep everything. Sometimes if it's super cute, I'll take a picture. Most of the time, I just throw it all away!
Another habit I recommend is to make a calendar entry right away as things come in–hopefully BEFORE you throw it away LOL.
Money
What can you edit out of your life that you don't need to be spending money on?
I just went through all my business expenses on QuickBooks. For each expense I asked myself this question, "Is this expense really serving me?" As a result, I edited some things from my life that I don't need to be paying for!
Another example could be the coffees or drinks that you buy, or meals out.
The challenge is to just think through the things that you are currently spending money on and asking yourself if it is serving you.
Your Calendar
Let's talk about our calendars.
Something I've done the last several years that has been so FREEING is to figure out a schedule for myself (work, CrossFit, horseback riding, etc.) and then put it on my calendar. For example, I decided to send my emails on Monday, do all my videos on Tuesday and write my blog posts on Wednesday. The time for these (and other) things are specifically blocked out in my calendar. This has allowed my to really edit my calendar and be super picky about what's scheduled. I want to really honor the commitments I have and this is SO MUCH EASIER because my calendar isn't cluttered with a lot of other things.
So here is the challenge, really think through your schedule and figure out what you can edit so that you really honor the commitments that ARE there and most important to you. We can all do a much better job with fewer things to do!
Your Relationships
Basically, take a look around your life for places to edit. Do I still want to commit to this? Do I still want to commit to this activity on my calendar? Is this still working? Ask yourself, is this still something I want to spend time doing?
Some of you have probably been in a book club or a girl's night for many years. Does it feel like it's not really where you are in your life anymore, but you just keep going anyway?
Really think it through.
Would I join this again today? Is it important to me? Is this group of people or this relationship something that I want to continue to invest my time? We all have a limited amount of time so it's important that we leave ourselves a margin for the things we really want to say yes to.
So edit your relationships.
Your Consumption
A lot of us get stuck in consumption.
We consume a lot of social media, we consume food, we consume TV. We consume, consume, consume instead of using our brains to create the things we want. This can be a huge issue for me because I consume podcasts and audio books. I have to really be careful that I don't just spend all my time consuming(even though it's great stuff). I am committed to creating things in my life!
One morning recently I had a course that I really wanted to watch, but I also had two emails that I needed to write. I was moving slowly that morning as I'd been under the weather over the weekend. I was listening to my course and then I finally realized, "I've got to get busy. I can't just listen and take things in and consume, consume, consume. I have to create!"
So ask yourself, are you consuming more than you create?
This girl's got goals!!
Your Food
I have been editing my food for a long time.
How can we eat cleaner? How can we eat less processed food? How can I create simple meals where the food preparation is not overwhelming?
One of the most important things I've learned in this area is to just keep things simple. I eat the same things a LOT–especially for lunch. I don't really eat breakfast as typically I am intermittent fasting during the week. For lunch, it's often rice and a protein–usually shrimp, or a salad with some kind of protein on top. I don't go out to lunch very often, I just keep my food routine simple.
What could YOU edit?
I don't buy a lot of snacks. Primarily I buy real whole food that you have to make. This simplifies your food routine and you tend to eat better, feel better.
Another thing I've done over the last few years is to use a meal kit delivery service. Talk about simplifying your life!!! We know what we're going to make four nights a week and then the other three nights we do something fairly simple. I used to make such elaborate meals you guys! The problem with being so elaborate is that you create a lot of stress for yourself. UGH! Ain't nobody got time for that!!
Don't get me wrong–I love trying new recipes! But on a regular basis, keeping your food simple will be great for your health and great for your mind because you're not constantly stressed about it!
Your Life Drama
How can you edit the drama out of your life?
Here's what I want to tell you about the drama in your life. Are you paying attention mama?
Lean in.
You are creating 99% of the drama in your life.
So if you are living a life that's full of drama, you need to take a long, hard look at yourself.
You are creating that. You're creating the drama with how you respond. You're creating the drama with how you think. You're creating drama around things–like food. How many of you, like me 🙋🏻‍♀️, can create so much drama around food? "I shouldn't have made that!" "I shouldn't have eaten that!" Then you beat yourself up and create so much drama just inside your own head. I know so many of us do this and it doesn't have to be about food–it can be about anything!
Sometimes we create drama about things that happened in the past that we can't change. By ruminating on it, you keep dealing with it over and over again. You think about what they said. You think about what you should have said. YOU CREATE THE DRAMA!
The person who says, "My life is so full of drama", what they really mean is I am creating so much drama in my life.
You don't need to. It's cluttering up your mind.
When you find yourself CREATING THAT DRAMA, just decide "Nope, I am not going to let myself slide into this drama, mama!"
You decide. You decide what you are going to feel in a situation. Love, of course, is always the best option.
Where can you edit the drama in your life? Where can you just let it go? Where can you just forgive? Where can you just decide to feel love?
Your Negative Thinking
Where can you let go of negative thinking? This is a continuation of what we just talked about.
When you find yourself in a negative thought loop, STOP, and just say to yourself "This just is not serving me!"
Here's the thing about this. I'm not just talking about significant situations, I'm also talking about those times that seem trivial at first glance.
For example, you might be thinking about cleaning out your closet (pretty minor in the scheme of things) and telling yourself, "I'm just so disorganized. I'm am so messy, etc." What's going to happen if you allow these negative thoughts to just run in your brain unmonitored? You're going to fulfill them! You're going to feel bad and then you're not going to want to organize anything.
Take control of even seemingly trivial thoughts like these and say, instead, "I get so much peace and energy from decluttering and organizing my life." Or, "I get so much peace and energy from decluttering and organizing my brain and deciding what I want to think about my life, myself, and my relationships".
We have these unsupervised negative thought loops that make us feel bad and then we act upon them. We don't even like doing it, but we do it anyway. I used to say, "I'm creative, but I'm not very organized" about myself all the time. Well, guess what? You'll live it out. You'll prove that it's true. Your brain likes to be right.
I don't say that anymore. I say things to myself like, "I love the energy and peace that I get from being organized." Don't get me wrong, it doesn't mean that you won't look and might find disorganization. You can. I choose to focus on the fact that I do love being organized and the energy and peace it gives me. Lo and behold, I can find evidence of that too! Then I act on that instead of the negative thought loop.
See how this works?
You are in control of the narrative that you are telling yourself.
You control what you are telling yourself about your life, about yourself, about your marriage, about your house, about your weight.
Miracle of miracles, you have the opportunity to retell the story–however you want to tell it.
Use it. Use the power that you have to tell a better story.
Edit your life.
Make it what you want and start today!