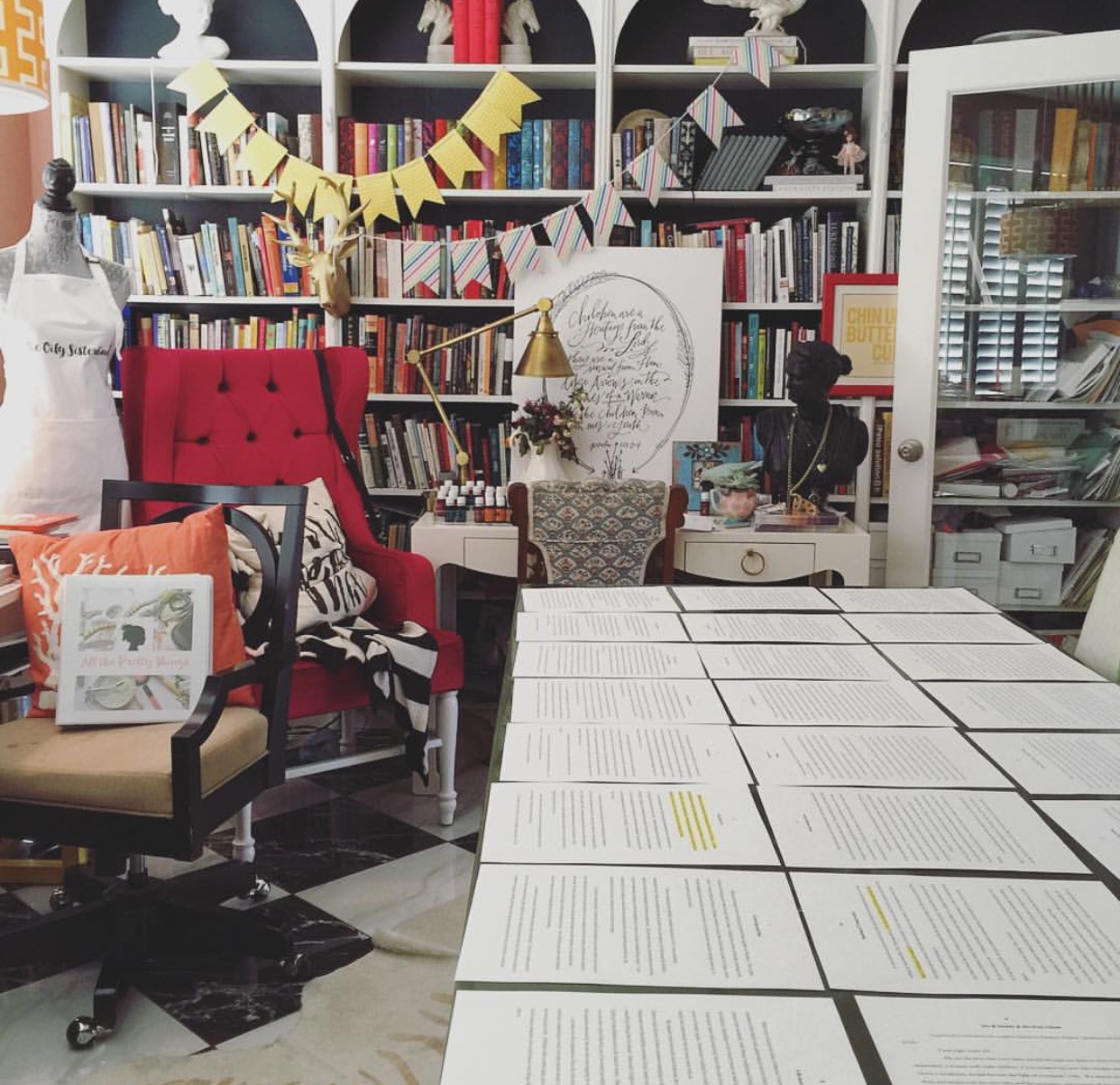 Well, you might be happy to know that I'm within days of turning my manuscript in for the third time. Which means, showering is very low on the list right now.  And so is cooking and leaving my house and in general, anything that involves not typing on my computer. Please pray for my general sanity and perseverance and for the health and wellbeing of my family, who are largely surviving on chips and salsa and grilled cheeses.  I'm probably headed to my mountain cabin alone this weekend for a marathon session, in an effort to finish by Monday, my 46th birthday.
But I'm really proud of ALL the changes we've made in the book. They've all been made for you actually, designed on purpose so you will (hopefully) enjoy the book and not get lost in my sometimes very meandering way of telling a story.  My editor said to me AT LEAST forty times:  "I can appreciate the idea of using flashback here, but I think this chapter will work better if you put it in order."  And yet, the next chapter?!?!? I thought it would work SO MUCH better in flashback. (Another face palm for my editor)
I think I've decided flashback is the protective mechanism I use so as not to fully relive the story I'm trying to tell.
To help me even more to understand why the process has been so grueling and taken so long, my editor actually told me to write a letter to my reader explaining what has been going on with me and this book for the past two years.  Here's what I wrote:
Dear kind reader,
This is the story I never wanted to tell.  This is the story I've been trying to run from for forty years and the story I've been skirting around for nearly three.  Though a writer for many years, the words in this volume are all raw and fresh and hard fought.  I wanted to tell you everything but so many times I told you everything but the truth.  So I started again.  And again.  And again.   I tried to write it with fancy literary devices because I figured then you'd think I was really smart.  I tried to hide behind the writing of all my heroes with a plethora of the most beautiful quotes on earth and then I tried hiding behind my family members, undoubtedly the funniest and quirkiest people on earth.  
            I tried to make it a story about theology and then tables and then prodigals and then I wanted it to be a story about fire.  What I didn't want to write about was the thing that scares me to death.  What I didn't want you to know was that fatherlessness is my deepest ache—and being untethered and unspoken for my suffocating fear.  And now that I've said it and can't take it back, I will attempt to tell the story that has wrecked me for far too long.  My prayer is that in the telling there'll be healing, perhaps for both of us.
The process took its toll on me—physically, spiritually, and especially emotionally.  The healing has been slow to come but I know I'm getting  there.
The book editing/writing/overhauling combined with my newly revived love and passion for wellness and essential oils has left precious little time for this little corner of the world.  And I've missed it so much.  My teaching schedule and my new friendships that have blossomed this year have been so wonderful and so worth the accidental sabbatical I've taken from blogging, but with the book deadline approaching, ALL I can think about are all the things I've been meaning to tell you over the past year.  Things like what I'm cooking and what I'm reading, my current uniform and how I'm dealing with my teenagers leaving their childhood room and moving to the basement.  And also how I'm dealing with being alone at home after all those years of homeschooling and what my big reVOLution plans are for 2016.
I can't wait to dive back in with you.
As I'm setting new goals for the year and making my schedules, I'd love to know what you want.
How can I best serve you here? I'm all ears!
Sending you all my love,
xoxo,
edie