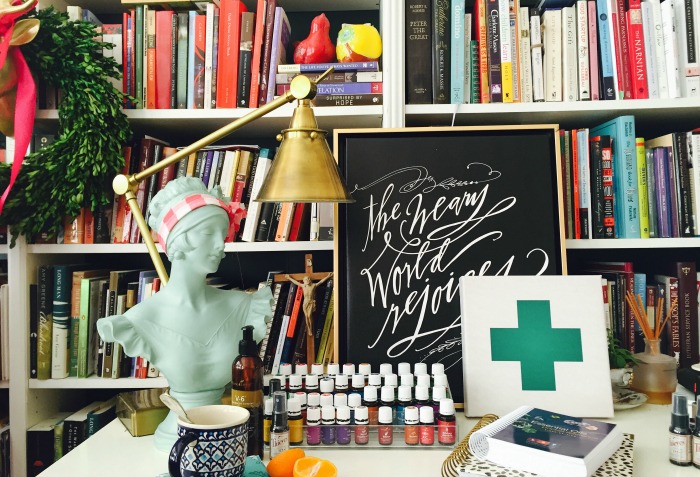 Morning lovely friends!!
Where have you been all my life?  Oh wait,  I'm the one who left—so sorry about that! But wow, did we have a wonderful, restful Advent & slow stroll toward Christmas.  We did a lot of fudge making and bread baking and oil using and knitting and in general enjoying each other, even our little Scooter who looks like a gangsta rapper in this photo.  He says, Holla and peace out bro.  Or whatever it is gangsta dog rappers say.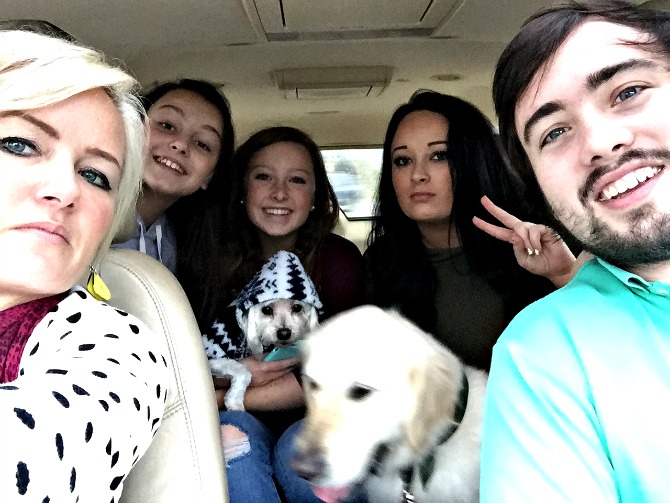 I was rollicking along at a slow and easy pace until the Thursday before Christmas when I it finally dawned on me that the gifts weren't gonna buy themselves, and although we have scaled it back by epic proportions, we still like to bless our kids with a few things.  Oh well, I work best under pressure.
I hope you enjoyed some sweet memories with your peeps too and a time of reflection on how blessed we are to be loved by a God who would be born into our flesh to die for our very salvation.  What a miracle!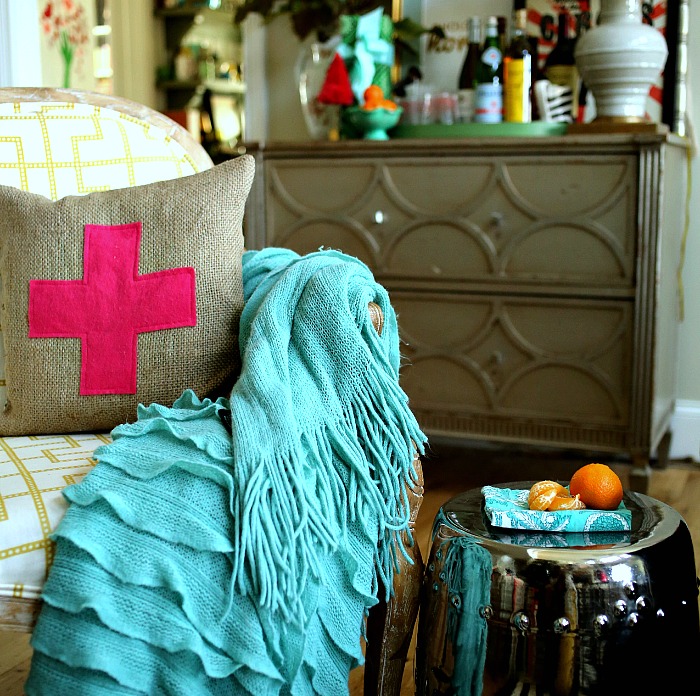 The week between Christmas and the new year is perhaps my FAVORITE week of the year and I'm planning some changes for the blog and working on some fun goals for 2015, including a New Year Wellness Challenge that I'll tell you more about soon!
And as you might guess, I've also been reading because books are my FAVORITE and my favorite book on my nightstand right now is my dear friend Ruth's new book Living Well Spending Less—12 Secrets to the Good Life.  The book officially launches this Tuesday, December 30 and you are in luck, because if you order it by Monday, December 29th, you get Ruth's 150 page Home Planner Guide for FREE, which will make your planning and goal setting for 2015 all the more easier!
I interviewed Ruth about the book, also known as, we talked and laughed for 20 minutes and I hope you'll listen in to hear her heart about this book and what she hopes it will mean for you.  Watch the trailer and then get listen in as we chat it up!
 Video #1 How a Book is Born!
Ruth & Edie 12 Secrets 1.mp4 from edie wadsworth on Vimeo.
Video #2  My favorite "secret"
Video #3 What you get for free!!!
PREORDER BONUSES
Right now, when preorder your copy of Living Well Spending Less: 12 Secrets of the Good Life, you can take advantage of these AMAZING pre-order bonuses! But don't wait—they'll only be available for a limited time!`
ORDER 1 BOOK:
When you order one book, receive this beautifully-designed, ultra-practical digital home planner. With pages for yearly, monthly, and weekly goal-setting, plus pages for planning your schedule, setting your monthly budget, and keeping track of important dates, phone numbers, and passwords, this amazing tool is the perfect way to implement all the practical tips found in the book.
You'll receive instant access to the digital file plus instructions for how to assemble it. You can even have it coil bound at your local office supply store for just a few dollars to give it as a gift this Christmas!
ORDER 2 BOOKS:
When you order TWO books (one to keep and one to give!), you'll receive instant access to our digital home planner PLUS instant digital access to this gorgeous original artwork from popular watercolor artist Ruth Simons of Gracelaced.
Ruth's exquisite artwork features inspirational quotes and scripture verses, and her waiting list for custom art is months long, and her 8×10 fine art prints normally retail for $16.00.
This beautiful chalkboard print makes the perfect Christmas gift for anyone on your list and you can let them know the book will be coming soon! We recommending printing using your highest resolution settings on linen cardstock.
ORDER 5 BOOKS:
When you order FIVE books, you'll receive both instant access to our digital home planner AND instant digital access to our original artwork from Gracelaced PLUS a limited edition Secret 13 Key pendant from Cents of Style.
This stylish gold necklace has a 30" chain and is the perfect reminder that you already hold the key to the Good Life in your hand. Please note that quantities of this special necklace are extremely limited!
How to Get Your Bonuses:
First, preorder your book here Living Well, Spending Less: 12 Secrets of the Good Life and then…
Head over to Ruth's page to fill out the preorder form and be sure to have your receipt handy so you can include your receipt/order number.
And I'll see you back on Monday as I attempt to return to posting somewhat more regular!
xoxo,
edie
MY NEWEST BLOG SPONSOR:
This post is generously sponsored by Young Living Essential Oils.  I am family physician by training, on sabbatical from practice and into natural choices for my family, and this is the main way I help boost our immune systems and alleviate lots of minor aches, pains, and injuries.  Read more about how we are using them everyday! My Young Living essential oils are also my newest business venture
, and the oils are so well loved that they sponsor my blog!!! Thank you, friends!  Enroll by clicking here.