Are you new around here?  Welcome!  And thank you for visiting my blog!  I'm honored you're here and I hope you'll find some encouragement (and some laughter!) for your days.  Join this community of grace lovers and get fun, free stuff every month delivered to your inbox, along with access to free printables, meal plans, and my 31 Days to A Heart of Hospitality ebook!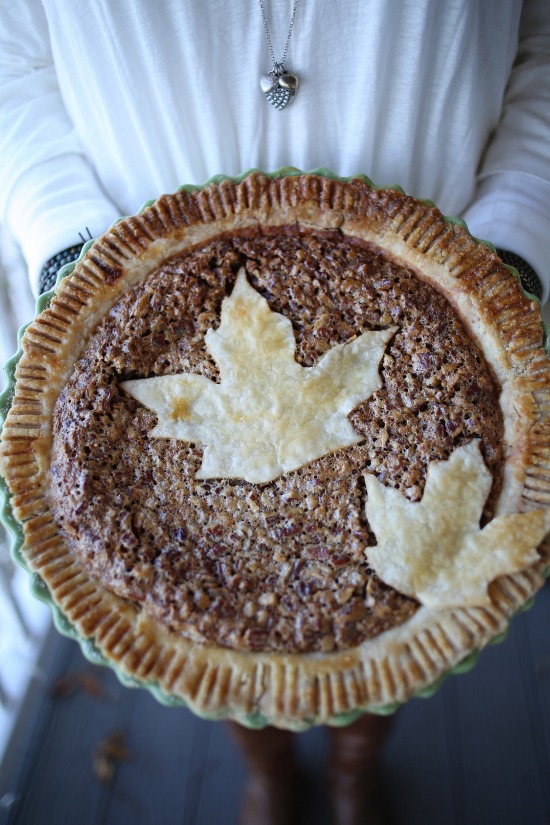 Happy Thanksgiving Dear Friends!
I'll be on Instagram today giving tips and showing some videos of pie making so that you will know 100% for sure that homemade pies are within your grasp.  THEY ARE!!
Let me preface this by saying that I am NOT an expert pie maker.  But my mother in law is and I watch her like a hawk when she's here.
I'll be making a big batch of homemade dough and using that for all my pies today.  I'll be making cherry, pecan, and pumpkin.  I also have an apple pie recipe here but we had it last month for Stevie's birthday so I'm not making it today.  The cherry will be a double crust but the other two will be single crusts.
Invite your friends on IG to join us!
For the dough, you'll need:
6 cups of all purpose flour
1 cup of lard  (this is no time to fight me on the Lard.  Just trust me.  Or trust my mother in law.  She's a certified pie whisperer.)
1 tablespoon of sugar
1 1/2 tsp salt
Mix those ingredients in a food processor or with a pastry blender and put them DRY in a ziplock bag in the fridge until you need them.  Pie ingredients need to be cold so make sure you put in the fridge at least for a little while!
For the single crust pies, take out 1 cup of dry ingredients and mix with ice water (about 1-2 T)  just until the dough comes together but isn't too sticky.  The rest you'll have to see on Instagram OR you can follow this post on how to make the perfect pie crust.  (Warning—I used butter and lard in that recipe and I must say that the all Lard crust is better, tastier, and easier to work with.  Don't hate.)
Run to the store and get your Lard and meet me on Instagram in a little while!
Here's the ingredients for the cherry pie!
Perfect Cherry Pie!
What you'll need:
2 cans tart cherries, drained, but save the liquid (I use the Oregon brand, found with canned fruit)
1 to 1 1/2 cups granulated sugar
4 tablespoons cornstarch, mixed in about 2 T. of the cherry juice
1/8 tablespoon almond extract (optional)(I use it, but just a drop or two!)
Perfect pie crust, enough for double crust
1 1/2 tablespoons butter, to dot
Egg wash and 1 tablespoon granulated sugar, to sprinkle on top
Can add a little red food coloring, to get that beautiful red color
I will often mix the filling and then precook it in the microwave for a 2-3 minutes.
Bake at 375 for about 50-55 minutes, until top is slightly browned.
Pecan Chocolate Chip Pie
1 1/2 cups pecan pieces
3/4 cup semisweet chocolate chips
1 tablespoon flour, plus more for tossing chocolate chips
4 eggs, beaten
1/2 cup granulated sugar
1/2 cup (packed) light brown sugar
1/4 dark corn syrup (could use 1 cup of light corn syrup if you don't have this)
3/4 cup light corn syrup
1/2 teaspoon vanilla extract
pinch of salt
1/2 stick melted butter
Place the pecans and the chocolate chips in an unbaked pie crust.  Mix the rest of the ingredients and pour over the chips and pecans.  Bake at 375 and cook for about 55-60 minutes.  Cover the pie with tin foil to keep the crust from over browning.