While at Blissdom, I got to meet the other bloggers in the 40 Days of Water Campaign.  We had dinner with Mike from Blood:Water Mission and all sat around telling our water stories.  Most of it was a confessional of how we didn't do it perfectly.  I guess confession tends to lend itself to more confession, which is why it's so good for the soul and why the church embraces it so wholeheartedly.  Alli didn't stop with her water stories.  She went on a confessing rampage.  I laughed, then cried, then laughed 'til I cried when she showed us the Facebook page she set up for me after our house fire.  She never actually launched the page but it was called A Dollar for Edie.  She confessed that she wasn't sure if it was the right way to help but she desperately wanted to help.  I already knew I loved her, but now? We're sisters for life.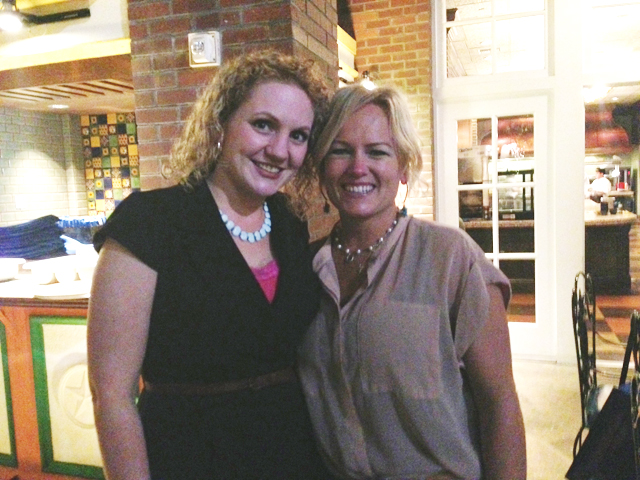 And? For your pure enjoyment, I made her send me a text of the my un-published Facebook page. It's completely adorable.  It got 9 likes and was never made public.  It would have gone places, I just know it.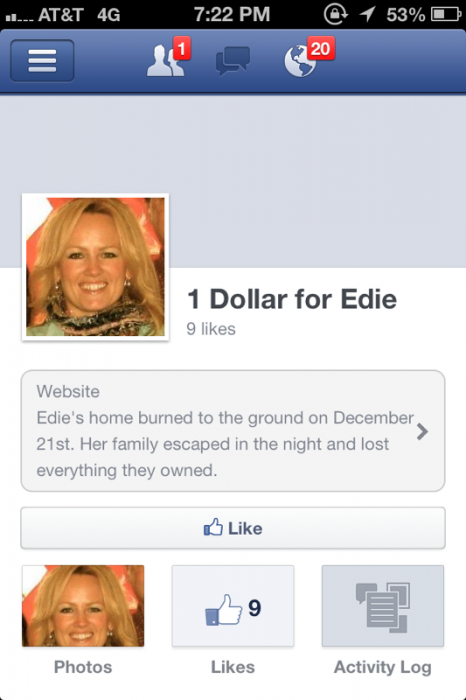 Thank you Alli, for inviting me to your 40 Days of water team and for setting up a phantom Facebook page in my honor. The whole thing made me so verklempt. I love you and you are a brilliant woman for bringing so much bliss to our lives.  And laughter!  You are one of a kind!
I have an idea. Let's all donate those stray dollars that we all have laying around to help build wells in Uganda!!
Only a few days left before Easter, so even if you didn't participate, would you consider making a one-time donation to the Blood:Water Mission?
And if you have been participating, even if very feebly like me, make sure you update your page soon.
***********************
p.s.  I've been wrestling with what to do with my email subscription service.  Some of you wanted an email with every post but most did not.  Here's what I've decided. I'm going to set up two different tracts.  Everyone, who's signed up for the email service already will get the monthly newsletter (which comes out this weekend) but not emails every time I post.
1.  So, if you are already signed up with me,
you will get my newsletter and an occasional update but not the regular posts.
Sign up here, if you haven't already to get my monthly newsletter and an occasional update.
If you want an email every time I post, sign up here.
even if you've already signed up for the first subscription.
If you haven't signed up at all yet and you want the newsletter and every post delivered via email, you'll need to sign up for both.
Does that make sense?  Do the giant letters help make it more clear?  That's what I thought.  Don't you love it when someone just talks louder and slower instead of explaining what they meant?  Yeah? Me, too. You're welcome.  We can discuss in the comments if you're confused.
If you think you're confused, try setting it all up and trying to keep it straight in my ADD brain.  I should get an honorary doctorate in computer science.  Or else at least a congratulations for not blowing up the internet.
Now, go forth and subscribe, dear friends!!
Love y'all.
Better n' anythang.  (as my mamaw would say)