I blame this all on Sara.
She brought these cookies to our house on the 3rd of June and I'll never forget the look in her eyes.
She knew what she was doing to me and she did it in cold blood.
And I was skeptical at first.  Cherry?  In my chocolate chip cookies?  I don't know about that right there.
And sprinkled with salt?  (okay, fleur de sol but whatevs)
Where I come from we don't sprinkle our cookies with salt.
But I'm here to tell you that this cookie connoisseur didn't know what hit her.
I haven't been quite the same since.
Whatever you do and for the love of all things toned and slim, do not, and I repeat DO NOT make these cookies under any circumstances.
If you ever hope to wear a swimsuit in the full light of day, you'll take me at my word.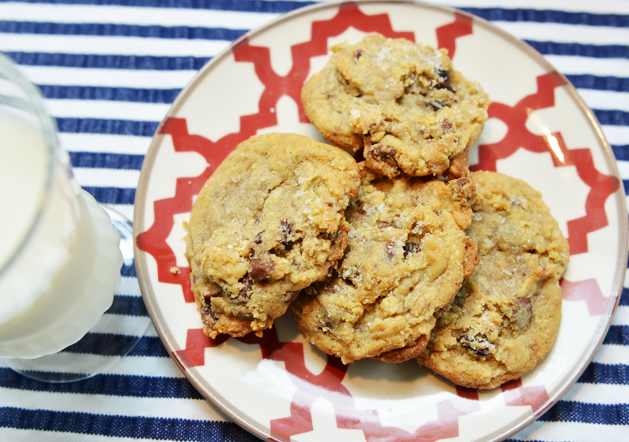 Now, for the rest of you, here's the recipe. Make at your own risk.
I don't want to hear your sad stories of how your husband found you in your closet hunkered down with a plate full of these.
I've got my own cherry chocolate chip cookie problems to deal with.
Thanks a lot  Sara 🙂
(The recipe is apparently from Metropolitan Bakery in Philly!)
Ingredients

1 Cup Rolled oats
3 Cups All-purpose flour
1 3/4 tsp Baking powder
1 1/2 tsp Baking soda
1 1/4 tsp Salt
1 1/2 Cups Butter
1 1/4 Cups Sugar
1 3/4 Cups Brown sugar
3 Eggs
1 1/2 tsp Vanilla
3 1/2 Cups Chocolate chunks
1 1/4 Cups Dried tart cherries
1 1/4 Sea salt

Directions

Grind oats into fine flour (food processor)
Sift flour, baking soda,and baking powder.
Add oats and salt.
Using mixer, cream butter and sugars until light in color and texture (about 3 minutes).
Add eggs one at a time.
Stir in vanilla.
Add flour mixture until combined.
Fold in chocolate and cherries.
Sprinkle each cookie with sea salt.
Bake @ 350 for 15 – 18 minutes.
Take a little journey to cookie heaven on first bite.