I've been wanting to re-upholster this chair since I first bought it on clearance at T.J.Maxx. There was a rip in the upholstery which I disguised for 5 years with a throw. Finally, I painted it (a bright yellow from Valspar, whose name I've currently forgotten) and sent it to be recovered with a darling little fabric I found on sale online (bought quite a while back from I'm not sure where). I've had it in the bedroom and living room and kitchen. Currently it's in the kitchen (which unfortunately may never be done) and provides the perfect respite when the coffee is taking too long. I'll probably move it back to the bedroom but either way, I love it's new look.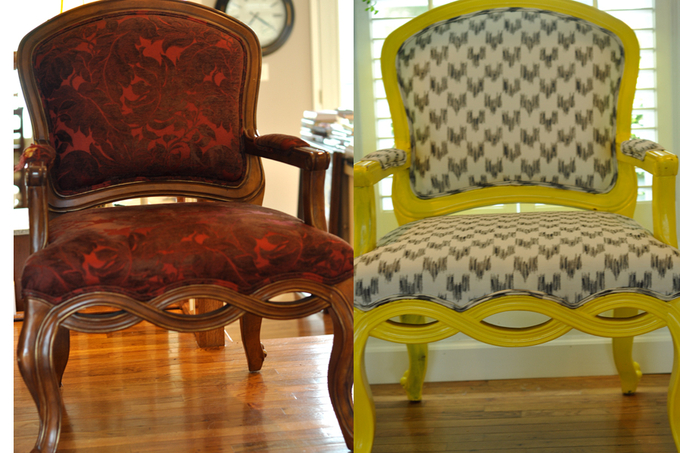 I should also confess to you that I'm taking an online sewing class at the Freckled Nest. I blame this all on Ruthanne, whose life and interests are so like my own. She's such an overachiever and made eighteen napkins for the first project.   Show-off.   I've made a measly four so far. They extended the sign up until tomorrow so if you feel like you could add one more thing to your life, I highly recommend it. So far, I've made a few cloth napkins and a library bag. The girls want to follow along on some of the projects so they've made napkins and plan to make bags today.
And one more thing,  I'm having a little open house next Friday (kitchen complete or not) which will be combined with a brunch and a CABi party and a bookclub organization party.   It'll be at my house from 10-12 and if you live in the area and can convince me you're not an axe-murderer, you're welcome to come.  Email me for details.
If all goes as planned, I hope to do a little video tour for you internet lovelies who can't make it.
Now, you have a happy weekend!
Post Edit:  I listened to this segment of Issues Etc on church music and thought you might find it interesting too.  Is church music just a matter of personal preference?  Hmmmm…. this guy makes me rethink that.