Girls, you are in for a treat!!!! Savannah (political science graduate turned MAC make up artist) has graciously agreed to give us 30 and 40 somethings some tips. I was lucky enough to be on the receiving end of that magical make-up brush of hers, and though there's probably nothing on the market (short of a scalpel) to make me look 25 again, I am completely in awe of her knowledge base and skill level with a wide variety of ages, colors, face and eye shapes, etc.
I've asked her a zillion questions since she's been here and now I am thrilled to pass the 'must have' tips on to you all! (Any male readers still with me at this point should probably see if there are any good football games on. There's nothing for you here. You have entered the sacred life of women's beauty and trust me, you don't want to know what goes on here. Do me this favor though, tell your wife she looks beautiful today!)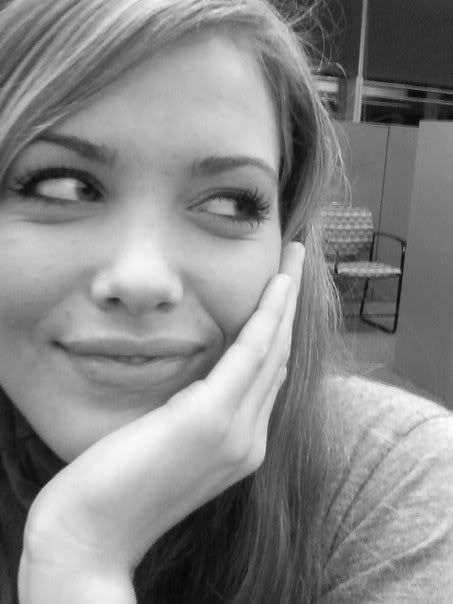 Beware of this ghetto video and don't scramble to write stuff down because I list everything you need below. This video is proof that I love you. Amen.
Steps to a flawless face and the Audrey Hepburn (or Marilyn Monroe) look:
1. Start with your normal foundation and preferably a tinted moisturizer. Then apply Mineralize Skin Finish liberally all over the face. (I just bought one and it is WONDERFUL stuff—-and not that expensive compared to other department store brands)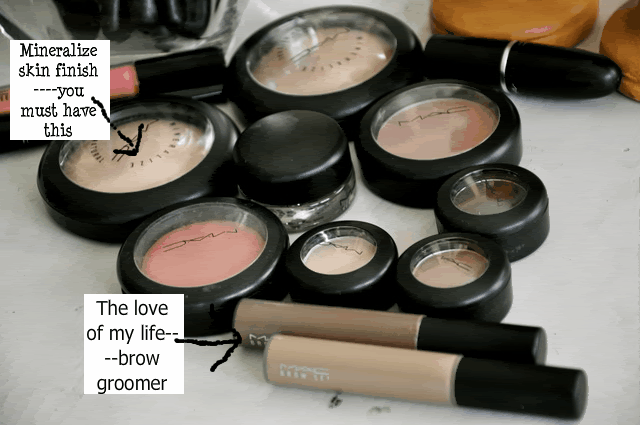 2. Eye primer—Use the tip of your finger to apply
painterly
(from a paint pot) all over the eye from lid to brow. This functions like double stick tape for your eye shadow and gives much more even coverage. (I've been using this product or one like it for 3-4 years and I love it.)
3. Apply
brule'
eye color over the whole eye. Then use a light brown like
wedge
for the crease. To apply the crease color, use a blending brush (MAC brush number 217) and apply the color at the lateral edge of the crease and then do a windshield wiper motion just under the brow bone in the crease. It's better to start with less color and then build it; you can't easily remove the color. Of course, if you're Tammy Faye like me, then more is better.
4. A good way to brighten the eyes is to add a light color like
brule'
to the tear duct. You can apply it with your finger or with the same blending brush.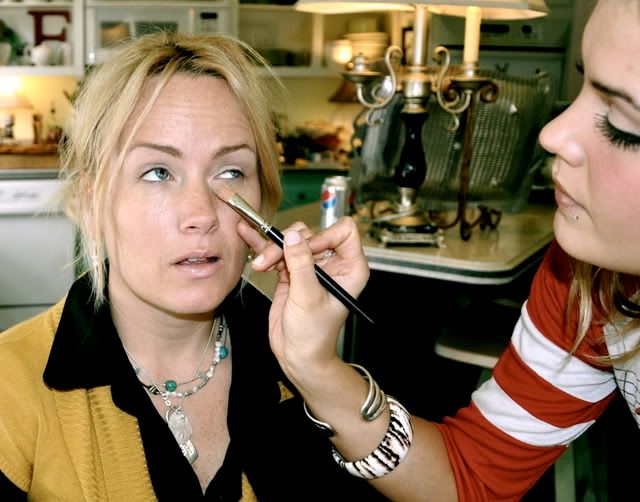 5. The Audrey Hepburn eye is heavy on the black eyeliner. And it's not rocket science, but it's not that easy to do either. To make it easier, Savannah used a small angled brush (MAC #266) to apply a brown eye shadow (
Handwritten
) in exactly the place where the black eye liner is to go. It serves as a template for where to place the liner. Start by lining the lower lash line as close to the base of the lash as possible. Then extend the line past the corner about 1/4th an inch following the natural line of the lower lid. It's a common mistake to just free hand the top liner without paying attention to the actual shape of the eye. (This usually results in having it curved upwards in an unnatural way).
6. Then fill in the template with the black liner. The one from MAC is called
Boot Black
liquid liner and it is fantabulous. After Savannah did my left eye, I practiced on my right eye. Not too bad, huh? Then finish the look with the brow groomer. It is applied with a wand (like a mascara) and makes a huge difference in the overall look. I used to never leave the house without lip gloss and mascara. Now, I never leave without brow groomer heavily applied. It would be one of the ten items I'd take if I were stranded on a deserted island.
7. Apply blush (Dainty) with a good brush (MAC #168) on the apples of your cheeks. A peachy pink blush (or as close to the same color as you would naturally blush) works best. I love dainty. DO NOT UNDER ANY CIRCUMSTANCE apply blush in a stripe on your cheekbone. (Savannah's emphasis) You apply blush where you would naturally blush.
Go ahead and confess it, 'cause we both know good and well that you've been guilty of the striped cheek.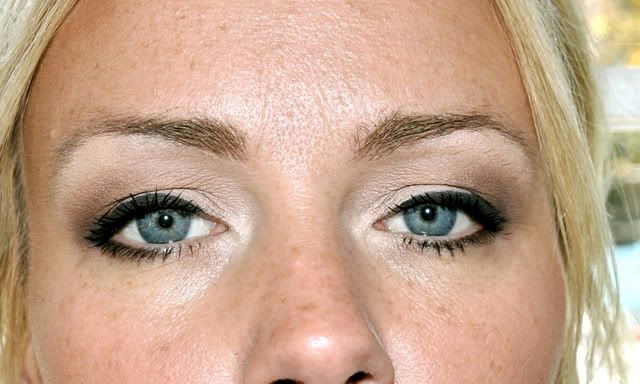 Quick tips: what you must have
1. Mineralize Skin Finish powder
2. Brow Groomer
3. Painterly paint pot (to use for eye primer)
4. Boot Black Liquid liner
5. Dainty blush
6. Hue lipstick (for me) but Savannah says the lip color is not limited with this eye look because it's so basic and pared down.
Big round of applause for Savannah!!! Thank you for taking the time to teach us. Being around you makes me FEEL 25 again—-that counts for something!
Disclaimers:
This is NOT, unfortunately, a paid advertisement for MAC. I've been using their products for 7-8 years and love them. I'm doubly blessed that our wonderful Savannah works for them. This would have been way more fun if they would have sent me $200 in free products to sing their praises. But they didn't.
I've written a much more
important post on beauty
that I highly recommend you read. A woman who is at rest— comfortable in her own skin—accepting of her own flawed body—is a beautiful woman to me. But, hey, we've got to take help where we can get it. And make-up, to a southern women, is serious business. I'm still working through Kubler-Ross Stage 2 over all the MAC lip gloss
I had stolen last year
. It is not safe to come between a woman and her beauty products.
Post Edit: I re-read this post this morning and I'm not sure I made it sufficiently clear about the power of the brow groomer.
I need you to be on the same 'brow-groomer' page as me. There's power in the brow.
So, I snapped another little pic for you this morning.
Go to MAC. Go directly to MAC. Do not pass go. Do not collect $200. Get some brow groomer—which is officially called

brow set

. Mmmkay?