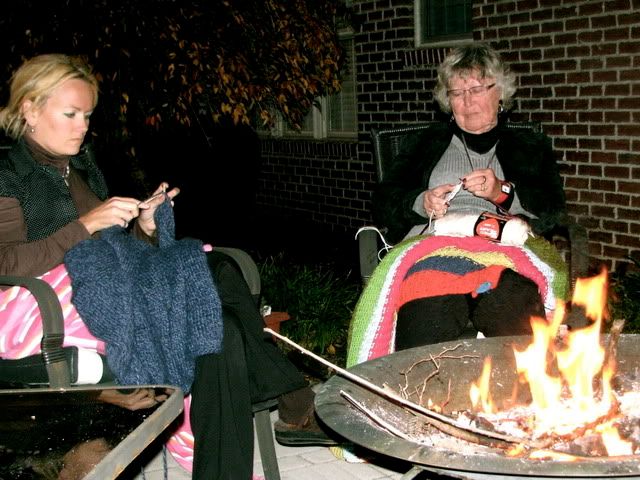 Learning to knit from a great mentor, my mother-in-law
This is the first part of a four part series on
Creating an Environment of Learning
for your children.  Read the introduction
here.
 I read a book recently,  
A Thomas Jefferson Educatio
n by Oliver Van DeMille, which I will refer to as TJED,  that inspired and challenged me to rethink the way I've approached home education and learning in general.  In the book, DeMille describes three types of education:  conveyor belt education which teaches the students 
what
to think (most of our schools are this type–where all students learn the same thing at the same time),  professional education which teaches students
when
to think (this is particular training for a particular field like law, medicine, engineering, etc), and then leadership education which teaches students
how
to think (this type is what most of the educated people of the past received including our forefathers).   
He purports that societies function best when all three types of education are present,   the problem is that conveyor belt education has taken over.   It is rare in America to find students who are being trained to be leaders.   And just because your children are being educated at home or at expensive private schools doesn't mean they're being trained as leaders either;   likely, they are not.  Most home schools and private schools, without even realizing it, have adopted the conveyor belt model.   
So, how do we train our children to be leaders in our society?   He makes two basic recommendations,
the classics
(be it classic literature, art, music)  and
mentors.  
And he uses the example of highly educated men like Thomas Jefferson to drive his point home.   Jefferson worked extremely hard to obtain a superb education with a depth and breadth of knowledge that has rarely been duplicated.    To quote a beautiful artistic tribute to him by Maria Kalman (thank you Patty for the
link
), "he was a scientist, philosopher, statesman, architect, musician, naturalist, zoologist, botanist,  farmer, bibliophile, inventor, wine connoisseur, mathmatician, governor of Virginia, US minister to France, vice president, and president of the United States of America".   He learned to speak Latin, Greek, Spanish, Italian, French and knew more than ten Native American dialects, and was an accomplished attorney and businessman.   And he was educated like so many scholars and leaders who have gone before us:   by reading and studying the great classic works and by discussing ideas with his mentor, George Wythe.   
Parents are childrens' first and most natural mentors.  And DeMille encourages parents to adopt a style of mentoring your children, rather than demanding certain tasks from them.   The word
mentor
dates back to Homer when he wrote of the adventures of Odysseus.   When Odysseus left for the Trojan War, he left Mentor in charge of his son Telemachus. 
 In modern times, this word has come to mean counselor, trusted friend, one who leads by example.   It would sound more like,  "Let's read", instead of   "Go read".    Or  "Let's play"  versus  "Go play".     We all can think of people in our lives or in our childrens' lives who are great mentors.  I think of Grandma Evadne, Steve's mom, who seems to always teach the little ones by involving them in whatever she's doing, whether it's knitting or cooking or singing a song or telling a story.  I look forward to her visits because I know I'll learn something new and my girls will enjoy the gentle guiding and teaching of their grandmother.   We must learn to take advantage of the skills and passions of those who are more knowledgeable and experienced than we.  They are often most enthusiastic to teach us and pass their knowledge on to the next generation.
Even as our children get older, mentoring them doesn't require advanced degrees, it need only require that we're one book ahead of them in our own studies.   We read
with
them,
to
them, or maybe
along side
them, and then discuss the great stories and heroes.   Sure, they will have coaches, music teachers, and many other adults who will mentor them, but we shouldn't neglect the opportunity to enjoy the challenge and fruits of mentoring them ourselves.
There have been many women and men over the years who have been mentors to me.  They seem harder to come by now and I find that my mentors now are often the authors I read.   Hands down, the writings of C.S. Lewis have impacted me more than any other single author. There isn't a day that goes by that his words don't have an impact on my thinking and decisions. Thomas Jefferson is quickly becoming my new 'crush'.   I love this quote by William Channing,
"It is chiefly through books that we enjoy intercourse with superior minds…..In the best books, great men talk to us, give us their most precious thoughts, and pour their souls into ours."
So, we all need mentors.  And though you're busy mentoring your children, don't neglect your own need to be mentored and discipled.   Steve and I  tend to read the same books and then discuss the ideas together.   We're currently reading Plato (he's a book ahead of me) and he's soon to start the TJED book that I just read.   In a way, we mentor each other.   We also listen to many hours of
talk radio
and then discuss those ideas together too.    Then, someday, when our girls' read Plato or ponder the passive obedience of Christ,  we'll be able to mentor and encourage them from our own experience with the subject matter.   I leave you with this quote from Jacques Barzun, quoted in TJED,
"Think of human parents teaching their child how to walk.  There is, on the child's side, the strong desire and latent powers:  he has legs and means to use them.  He walks and smiles;  he totters and looks alarmed;  he falls and cries.   The parents smile throughout, showering advice, warning, encouragement and praise.  The whole story, not only of teaching, but of man and civilization, is wrapped up in this first academic performance."
My friend and mentor,
Denise
, just added a
post
to my Painted Patio Furniture party, so you should check out her chairs!   Many thanks to Denise for introducing me to homeschooling and to blogging, my two new favorite pastimes.  
Now, I'm off to do some mentoring.  First on the agenda:  homeade waffles.  Second,  chapter four of The Hobbit.