"No sooner doth the truth come into the
soul's sight, but the soul knows her to be her first
I should first tell you that I am still working on the 'beauty' post. I get hamstrung by reading a lot of great writers and then feel completely inadequate with my own summation of the important points.

I

g

u

e

s

s

t

h

e

o

l

d

a

d

a

g

e

t

h

a

t

w

e

s

h

o

u

l

d

l

i

s

t

e

n

t

w

i

c

e

a

s

m

u

c

h

a

s

w

e

s

p

e

a

k

i

s

h

o

l

d

i

n

g

t

r

u

e

f

o

r

m

e

.

I

c

a

n

'

t

stop listening(reading) long enough to speak (write).
I also wanted to tell show you what else I've been up to lately. By a stroke of luck, or by my estimation, divine appointment, I wandered into a 'high-end' furniture store at the end of their 'store closing' sale. I also just happened to have insurance money that had to be spent on furniture replacement in order to be fully reimbursed. Long story short, I feel like I've just won the lottery. Most of the furniture ended up being 75-90% off. For instance, I bought a $1000 kilim rug for $89. And so on. So, to prepare my house for delivery next week, I'm rearranging everything. ( or as JamieKnoxville and I affectionately call it…..'tuggin' and pullin').
Yesterday, in a burst of hulk-strength, I moved this large china cabinet from my dining room to the breakfast room—to make room for the $4500 mahogany sideboard that I bought for $619! It really doesn't exactly fit here, so it may end up in my bedroom holding clothes and shoe displays. On 2nd thought, my bedroom is on the other side of the world, so it will likely stay here for awhile.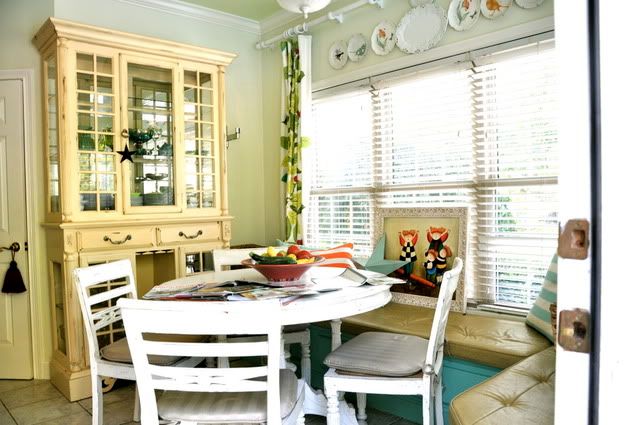 To help me celebrate this rare joyous occasion, the crepe myrtles are blooming. So kind of them. ( I love how they poke through the fence)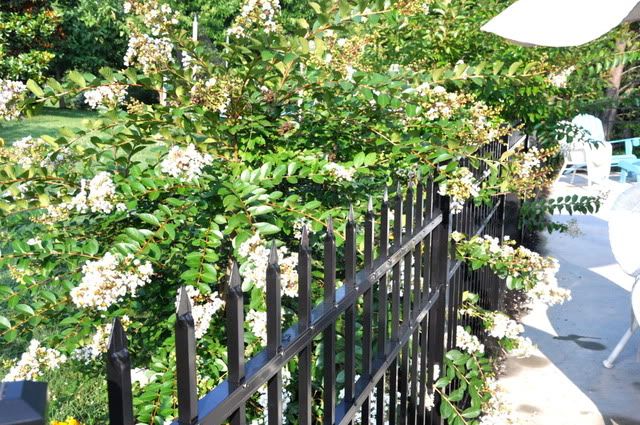 I also have an insatiable reading appetite lately as I've been preparing the last two blog posts in this series. And if you are homeschooling, you must read this Charlotte Mason book "A Philosophy of Education"—it goes right along with the Thomas Jefferson book I've been giddy about, and is much better than reading someone else's summary of what Charlotte Mason said.
She reitirates the fact that self-education is the key, and that we as teachers, are to inspire and help to 'awaken the soul' so that children have an unquenchable thirst for knowledge.
And Plato? This stuff is fantastic. I've been printing off maps of Greece and taking copious notes. It's not as hard as I thought. I read the sparknotes summary of it first, which helped, then I read a historical introduction, which really helped, and then I dove in, headfirst. It must be contagious because in the antique store the other day, my 7yo got really excited and said, "Mom, I just found a book about Plato!" We were all excited about the beautiful little volume with dainty gold lettering, but mostly, I was thankful that she had been paying attention to what we were reading.
And that little notebook at the bottom? That's a collection of lots of fun stuff—-paint swatches (I'm painting my living room—which has been the same color for a record
EIGHT
years—-before the new furniture arrives), magazine clippings of things I love, articles I want to read, my much neglected calendar, my somewhat neglected bible reading schedule, notecards, address labels, and so on.
I also stumbled upon a lovely aloe plant and my girls have discovered
hundreds
of little boo-boos lately which most definitely require aloe. Hundreds. Thank you to my friend, the Nester, for introducing me to this beautiful way of displaying my succulents.
So, as I re-evaluate my decor, and pour over design ideas, do you have any advice for me? I'm painting my living room Woodrow-Wilson Linen (a very presidential cream color) in an effort to feature my new heirloom furniture. But I'll find a way to 'shabby' it up a little I'm sure. Although I don't know how I'll adjust to furniture that shouldn't be spray-painted. I can't wait to show you.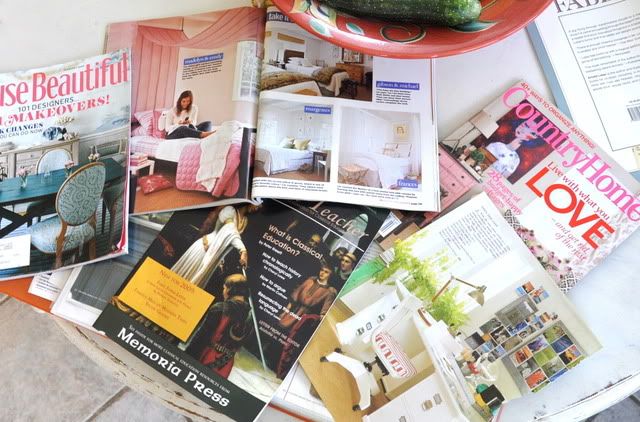 Check out my
tumblr
site—a place where I store links and pictures I love. And if you have time this weekend, read the post I wrote at the
blogfrog
about my current thoughts on blogging.
Have a great weekend and I'll soon return to my series!