Edited to add:  I'm joining Kelly's 'Show us Your Bathroom' Party so if you're visiting from Kelly's blog, welcome.  You can see more decorating posts by clicking the pictures on my sidebar!  To my regular readers, you can see lots of cute bathroom decor by clicking here.
I also just wrote a post about "Why I'm not a Feminist".   It's sure to be controversial.  Click here to read.
Decorating my home is not just a hobby for me. It is a part of a quest to create for my family a haven, a place that inspires us, beckons us to retreat from the world; and calls us to notice and enjoy the beauty all around. And my tastes are changing. I'm finding that my spiritual need to live simply and authentically translates well into the  practical side of living too. Decorate with items that you love, that are beautiful, that inspire you.  First,  I want to show you the inspiration for my bathroom makeover. This bust of some Greek/Roman goddess/fairy beckoned me to bring her home. And I promised her that if she was 40% off—and still on the shelf—the next time I went to Hobby Lobby, I'd welcome her to our family. So, she was. And I did. We've named her Juno in honor of the great fun we've had studying the ancient Greek and Roman myths.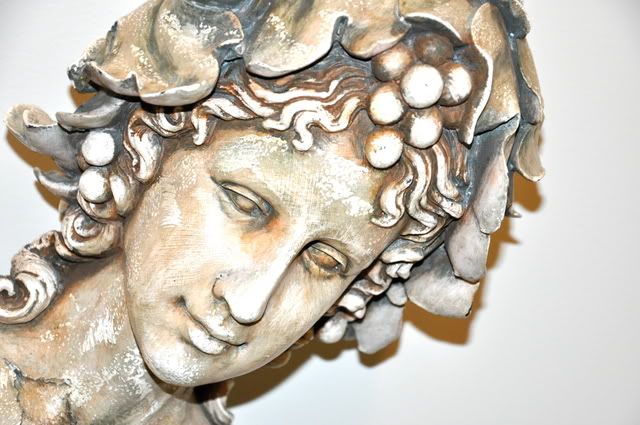 This bathroom makeover was an attempt to simplify—using what I already had—and adding a little paint and a little statue named Juno.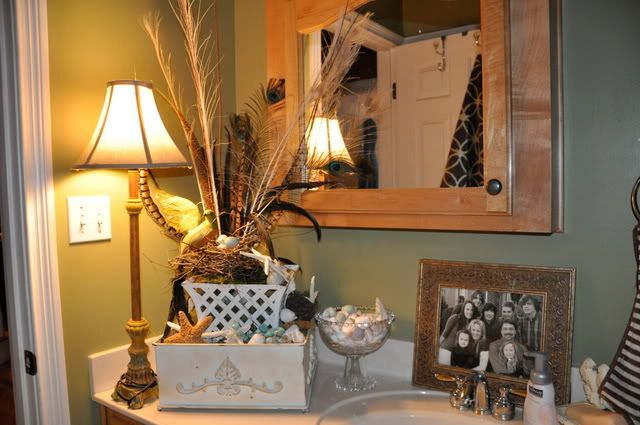 The walls got lighter…..


The tired and clunky medicine cabinet was removed and replaced with a simple mirror.


And Juno took her place upon the throne.


Maybe only the towels stayed exactly the same.


The project was cottage inspired–using the colors of the sea–with some natural elements such as shells and starfish to accent.


The vanity cabinet was painted a very dark brown….


and the two front cabinet doors were replaced. (I know, I'm schizophrenic—take the kitchen doors down, put the bathroom doors on).  The look is so much more sleek and clean (minus the two wet, smelly dogs in the picture).  I wanted to add a few quaint little details like vintage glass knobs and a towel 'rope', but those will have to wait for now.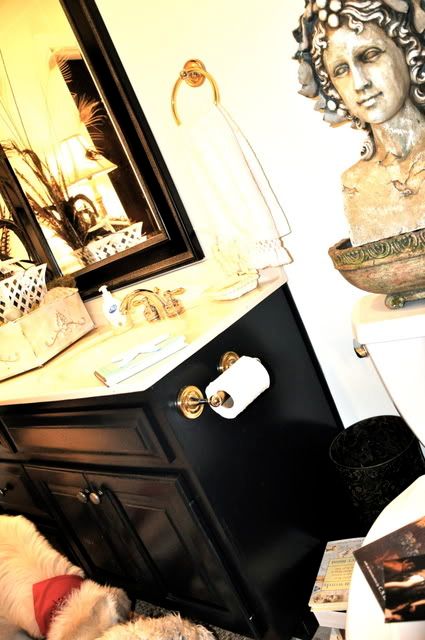 Several smaller decorative items were removed in favor of the one large Roman goddess/garden fairy.   She makes a bold statement in this little room.  And though I have never been a fan of myths or fantasies, C.S. Lewis and George McDonald are teaching me. I am currently reading the book  Phantastes by McDonald;  a book that C.S. Lewis said, 'baptized his imagination'.   That alone intrigued me enough to want to read it.  But mythopoeic writing is difficult for someone like me to read.  It takes discipline and a certain sticktoitiveness, which I sometimes do not possess.  It helps that my  husband happens to love mythical writing and is re-reading the book with me so he can help me through it.


Here is what Lewis says of mythopoetic writing, "It is in some ways more akin to music than poetry.  It arouses in us sensations we have never had before, never anticipated having, as though we had broken out of our normal mode of consciousness and 'possessed joys not promised to us at our birth'.  It gets under our skin, hits us at a level deeper than our thoughts or even our passions, troubles oldest certainties till all questions are reopened, and in general shocks us more fully awake than we are for most of our lives……it finally lets us feel in our face the sweet air blowing from the land of righteousness."   
I think I finally get it.  After struggling through the first 60 pages of that book…..twice,  I finally feel that 'sweet air', an nearly inexplicable goodness, a 'baptism of my imagination'.   And Stevie tells me that Lewis' book "Till We Have Faces" takes it all to another level.  I highly recommend the books, but I cannot tell a lie;  the bathroom makeover was easier.   Maybe Juno will help remind us that this longing we have for fairy tales, for adventure, for truth and meaning, is given to us by God.  And His story is the culmination of all myth and fairy tale; the miraculous and mysterious come to us in the flesh, to bear our sin, and be our Savior.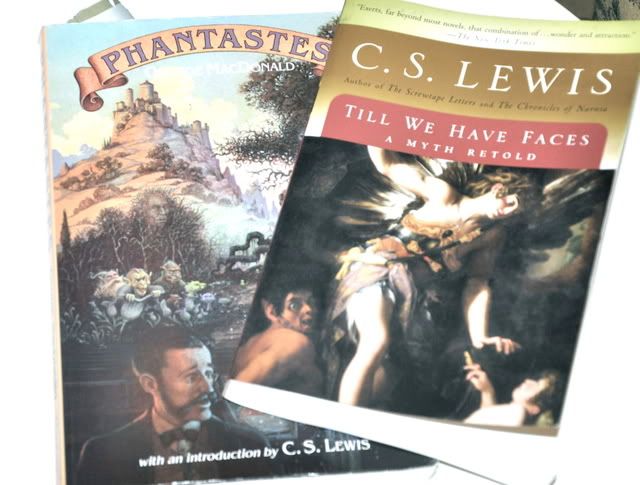 When I'm finished reading these, they stay in the Fairy Cottage Bathroom!  With Juno.
And I'm also reading one of McDonald's fairy tales to the girls, The Princess and the Goblin. They find it wonderful and magical and are never satisfied with just one chapter a night!  Do you have a favorite fairy tale/fantasy book?