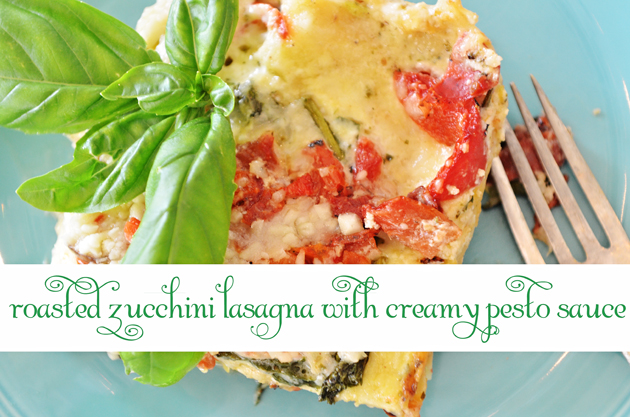 This recipe has taken 8 lifetimes to post so please someone make it and tell me about it.
I'm trying out a new recipe plug-in called GetMeCooking to make it easier for me to post and for you to print recipes.
This roasted vegetable lasagna recipe takes endurance and patience and should be planned for a day when you can spend some extra time in the kitchen.  It requires 47 dirty pans but I promise the payoff is worth it.
This is also a recipe that should be doubled and the extra pan given to someone you love.  It's just as easy to make a double batch and then the effort and time seem justifiable.
My sister ate dinner with us tonight and demanded that this recipe be blogged so she can make it too.  You can thank her for the fancy schmancy presentation!  She loves you like that:)))
I've had a host of zucchini breathing down my neck, begging to be made into some kind of deliciousness so this was a good way to use those summer veggies.   After dinner,  sissy and I made 3 different versions of zucchini bread:  one just plain (no nuts), one with dried cherries and one with chocolate chips.   We are here to report that plain Jane is best.  And for the first time in 3 weeks, there is no zucchini staring me down, waiting to be used.
Now, go forth and make roasted vegetable lasagna goodness.
And hire a sous chef to help you with the dishes.
p.s.  I think this dish deserves really good cheese.  I buy good quality cheeses at Sam's for a fraction of the price of the grocery store.  I buy blocks and cheese and then grate them myself (for this, I used the food processor) so that the flavor and texture is fresh.  It adds to the time and dirty dish factor but again, this lasagna has a very fresh and delicious taste and I think it's b/c of the good cheese, freshly grated!

Roasted Vegetable Lasagna Recipe
Print recipe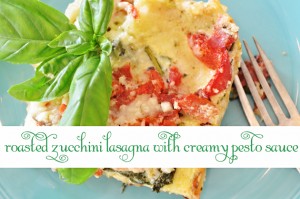 Ingredients
2 Medium zucchinis (sliced and roasted)
1 red pepper (sliced and roasted)
1 red onion (sliced and roasted)
1 Small package of button mushrooms (sliced and roasted)
1 Large tomato (sliced and roasted)
1/2 bag fresh spinach
1 box no boil lasagna noodles
8oz ricotta cheese
2 eggs
1 bunch parsley (chopped)
5 cloves garlic (finely chopped)
3/4 cups milk
1/2 cup heavy cream
2-3 cups various cheeses, shredded ((parmesan, gruyere, asiago or any other hard cheese))
1 teaspoon nutmeg (ground)
1 tablespoon pesto
3 cups mozzarella cheese (shredded)
2 tablespoons honey
Note
If you run short on roasted veggies, fill in with diced canned tomatoes or roasted red peppers that have been drained.
Directions
Roasting vegetables
Step 1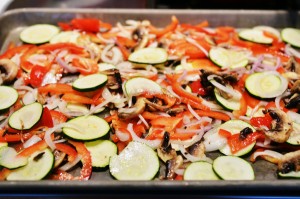 Slice all the vegetables (I use a mandolin) and add to a large bowl. Add a few tablespoons of olive oil and then season with salt and pepper. Spread the vegetables in a single layer onto 1 or 2 jellyroll pans and then roast at 400 degrees for 20-25 minutes.
Roasting the tomatoes
Step 2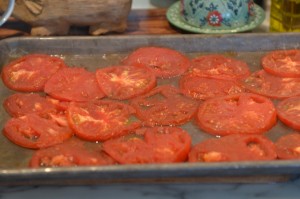 Slice the tomatoes thinly and spread onto a jellyroll pan. Sprinkle with salt and pepper and broil at 450 for 10 minutes.
Mixing the ricotta
Step 3
Mix the ricotta with 2 eggs and the chopped parsley.
Making the sauce
Step 4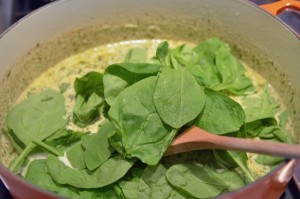 Saute the minced garlic in a tablespoon of olive oil and then add the nutmeg and the pesto. Add the milk and cream, keeping the heat at low/medium and then add the shredded cheese. Heat slowly until cheese melts and then add spinach and honey, stirring to combine.
Layering the lasagna
Step 5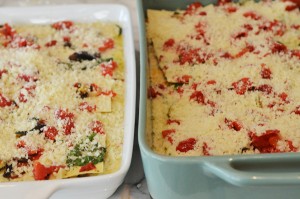 Add a couple of ladles of the cheese sauce mixture to the bottom of a 9x13 pan. Add a layer of lasagna noodles and then top with ricotta mixture. Add the roasted tomatoes in a single layer and then top with 1 cup mozzarella cheese. Add another layer of noodles and then a few ladles of sauce. Add a layer of roasted veggies topped with a cup of mozzarella cheese. Add the last layer of noodles and top with remaining sauce and remaining veggies. Top with grated parmesan cheese. Bake at 350 for 45 minutes or until cheese is bubbly and starting to brown.
Pin It