And the winner is——coral-ish!!!!  (If you're confused, read start reading the post after the 2nd photo first and then come back up here!)
Do you hate me?  If so, blame it on Ruth.  She took us down the dark and twisty alley of 'black is dead to me.'
So, what I did was—-I spray painted the black mirror gold first and then mixed up the craziest concoction of paint you ever did see, using every tube of acrylic paint in this house until it was just perfectly coral-ish.   I painted over the gold with a brush and then when that was almost dry, I rubbed the edges so some of the gold would show through. All this I did at 5:30 this morning in my peejammers, fully prepared to paint over it if need be.
 Because why?  Because this is all perfectly normal in my world.  It ain't easy living in this brain of mine.
Do you like the mirror painted a coral-y color?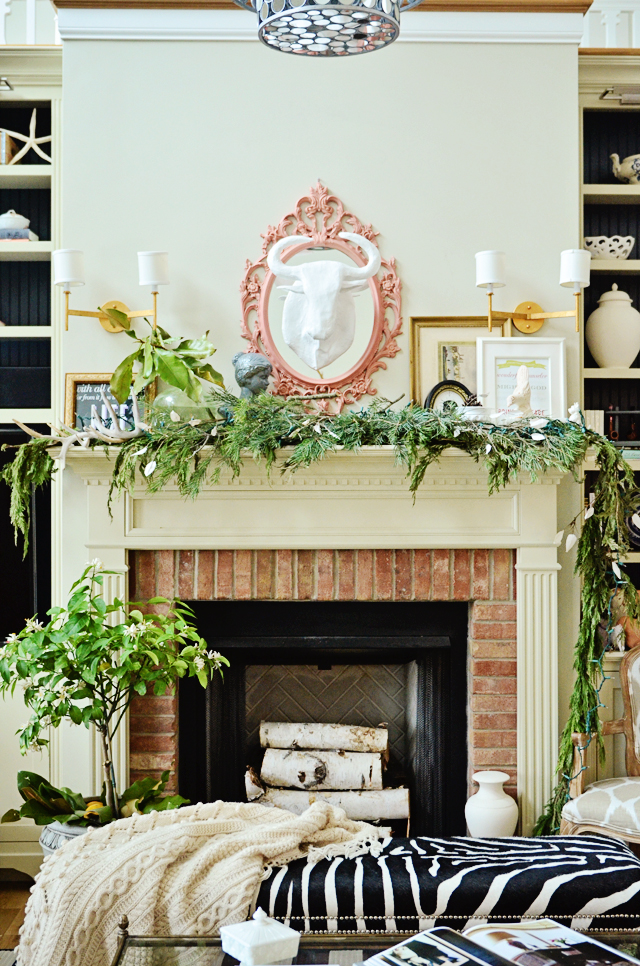 Or do you like it black? You can pick your favorite and imagine that I kept it that way.  We all win!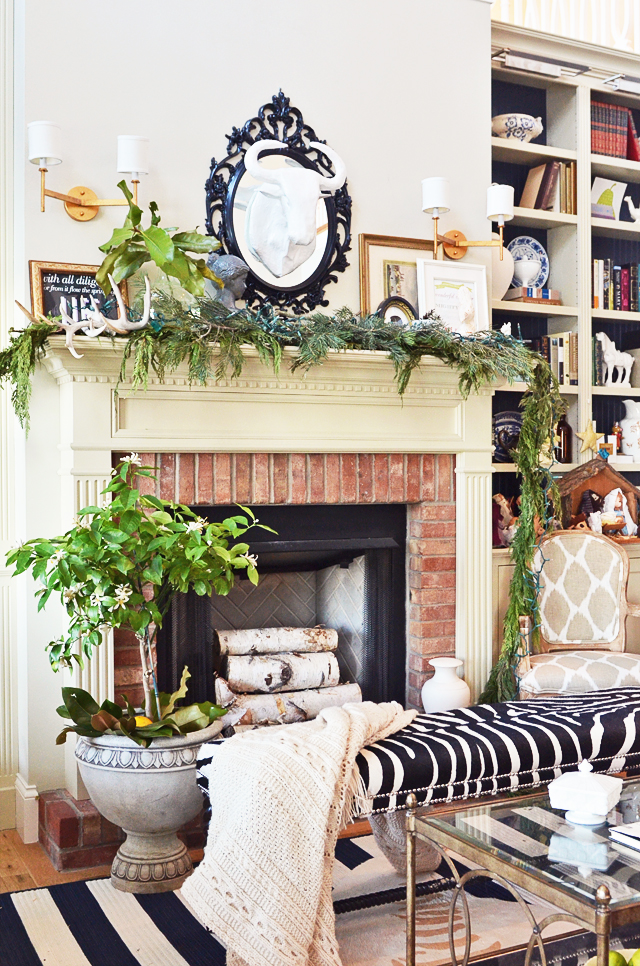 That was the question I posed to my very insightful readers.
Do y'all have any idea the haphazard throwing around of things  that goes into making my Christmas mantel?  I wish I was one of those people who packed things in a box labeled 'Christmas mantel', to reuse year after blessed year.  If you do have a box so labeled, I want to be you.  I covet your organization and discipline.
But I don't have a box labeled Christmas mantel.
We all knew that, right?
And every year, I cipher and clip greens and move mirrors and spray paint stuff.  All in an effort to make beautiful Christmas mantel music.
This year, let's make this a joint effort, whatdaya say? Here's what I need to know from you.
I've been hemming and hawing all day about whether or not I should spray paint that mirror.  Well, maybe not ALL day, but in between laundry folding and dinner making and Latin chanting, it's taunting my weary mind.  So here's the deal.  Leave a comment and tell me whether or not I should spray paint the black mirror gold (or maybe you have another color suggestion?) and I'll count the votes and follow the moral majority.  Give me all your sophisticated reasons cause y'all are smart and will school me on why I should leave it/paint it.
And to be totally fair, here's what the gold mirror looked like before I moved it to the newly painted bathroom. Just looking at this picture makes me wanna paint it gold.  But DON'T let me sway you.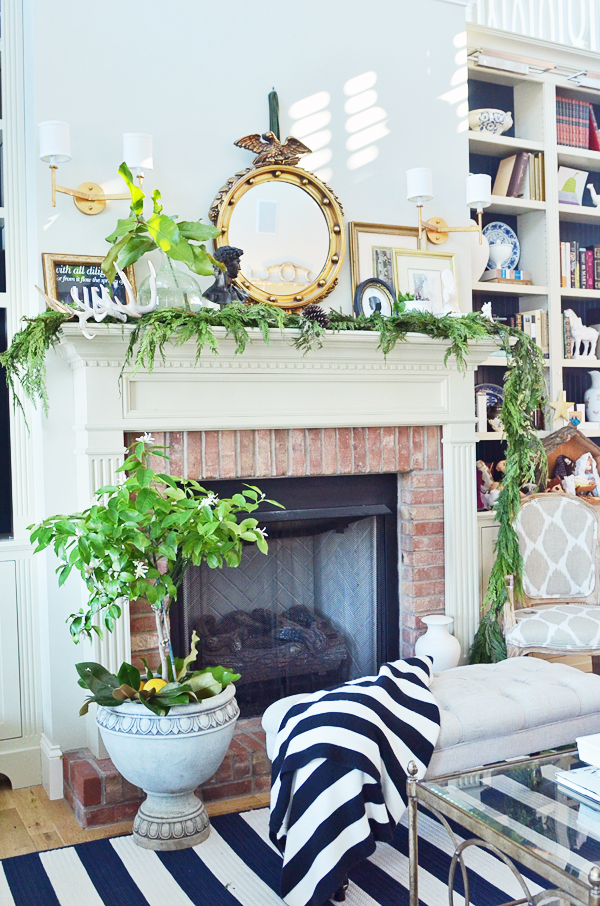 I know you want that antique  federal mirror back on the mantel and I do too. But he's in the bathroom, loving on the striped walls.
While we're at it, here's a sneak peek of the newly striped bathroom.  It's all kinds of cozy up in there.  And David wasn't missing out on all the fun.  He may be there to stay.  There's a whole post coming soon on that little project.
 But you can't have the mirror for the mantel.

Okay, one more viewing.
Please take note of my Meyer's lemon tree, WHICH IS FINALLY BLOOMING!!!!!!!!!!!)
And never mind the wad of lights that I didn't bother to spread neatly under the greens.  If I had done that then we wouldn't be having this conversation at all because I'd have a box labeled 'Christmas mantel,' remember?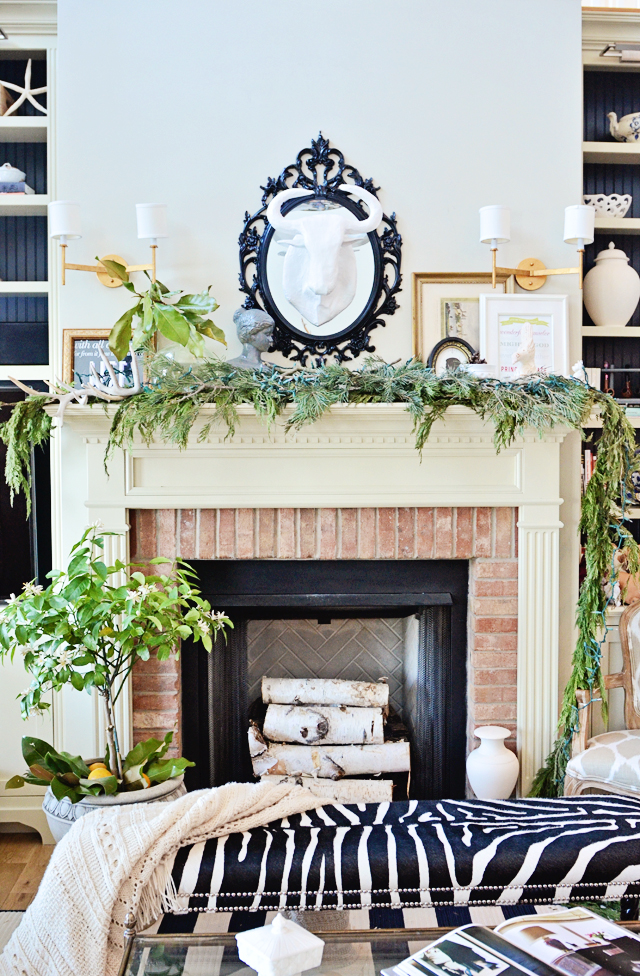 Now, give it to me straight. Black or gold? Which shall it be, my dear internets?
And I'm linking this crazy mantel post with Layla's mantel party!  Thank you hosting, sweet dear!