I met both Kelli and Wendy at the Becoming Conference this August and what a treat! They are precious and funny and inspiring and I know you'll love them as much as I do. We were both there giving talks and sharing our heart's messages, hoping that what God has given us to say resonates with our sisters.  After spending the afternoon and delicious supper with them, I can tell you that you will be blessed by the message of their book—that God created us in His image, to be life bearers and makers.  Thank you for welcoming them to lifeingrace and thank you, Kelli and Wendy, for sharing your heart with us.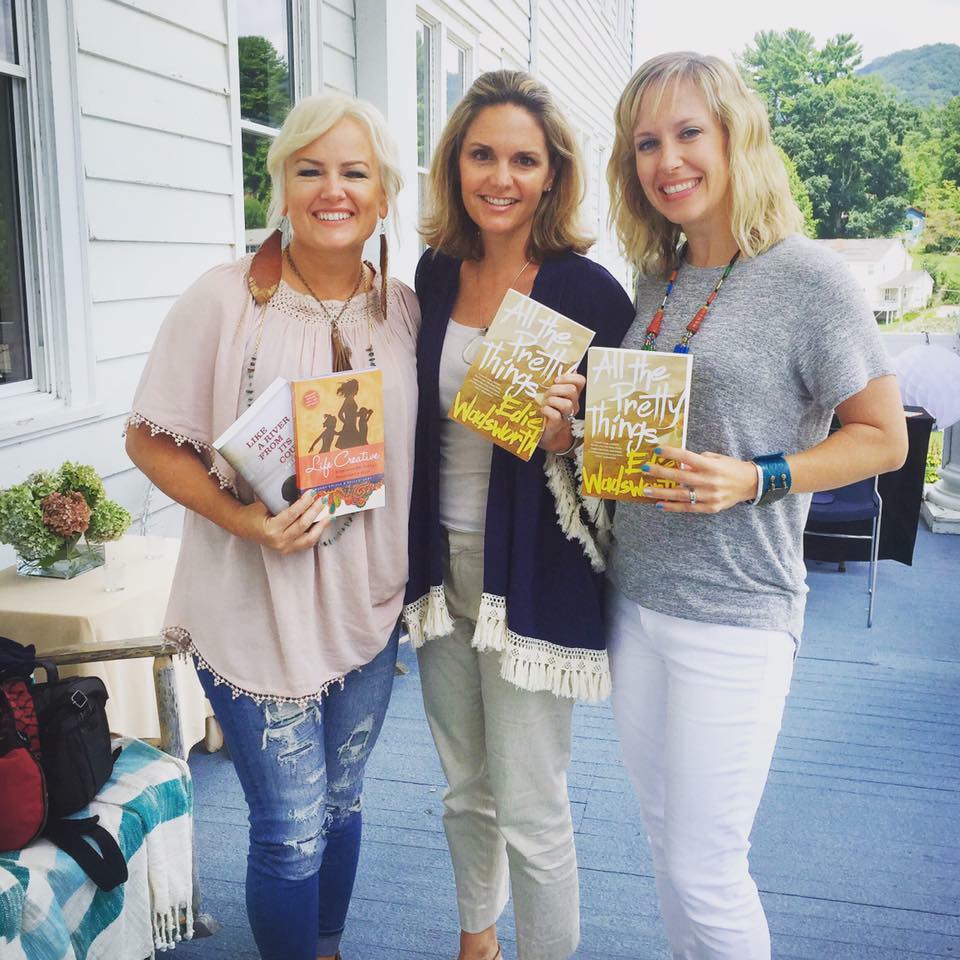 There is a large blank wall in my kitchen, and I don't know what to do with it.
I stare at this wall daily, trying to conjure up my inner Joanna Gaines so that I can fill it with beauty and whimsy, and…should I put up ship lap?
The wall mocks me. As I stir my coffee, I hear it taunting, reminding me of my inadequacy in all things that deal with decorating.
Sitting down at the computer, I'm determined to find the perfect picture that will give me exactly what I need to fill that wall. I find lots of lovely pictures, but none of them with instructions on how to turn my bare wall into a thing of beauty.
And so it stands, empty.
Much like my friend, Edie, I love all the pretty things. I like things eclectic and colorful and bright. Open windows and fresh flowers are my happy place, and I know beauty when I see it. But I can't seem to create it on my own.
The thing is, I would call myself a creative person. My head is swimming with stories, my overactive imagination always on high alert. Want a fun bedtime story? I'm your gal.
Want to know how to style your mantle? Keep on walking.
I once thought that creative people were creative in all aspects of life. A good photographer would naturally be a good painter. A good baker would obviously be a skilled decorator. A talented musician must, of course, also be a gifted sculptor.
Somehow, I lumped all forms of creativity into one giant batch and assumed anyone who could create must be able to create anything.
Not so.
I cannot dress my naked wall. I simply don't have vision for it. But I can write characters that needle their way into your heart.
I can't paint to save my life. My water colors look like a four year old had a tantrum with a paint brush. But I have an ear for music and can vocalize melodies that incite worship.
Creativity, you see, isn't an all-inclusive skill set. For many of us, creativity is simply an extension of who we are, but it isn't all encompassing.
Some women, to be sure, are wildly creative. Art seems to ooze from their pores and seep into everything they do.
Most of us, however, will find our creative niche, and we will thrive there. It's inside that little nook where we will create all the pretty things.
For some of you, that place is in the kitchen. You make food that looks as good as it tastes, and the process of doing so brings life to your bones.
Some of you have a knack for decorating. If you were to come to my house, you'd have that wall looking fabulous in the blink of an eye. (And if anyone wants to volunteer to do that, I won't stop you).
Some of you can capture a moment in time with your camera that takes our breath away, while others capture the world with paint and brush.
Creativity isn't confined to the written word or a vibrant canvas. Creativity is everywhere, flowing out of all of us in some shape or another.
All of life bears evidence to creativity because we were created by a Creative God. We were formed in His image, and we were made beautiful by His sacrifice.
And so it is that we, the created, are the pretty things. We are living, breathing art.
My wall may stay blank, but my computer is filled with stories. This is my art, flowing through my fingers. I am creative.
Are you?
This post is inspired by Kelli's new book, Life Creative: Inspiration for Today's Renaissance Mom. Co-authored with Wendy Speake, Life Creative is a message of hope and encouragement to all moms who sometimes feel like they've gotten lost in motherhood. It's the stories of moms around the world who are living out the messy blend of motherhood and art, and leaving a wake of impact behind them. Life Creative is now available for purchase.
*affiliate links provided