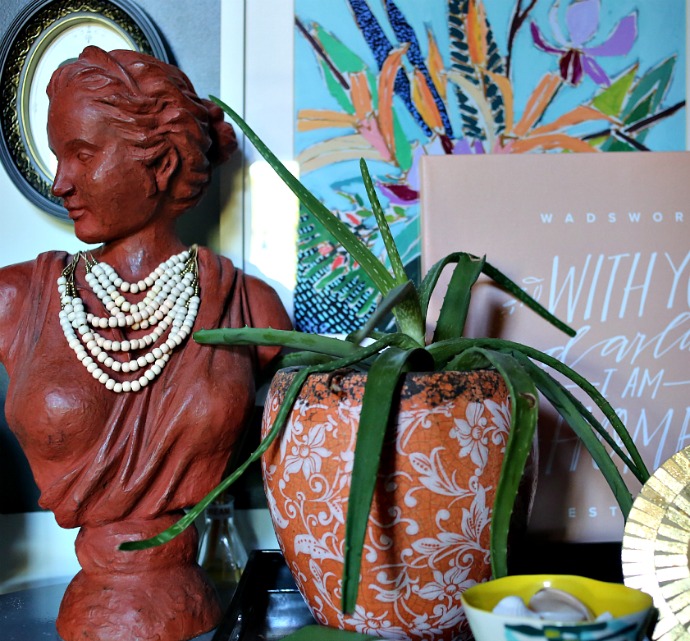 It's been a Monday around these parts.  Maybe even worse than a typical Monday.   Perhaps a bulleted list is in order.  This is what it has looked like so far:
Laundry chaos (I apparently stacked every outfit I wore in January on the sofa in my bedroom. It wasn't pretty.  It took two hours to pilfer through it and get  its contents to their appropriate places and when I finally got to the bottom, I found my hair dryer.  Which I have looked for in EVERY CREVICE OF THIS HOUSE, cursing family members under my breath for taking said hair dryer.)
Email chaos—No matter how hard I try, when I finally sit down to pay the email pied piper, I find important things that should not have been neglected FROM A MONTH AGO.
Refrigerator chaos—I would describe it for you but then you would excommunicate me from the human race.
Workroom chaos—Currently in this room, we are:   working on a puzzle, finishing a science fair project, watching as 87 pieces of clothing hang  to dry, working on 957 other random projects, doing watercolors, eating lunch, and prepping for a webinar tonight.  ALL IN ONE ROOM. That is approximately 12×14.  And holds a washer/dryer/2 printers/2 computers/2-4 people/1 million books.  #goodtimes
Paperwork chaos—It's tax gathering time. Which means I now need to collect all the receipts in the free world and take them to my accountant.  This activity could put me in the ground.
More chaos which would only bore you and further incriminate me1
I confess all that for a reason. As a funtional first born and an overachiever, I don't like it when it appears I'm slacking on my job. I like to measure up, to exceed everyone's expectation of everything. I'm always secretly measuring myself but what I keep forgetting is that all the important things are things that can't be measured, that no one sees.  I try to measure them anyway.  Am I becoming a better wife? Am I becoming more spiritual? Am I growing in my faith? Am I growing as a mother? Am I managing my own life well?  That's part of my list and I bet yours looks similar.  Today, I didn't measure up.
I look around and see so many things that are always tending toward disorder.  And if I don't tend to them daily, they feel like the weight of the world.  When I got up this morning, I knew it was all waiting for me.  I slept in until 5, probably subconsciously to delay the inevitable.  The dishes from last night's Super Bowl food were still in the sink.  I missed two deadlines and needed to get those projects sent in first thing.  Twenty packages waiting to be  mailed.
But I promised myself that February would be about the small things—the daily disciplines that don't seem like much at the time, but when compounded over a lifetime make a world of difference.  So I shut out the voices and sat down with some true nourishment.  I read this with my daughter:
We give thanks to you, O God;  we give thanks, for your name is near.  We recount your wondrous deeds.
We stopped right there.  Because I wanted to hear it again, "Your name is near."  That phrase has been like a balm for me today. His name is near.  His name is near.  
Then I made breakfast and sat down to enjoy it.  Then I wrote in my journal.  I wrote "His name is NEAR."
And finally I started in on the chores for the day, but with help. Because His name is near.  And I will always have a tendency to let my creative pursuits cause me to neglect all else.  Things will always have the tendency toward chaos.  I will never be finished with my work. I will never really conquer the laundry pile.  But I will always have a comforter because the Name that is above every name is near to me. He put His name on me at my baptism and welcomes me to His table every Sunday.  He makes promises to me in his Name that He keeps.
The one thing I did right today had nothing to do with my to-do list.  It had nothing to do with productivity or efficiency.
The one thing I did right today was to stop talking and measuring and just listen.
To the One whose name is near, Christ—the living God.

And speaking of living in your calling in the midst of chaos, I'm doing a series of Lenten devotionals beginning February 18th by email only. You will get near daily emails from me during Lent with a couple of videos. If you'd like to be a part of it, you can join by filling out the form below!