My friend Cyndi is a style blogger for those of us over 40 and she's participating in an awesome personal styling service in the form of a 21 day challenge!  I'm doing it myself and can't wait to get started!! Today is the first day to sign up so read a little about it and then click over from my link below and all your questions will be answered!  Here a few things to know about the Build Your Wardrobe Challenge!
Style Me Pretty Challenge | Build Your Wardrobe
Imagine waking up every morning and knowing EXACTLY what you're wearing that day. Better yet, having a closet full of age-appropriate wardrobe basics plus a multitude of mix and match outfits just right for any occasion. No more looking into your closet not knowing what to wear or wandering around the mall not knowing what to buy. All the work is done for you.
How Does the Build Your Wardrobe Basics Challenge Work?
You'll receive a shopping list of age-appropriate wardrobe essentials perfect for just about any occasion. Don't worry – you won't have to invest a ton of money to participate. A lot of the pieces might already be in your closet and you're free to shop at your favorite stores. You can spend as much or as little as you want.
You'll get ten days to get the pieces in place.  After that you'll receive 21 days of outfit combos created from those pieces in your inbox daily. You can choose to style your pieces and wear the outfit that day or save it for another day. All of the outfits are able to be downloaded and printed so you can refer back to them.
What's Included:
Your Build Your Wardrobe Basics Shopping List – A list of wardrobe essentials with links to recommended items plus a downloadable PDF to print off and take shopping with you.
21 Days of Daily Outfits – A different outfit combo each day created from the pieces on your shopping list. Outfits are released at 7:00 p.m. ET the night before so you can have it ready to wear the next day.
Facebook Group – Each style challenge has it's own private Facebook group where you can show off your style, share shopping tips and make great friends. Most participants agree that this is the best part of the challenge!
Who is the Build Your Wardrobe Basics Challenge for?
Cyndi and I specifically created this challenge for women over 40 who are either starting a core wardrobe from scratch or are ready to update their basic wardrobe.  We will provide 21 days of mix and match outfit options created from the pieces in the core wardrobe shopping list provided.  It will be great for women who work outside of the home and those that don't.  There will even be some special occasion outfit options perfect for the upcoming holiday season!
Click here to read more about this fun 21 day challenge or to  sign up with me if you're ready to go!  This is an affiliate program and one of my sponsors for November.  Thank you in advance!
**********************

I also wanted to sing the praises of Young Living Essential Oils, which I've been using now for about a year.  As you probably know, I'm a family doctor on very extended sabbatical (as in, if you keep reading my blog and supporting my work, I'll probably be on an eternal sabbatical!) so I was naturally a little skeptical of all the great things I had heard about the oils.  I had used other brands of oils before without having any WOW results.
But after using YL and having consistent results over and over, I'm a HUGE FAN.   And I've always been into natural remedies but these oils have changed everything for me.  I think you'd love them too if you tried them. These are medicinal grade oils that are unlike anything else on the market.
 We're entering that season of colds and other seasonal ailments and I can't tell you how relieved it makes me to know I have THIEVES around to support my immune system and promote overall wellness. GET YOU SOME!!
Also, with all the stress I've been under lately, I don't know how I would have made it without the oils.  I use them all day everyday!  I've been using Peace and Calming at night for relaxation and sleep.  I've also been using Frankincense all over my face at night before bed (to promote younger, healthier looking skin) and I LOVE IT!!  Last week, I burned myself with a curling iron because my pixie cut was driving me crazy.  I used Lavender and Frankincense and to promote healing and was so happy with the results.  I adore these products so much that I've decided to use my referral link as one of the primary ways to sponsor my blog so if you've never heard of them or have been wanting to read more or try them out, visit my YL page and get healthy while you help support my site!
I'll say this for sure—it's makes way more sense to sign up as a wholesale buyer with the Premium Starter Kit because you get several hundred dollars worth of oils and a diffuser for $150.  I just placed another order because up until now, I've been using only the oils that come in the starter kit, but after seeing how well they've worked in the last few months, I don't want to be without them when sick season hits and there are others I wanted to try.   I promise you that the money you will save this cold and flu season on OTC meds will pay for this kit easily and you'll be using natural remedies that have so many benefits beyond what you're even using them for.  We have a WONDERFUL private Facebook group that I can add you to once you start using the oils that will answer every question you have and help you get the most benefit out of every oil you use.
Head over and read more!  Let's be oily friends!
*************************
One more thing!! My October newsletter is going out this weekend, so join us is you haven't already.   With your newsletter, you'll get a link to a private page on my blog that has a November meal plan,  a download for a beautiful printable with the quote below, and a free download of my Hospitality ebook.  The ebook will give you a fresh perspective on hospitality and some great practical tips as we head into the season of having people into our homes for the holidays.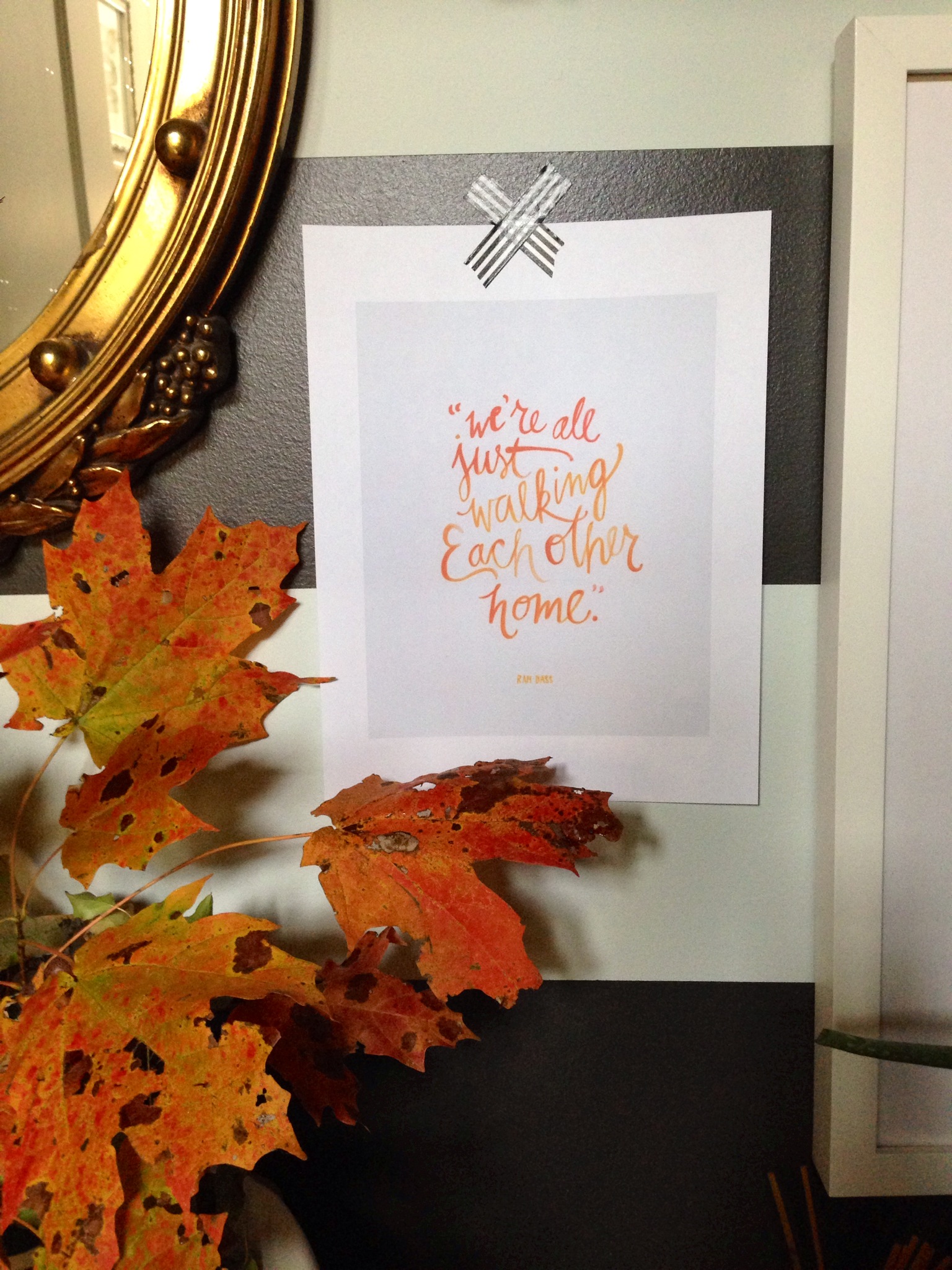 Join the newsletter here!
Hope you have a dandy weekend!  Follow me on Instagram for more regular updates and for a little short story I wrote on IF YOU GIVE A GIRL A PIXIE!
Smoochies,
edie