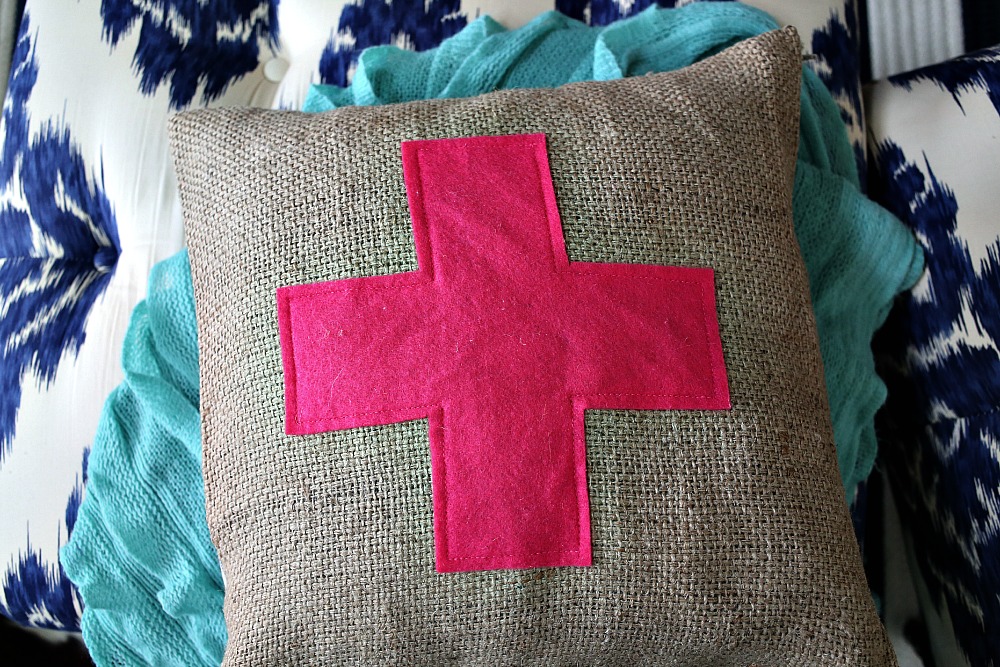 (pillow to match my logo from my dear friend, Darlene, from this shop)
I get antsy every year about this time.  I want to repaint all the walls and win the lottery so I can buy bolts of dreamy fabric and stacks of throw pillows.  Since I don't buy lottery tickets, I'm probably not gonna win the lottery and so I've learned to freshen up my spaces on the fly with zero money and just a little bit of time and effort.
If you follow me on Instagram, (and you SHOULD!) then you know I've been redecorranging.  What is re-decorranging you ask?
redecorrange:: to redecorate your house by rearranging the stuff you already have
Fall is slowly creeping in and I was craving  some change around the house that 1) was free, 2) could be done by a non-professional like myself, and 3) could be done in less time than it takes to run to T.J. Maxx and back.  And really, this has been my favorite trick for years.  Nothing is sacred around here.  Just because I bought something with the bedroom in mind doesn't mean it has to live there FOREVER.  This is not a prison for my things.  I want my things to bring me joy and sometimes if they sit in the same place for too long, they feel stifled and sad.  I don't even see them anymore.  They long for greener pastures.  So, I listen to them.  (What? Don't your things talk to you, too?!)
When I move them around, I see them and enjoy them again.  And that motivates me to clean.  So there's the real magic.  All this moving stuff around exposes some dust bunnies and cobwebs and now it seems fun to clean because I'm about to have brand new looking room, gentle friends!
So here's what I did.  I started with my normal sultry master and removed everything with color.  I took the colorful artwork down, the colorful throw blankets, the pillows, rugs, chotch-keys (my spelling), etc.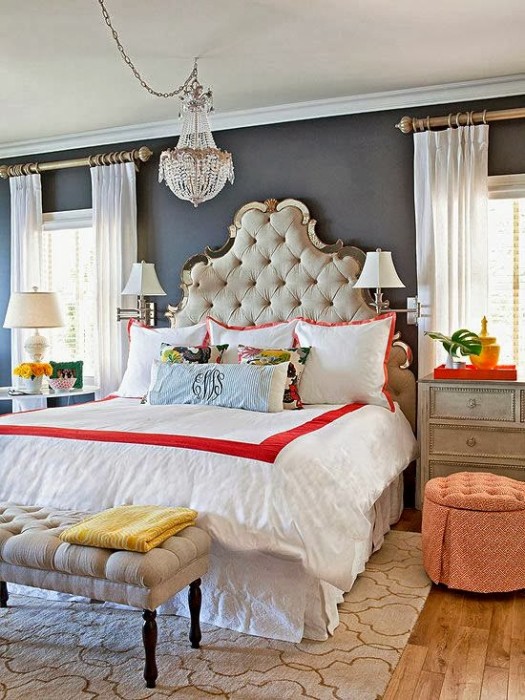 I even removed the duvet cover and put it on a bed downstairs.  Then, I walked through the whole house and found everything neutral that made me smile.  I also grabbed the small disco ball from Emme's room.  Here's what I ended up with—a very relaxed and textured bedroom with lots of layers.  It all looks so very comfy and puffy and Nester-eqsue and we all know how much I adore her.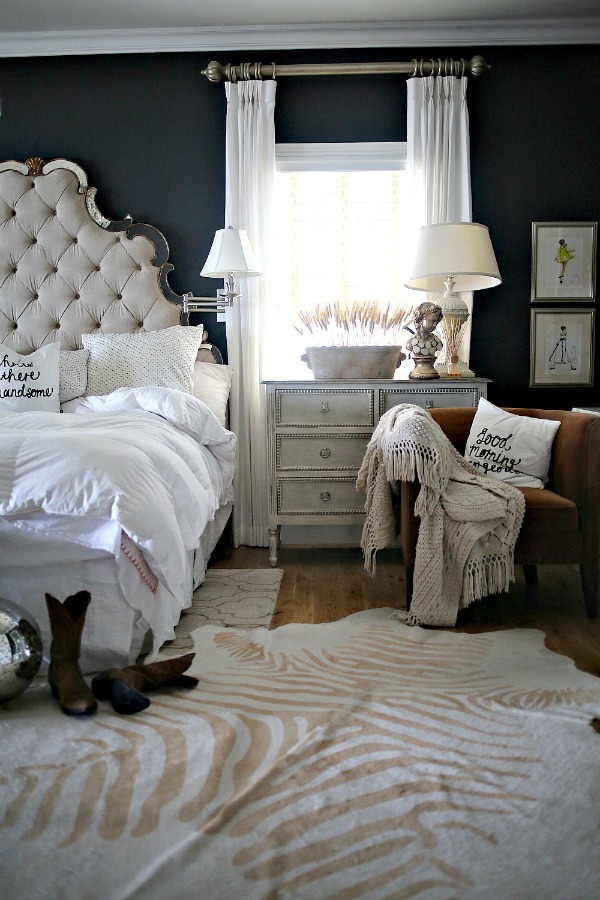 (his/her pillows, Good Morning Gorgeous::Hello There Handsome)
I probably would have moved the rust chairs too but the pesky stress fracture kept me in line.  I liked once I lavished them with neutrals.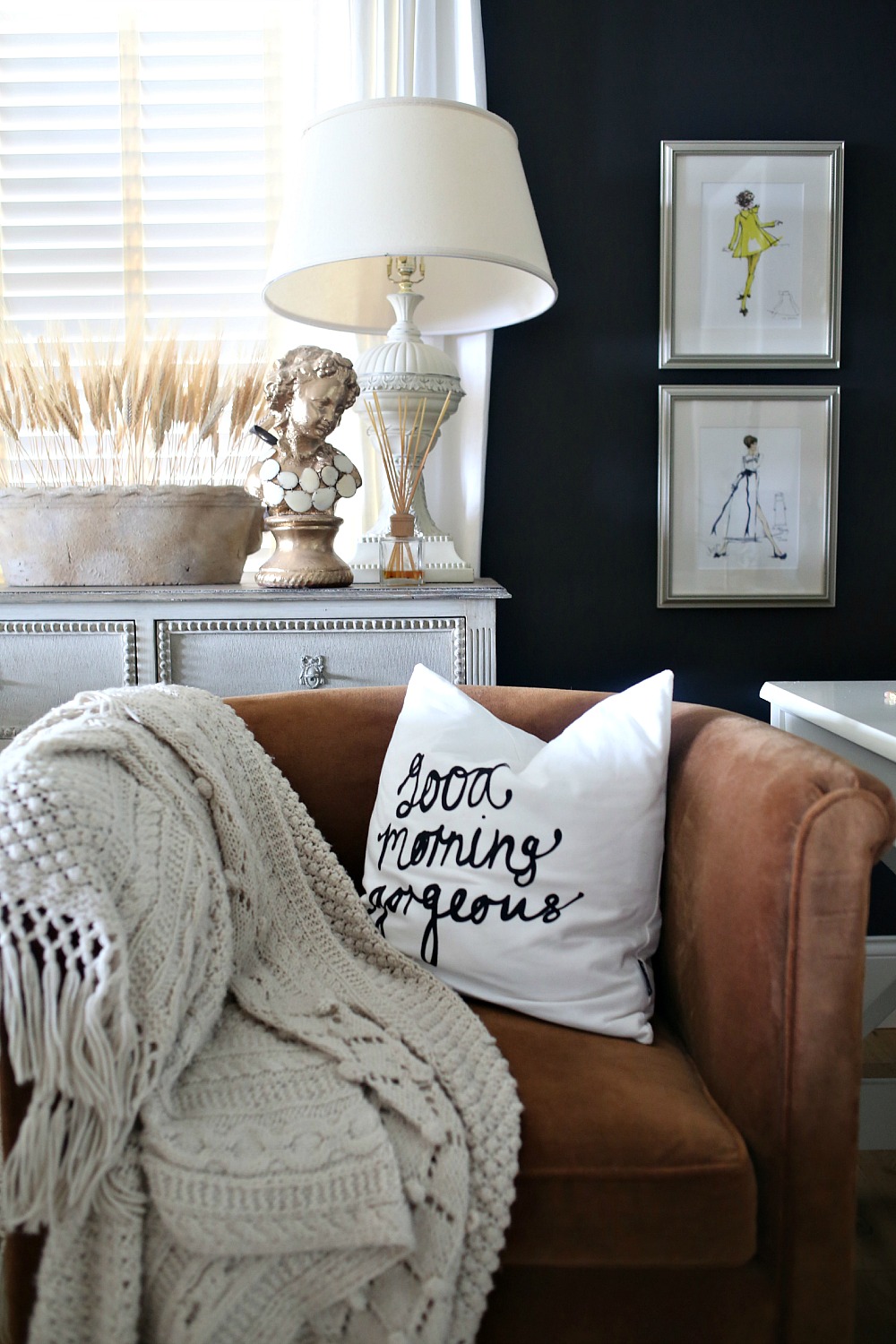 If the master was sultry before, she's taken a slight turn toward the angelic.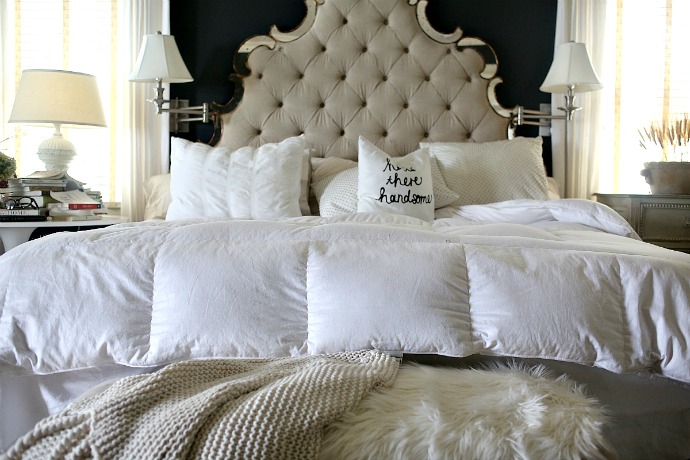 Then, of course I hauled all the colorful and dark/brooding items to the living room and ta-da—a freshened up space for zero dollars and I tricked myself (and a good friend!) into cleaning.
Here's the before:
I took two of the pieces of artwork to my bedroom.  I spray painted the horse head bronze and moved the gray bust to my office.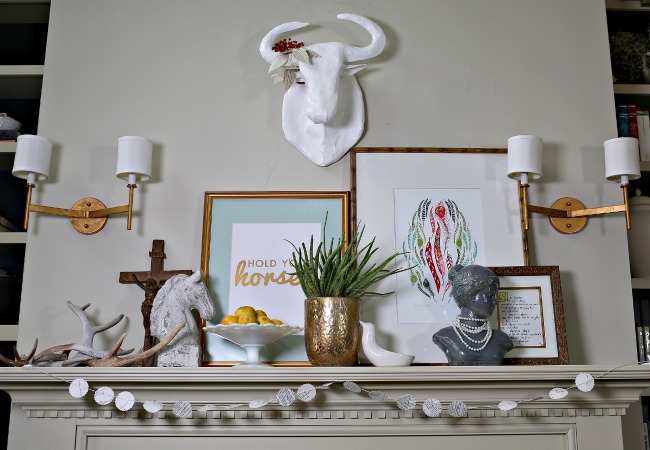 I also brought my canvas up from downstairs and added a few more brooding strokes.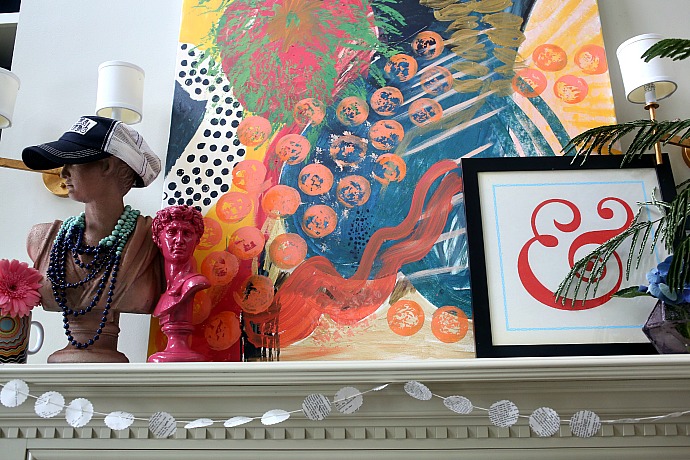 I moved the Hold Your Horses sign from the mantle to the make-shift bar cart.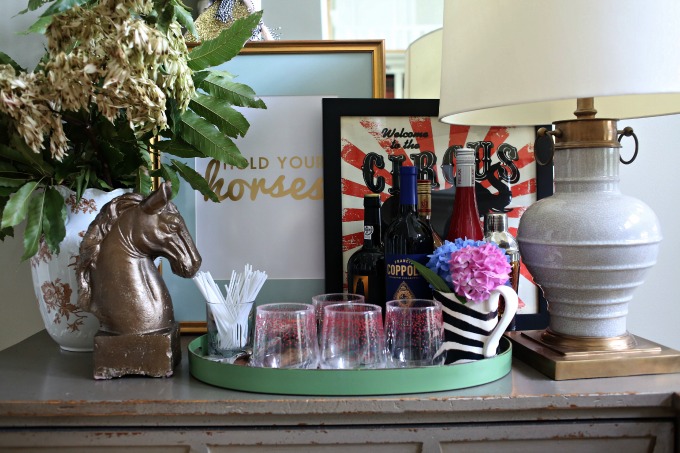 And that my friends will always be my favorite decorating trick.
Have you ever redecorranged?
Now, some of you are gonna say that you don't have the right kind of stuff that can be moved around easily.  I would say you never know until you try.
I'd love to see what you come up with this weekend if you get in the mood to shuffle things around.  Just tag me on Instagram!