As you know, I'm a fan of an inspiring workspace.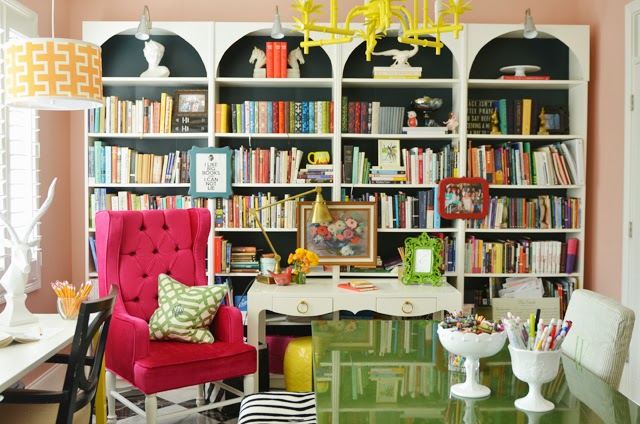 After 3 years of living and working hard in this office, I still love it.  Despite the fact that it NEVER looks this clean.  An in, NOT EVER.  I stalk inspiring workspaces online a lot and am always trying to figure out how our spaces can work better for us and imbibe the quirky leanings of my brain.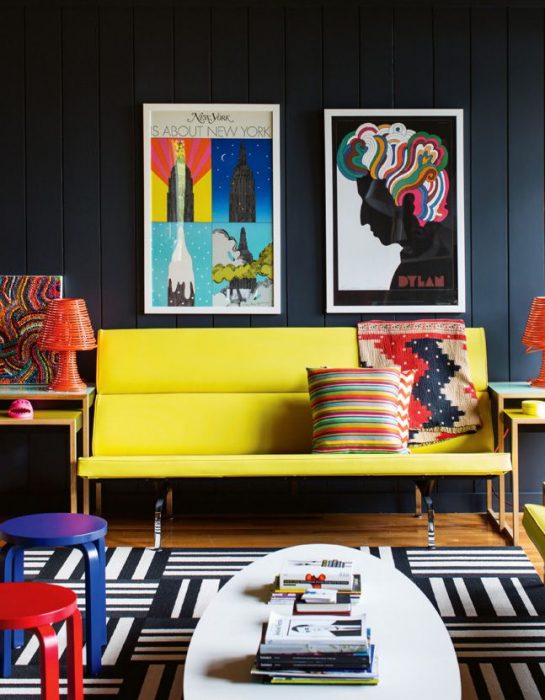 (if you can source this photo, please let me know!)
I've had this teeny tiny dream/idea in the back of my head for years that I rarely talk about and rarely share about.  Why?  Because what if I never do it?  What if it sounds stupid and impractical?  What if I already have enough on my plate?
I was driving by an old abandoned gas station in our town that's for rent, listening to Hank Williams sing Hey Good Lookin,  and all I could think about for days was wouldn't that be a great spot for my dream to live and for my favorite music to play all day long.
What is this tiny little impractical dream that I dare not share for fear of backing myself into some kind of imaginary corner?   To open a little lifestyle boutique in a quaint space, like an old abandoned gas station with leftover signage from 1950 or a rickety downtown building with sky high ceilings, old chippy brick for walls and hundred year old hardwood for floors.
I would look like this, creating stuff, selling my wares, and loving on your babies while you shop and visit. My hair wouldn't look that good and I'd probably have on jeans and cowboy boots, but you get the idea.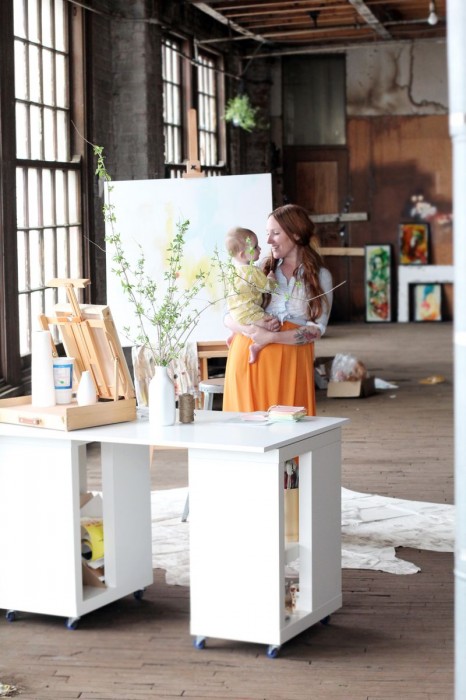 It would be a space where I'd have repurposed antique-y vintage items, some of my favorite new items like cowboy boots and disco balls, a tiny bookstore and coffee corner, a space to knit, old school country and folk music playing in the background, and the occasional cooking or knitting or art class to keep us all inspired.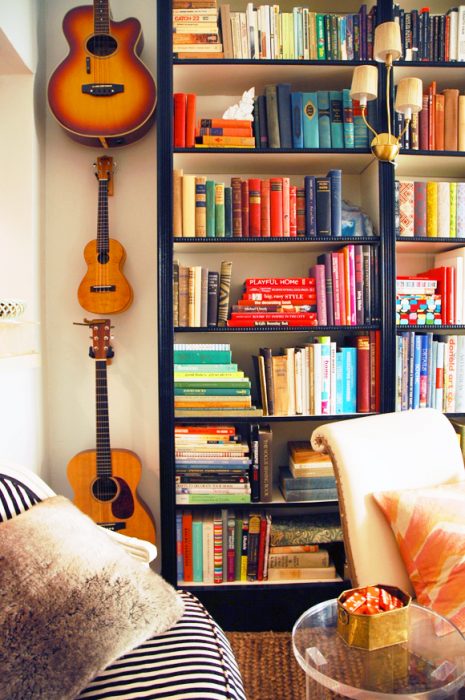 You could come and shop or just come and sit and be inspired.  And maybe a little corner kitchen like this.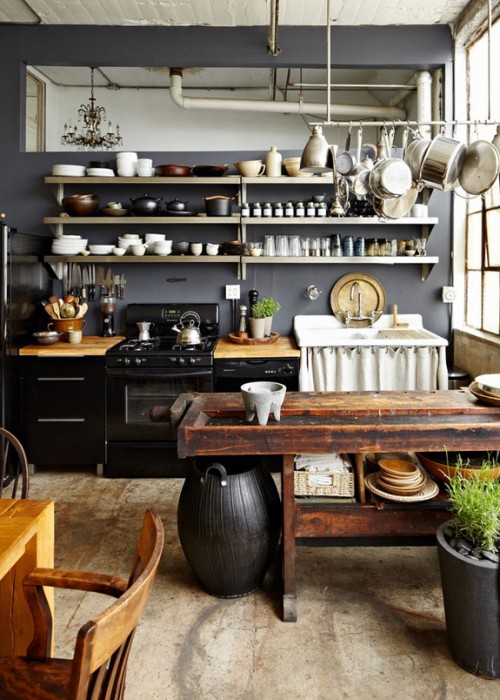 Combine that with a lot of color and Anthropologie-esque style and there you have it.
A little like Imogene and Willie's meets Craft South meets your local antique store.  Or like Hank Williams meets Folk Soul Revival meets the Lumineers.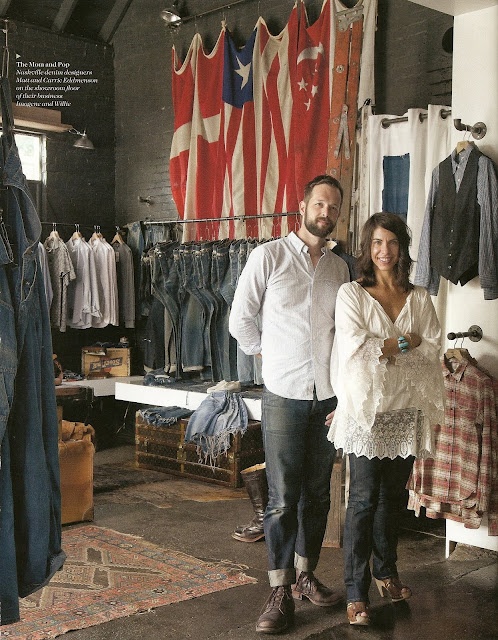 With a quirky, old cowboy vibe.  Maybe we'll sell quilts and pillows too, just for fun.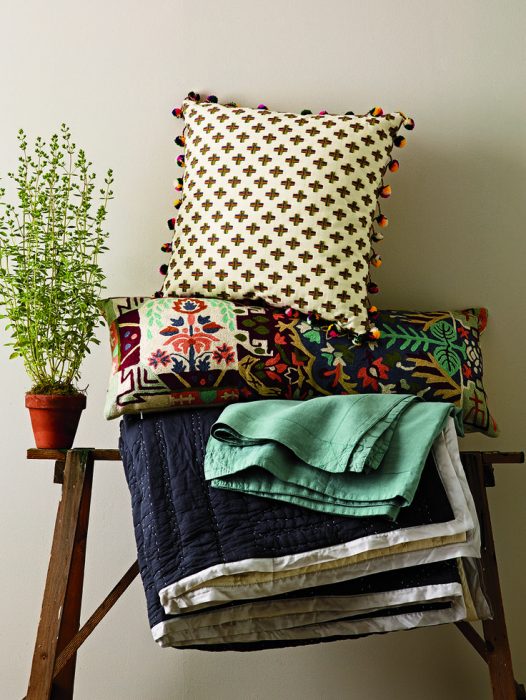 I've never been to such a rustic/industrial/cowboy/vintage place but I'd love to create one someday.
In my little town, there are several adorable old houses that I've had my eye on for years, thinking maybe someday I'd find someone who wanted to invest in a place and just let me do the creative part.  So far, none such investor has materialized.
But, I keep dreaming.
So, here's my plan.  Since our nest is getting emptier by the day, I thought I might just take over Nick's old room and experiment with making it have a little boutique-y feel.  (Of course, I'd leave the bed in there for when he comes home.  I'm not THAT kind of mom, dear people. Okay, I'm sort of that kind of mom, but the bed stays and he can sleep under a nest of cute pillows.)  I've even thought of launching a little online shop first as sort of a test.  But, there's little thing called a BOOK I need to write first so for now, this is all like cotton candy in my head.  Here's the room which shall be boutique'd and fussed over within an inch of its life.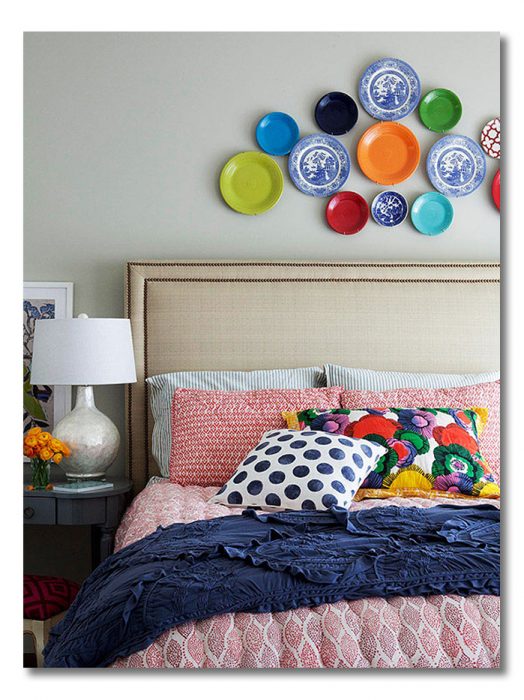 I'm collecting images and ideas for how to do this as we speak.  I'm in the process of moving all the  the sewing accoutrements  down there to finish that quilt I started and I'm turning the closet into a craft corralling space.  I'm even debating a chalk wall and some wallpaper from Anthropologie to push it over the edge, although I'll gladly take your suggestions for interesting walls. Who knows?
(I think not running is starting to cause the accumulation of many things in my head and maybe I'll come to my senses in a few weeks and this will all have seemed so…..unrealistic.)
But just in case it ever happens, I'm working on the playlist now.  And a name.  Something with sister or south or grace or home in it.  Got any ideas?
One thing's for sure—Hank will be twanging from the speakers!
What is your impractical dream?  Maybe you should write  yours down, too and we can be far fetched together!