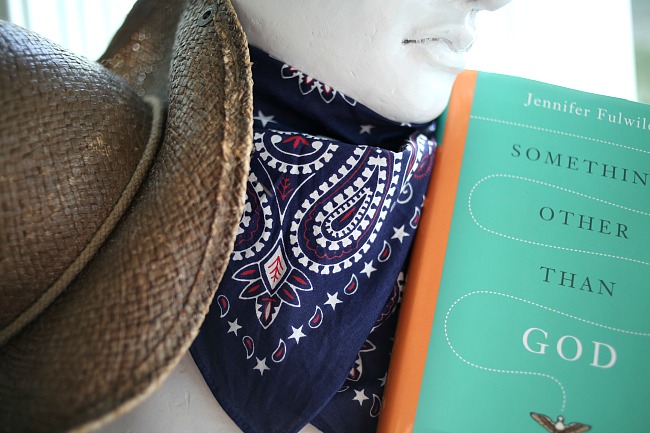 There are a lot of great folks from Texas. I like to pride myself in all things Lone Star State, so humor me in a smidgen of Texas pride.  There's George W., Tommy Lee Jones, and Waylon Jennings.  Don't forget Gene Autry, Sam Houston and Don Henley.   You probably would have guessed that Buck Owens, Roy Orbison, and George Strait all hail from Texas.  A few of my personal favorites?  Melanie Shankle, Shaun Groves, and Willie Nelson. Not to even mention Friday Night Lights, Tim Riggins, and Coach Taylor.  (#texasforever #cleareyesfullheart)
I sometimes wonder if  King David may have been from Texas,  though you're free to disagree.  He definitely had some Texas tendencies.
What I'm trying to say is that it doesn't surprise me when Texas shows off.  And the great state has gone and done it again.  They've given us another crown jewel and her name is Jennifer Fulwiler—a sixth generation Texan!   She is absolutely one of my favorite Christian thinkers and writers.  She's also one of the funniest people I know, she has 6 kids under age 10, she homeschools,  and she's written a pretty amazing book, Something Other Than God, which is being released tomorrow!  The book is the memoir of her journey to find happiness, which took her from atheism all the way to Christianity.  I couldn't be happier for her and for us.  This book is a treasure!
All you need to do is go read her about page or this day in the life post and you'll know why I love her so much.  I interviewed her for her book and am so pleased to welcome her to the blog today!  If you preorder her book tonight or early tomorrow, you'll get  a free ebook she wrote (which is FANTASTIC) about balancing creative work with family life.
For her book launch, she wanted "interesting" pictures of people with her book, so naturally I let the bust of David take a peek.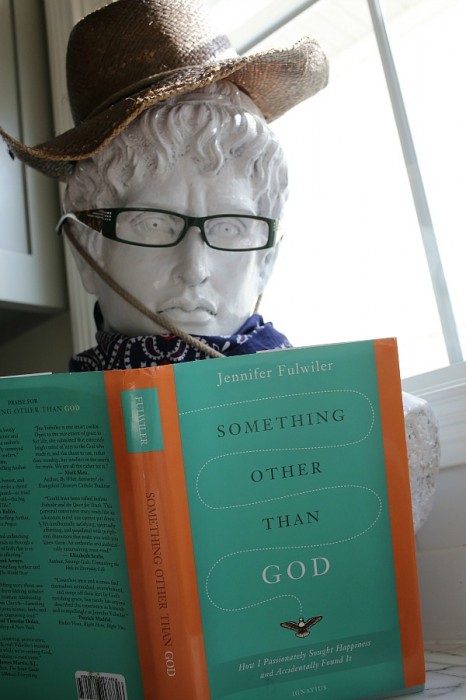 He seems to be thoroughly enjoying it.  See what I mean about him possibly being from Texas?
All shenanigans aside, I think  you are gonna fall in love with Jen and treasure her book.  She's having a Crazy launch party so head on over and join in the fun!
(Side note:  About my professional videography? Yeah, about that.  Don't be jealous.
Never mind the "Call Recorder Demo" that I can remove or the fact that my head is 4 inches shorter than Jen's. Never mind any of that.)
Meet Jen!

I'm giving away a copy of Jen's book! Just leave a comment telling me the title of your favorite memoir.
(I'll be taking notes!)