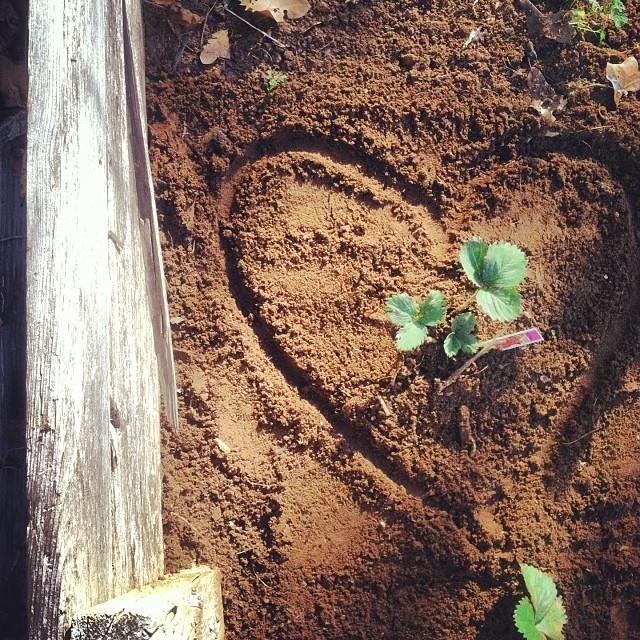 I'm so honored to welcome Marie to the blog! She's an amazing woman and has been the dearest encouragement to me over the years.  I admire her writing and her swoony farm life.  I so want to take a trip to Oklahoma to meet her.  I know you'll love her too!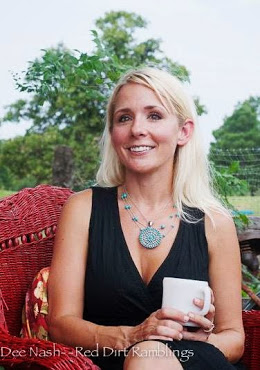 Happy springtime! I am so excited to be saying howdy from Edie's gorgeous corner of the internet. Like everyone else, I can barely express how much deep and varied inspiration I glean here. Xoxo I hope you like my story!
Well, it's officially springtime in Oklahoma and we have all kinds of fun stuff happening at the Lazy W. New babies, new gardens, new attitudes, and so many worthwhile projects. We're just really grateful for the additional hours of daylight and the warmer temperatures right now. Just a month ago I was repeating this mantra to myself, "The almanac says that winter's almost over. The almanac says that winter's almost over. The almanac says that winter's almost over…" And it worked to lift my mood most of the time. But now? Now a fresh ribbon of hope and energy winds effortlessly through everything. We are loving and working a verdant path through every single day, and it feels like paradise.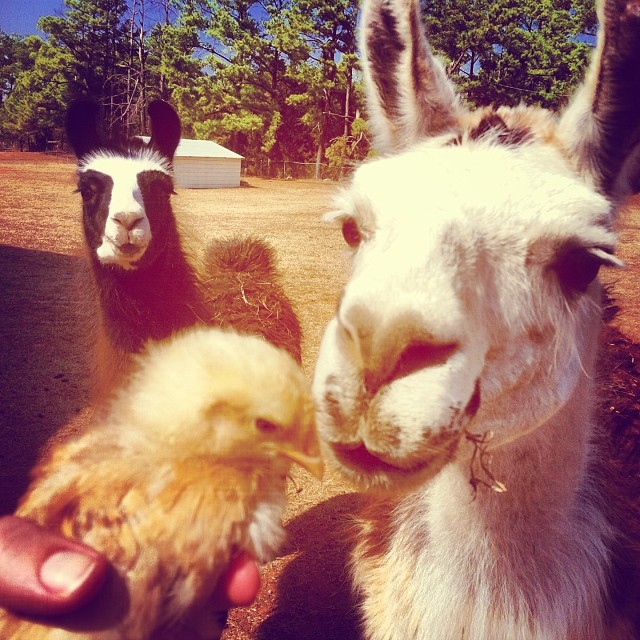 One of the special things happening here is the arrival of baby chicks. It's about as constant a feature of springtime as anything, right? Everybody loves baby chicks! People love them. Hens love them. Llamas love them, as this photo shows. But do you know who loves them the most? Our parrot. Bobby Pacino, our eight year old blue and gold macaw, has turned out to be a natural baby chick lover. He is borderline obsessed with the smallest, fluffiest creatures at the farm, and it makes me so happy.
Since we keep the chicks indoors with a heat lamp for the first several weeks of life, Pacino often shares a room with them. He sits on his perch or in his cage and just sort of… presides. Lovingly. With the chicks twittering and peeping quietly nearby, he now rarely issues those ear-drum-busting Amazonian screams. Instead, Pacino just coos and whispers to his babies all day. He asks delicately, "Are you ok?" And he says, "Hi baby" in this sweet little maternal voice, always uncannily human sounding. All it took was the gentlest leading that first day to show him how to treat the fragile creatures, and a South American chicken mama was born. I kissed the babies, so he licked their seed-sized eye balls. I stroked their downy bodies against my cheek, so he raked his enormous curved beak against their short fringed wings. I tickled their diminutive drumstick feet, so he… Well, this is where it got dicey. Pacino has crazy strong talons of his own, so even with an effort to be soft and easy, he poked and scratched the babies a bit too much with his "toes." I had to play buffer here.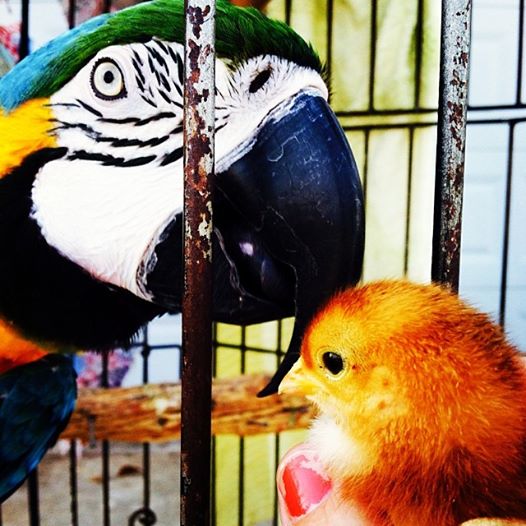 Every day that the chicks have stayed with Pacino, he has grown noticeably fonder of them. They have grown pretty fond of him, too. I pick them up, peeping loudly and objecting to being grabbed out of thin air by my human hands, but when I bring them close to his black and white striped face they grow suddenly quiet. Every single time they are face to face with him, they just stop peeping and stare, allowing him to investigate their tiny faces and lick their speck eyeballs or stroke them with his beak. I am pretty sure the chicks think this parrot is their mama. And he agrees.
Well, as you may know, chicks don't take long to grow up. In a matter of a few weeks they go from small enough to fit inside a quarter cup measuring dish to as tall as a bottle of creamer and quite strong in their skinny little legs. And so bouncy! It turns out that this growth spurt is as heart breaking to Pacino as it has been for me to see my own (human) chickens grow up. The other day I offered a tall, bouncy teenager chick to him for his early morning cuddles, and that baby pecked him right in the face. It scared him but, good chicken mama that he is, he withstood the unprecedented attack (which might have been a kiss) and silently raised one enormous talon as a peace offering. He was promptly rewarded with another sharp, swift peck, so he retreated and hung his blue head. Broke my heart.
After a few more tenuous close encounters like that, I decided it was time for the chicks to meet a real chicken. The afternoon of their relocation from heat-lamp nursery to outdoor nesting box was emotional for Pacino and me. I let him say goodbye to each of the now leggy, hyperactive teenagers, and he dutifully licked all seven of them once more. He was pecked seven more times, then he actually said, "Bye bye." I am not even kidding you. Pacino knew exactly what was happening, or understood my words or a combination of the two, and he said his goodbyes.
I wish I had a good photo to share with you of our parrot who became surrogate mama to our chicks, but the llama photo will have to do. And don't be too sad for his empty nest. The first seven may be grown up and gone now, but he has another shipment due any minute now. Seven more quarter-cup size chicks with speck eyeballs that need a good licking. He will be in paradise for about three weeks.
The moral of the story? Get some baby chicks! They are sweet and adorable and add so much gentleness to your home. More importantly, I think everyone needs someone to love, someone to care for. Every creature has a deep well of love to offer and needs the chance to see it well received. Help that happen.
Happy springtime! May all your kisses be returned and may all your eggs be fresh.
Much love from the Lazy W!
XOXOXOXO