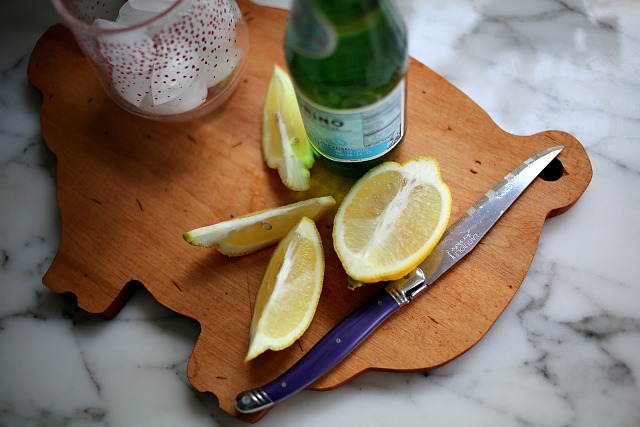 I'm ashamed to say that my kitchen has been sorely neglected until yesterday.  I spent the better part the afternoon cleaning and froofing, but have not been on my A game with cooking lately.  And by that I mean we've had frozen pizza twice this week.  What are we, newlyweds?  I even went to the store one night to buy "dinner" and came back with a box of cocoa puffs and some bagel bites.  A 44 year old woman cannot eat like that in good conscience.  Consider this my confession and my promise to make real food in the near future. And Stevie?  Well, bless his heart. He takes it like a trooper.  He made spaghetti nachos one night in desperation and  they were FANTASTIC.  He makes 15 year old boy food like a champ.
But, let's pretend none of that ever happened and that I always manage to cook from my meal plans, promise to never speak of it again, and move on with the 10 things I use everyday in my kitchen that I wouldn't want to live without.   Sadly, bowls did not even make the list.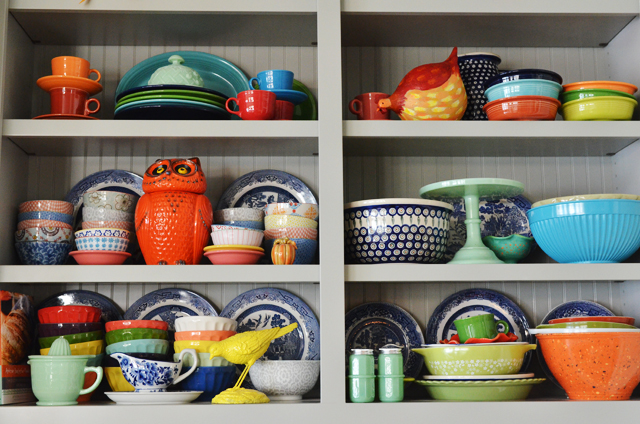 1. Tea towels—I have both the large square size, commercial grade,  and the traditional tea towel size on hand.   The ones with the blue stripe remind me of a Grannie kitchen and can double as napkins. These are very thin towels and I prefer them EVERY time to thick kitchen towels.  They are so easy to use, don't leave lint on anything and I can easily wrap the large ones around a dutch oven and tie it at the top to take soups/stews to people without spilling.  They are by far my favorite little kitchen work horse.  I recently bought this adorable tea towel from Sasha.  Her shop is fully of goodies!
2. Cutting boards—I have a plethora of cutting boards, but the pig is my personal favorite.  The rooster is in my amazon waiting  cart.  But I love all shapes and sizes, especially this paddle board.
3. A good knife—for years, I've used the chef's knives from Sam's club, b/c they're so cheap and work great for a few months, until they need sharpened.  (I've never learned to do that.) This Christmas, with the combination of an amazing deal and a gift card, I got this crown jewel.  OH SWEET MERCY.  You need a hunting license to use it, it's so sharp.  But, I love it and can't believe I waited this long to get a great knife.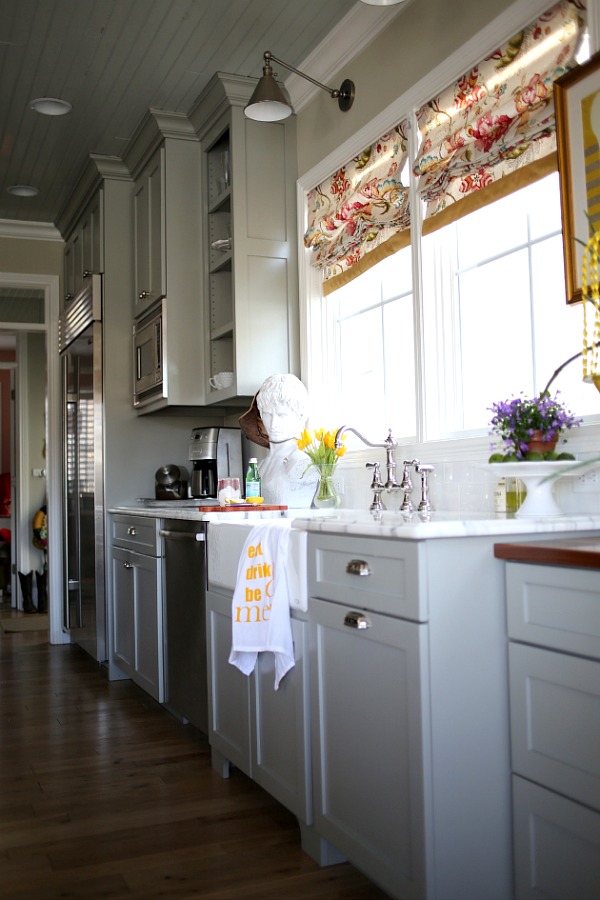 4.  A cute apron—DO NOT underestimate the power of an apron.  It will instantly transform you into Betty Crocker.  It lends street cred to the home cook and protects your cute blouses from oil and water and in my case, chocolate.
5.   Something that makes you smile.  OR laugh.  For me, that's my People who love food are always the best people print, my David bust with his straw cowboy hat, plants, flowers, etc.
6.  Thieves Cleaner.  Y'all, this is not a word of a lie.  Since I switched to Young Living's household cleaner, I have been able to toss nearly everything else out.  It's plant based, with no hormone disrupting toxins like so many cleaners have.  It's basically a  unicorn and it works SO WELL!!!!  There are a million reasons why I want you on my YL team TODAY, but this is a big one!  Get more info here!!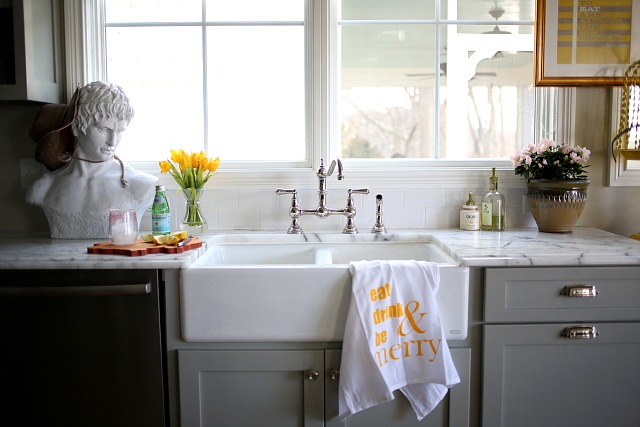 (Side note number 1—there's a chandelier cleaner that you just spray on and let it drip dry. Can we make one of those for the whole kitchen?)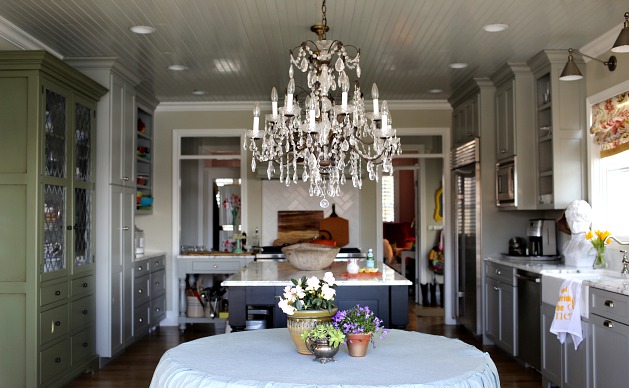 (Side note number 2— I may be getting my countertops honed, but until then, enjoy my post on whether or not you should have marble countertops based on personality type.)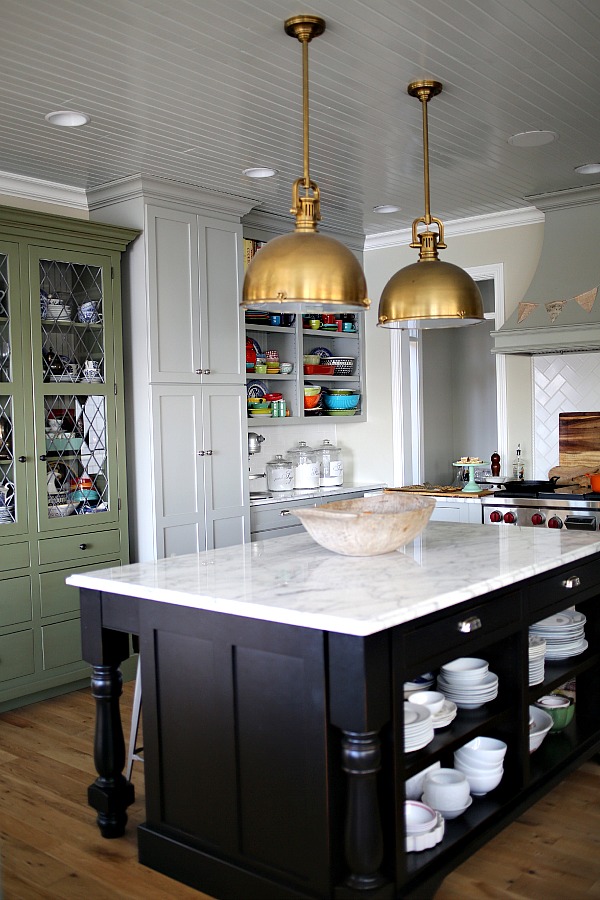 (Side note number 3: Large dough bowl comes in at a close 11. I bought mine in Birmingham and love it!)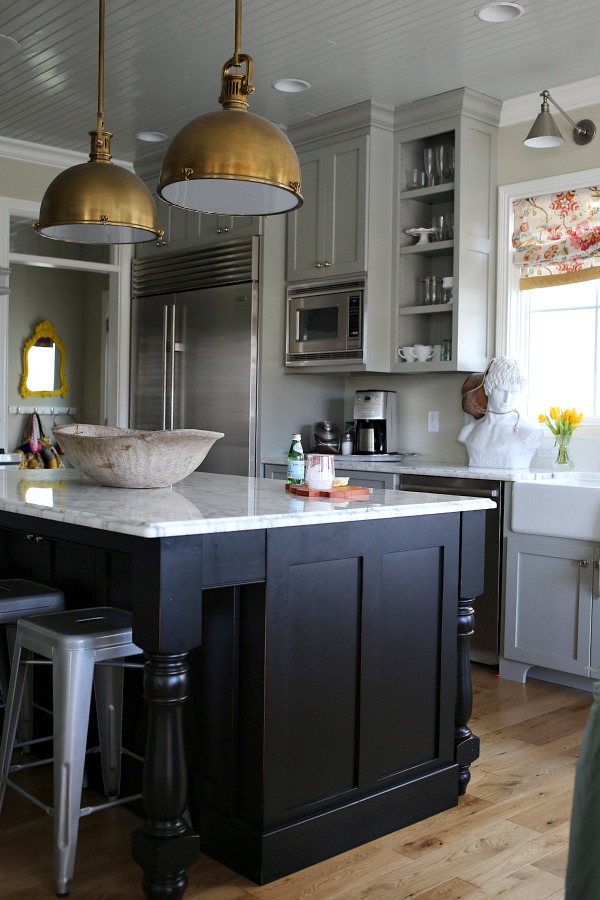 7.  Iron Skillet—Every home cook needs cast iron.  We use ours so much that I rarely put it away.
8.  Dutch Oven—I have Le Creuset and it was the 3rd thing I bought after our house fire—right after a computer and cowboy boots, if that tells you how it ranks in my economy.   I can tell you that it's THE most used thing in my kitchen and I LOVE it so much.  It's perfect for cooking nearly everything I cook.  I never even put it away, because it's a rare day that I don't cook in it. I actually have several because sometimes I luck up and find them really cheap at TJ Maxx.  It's an investment, but you'll have it for a lifetime and then your kids will fight over it!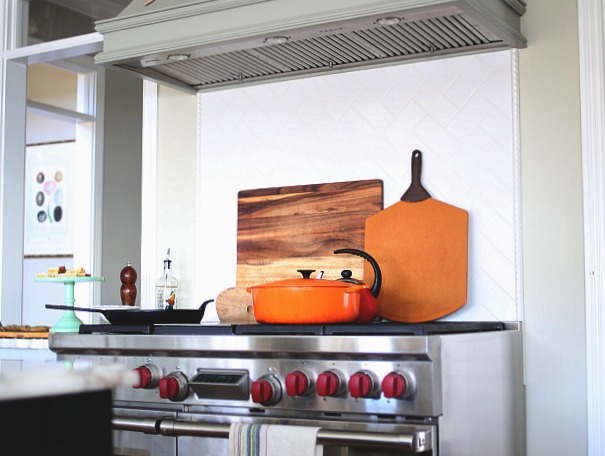 9.  Kitchen Aid mixer—I don't know who works harder, her or the dutch oven.  I use them both almost everyday.
10. Large glass jars for baking supplies—I use these, that can be purchased from Walmart, Target, or here on Amazon.  Having your baking supplies out and ready makes it SO much easier to bake.  I print the labels myself using the font Champignon at a 200 font size and then tape them on with clear packing tape.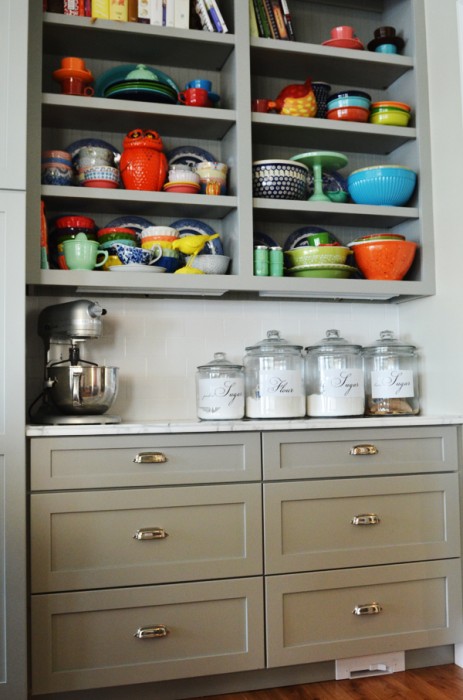 Now, it's your turn.  Tell me your favorite kitchen implement/tool/workhorse.