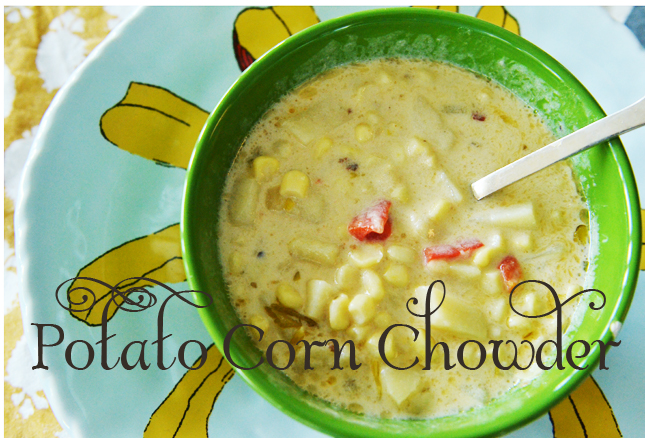 A dear reader, Robin, did us all a favor today.  She reminded me of the deliciousness of Potato Corn Chowder (the recipe of which was first posted in my Hospitality ebook, but never on here) and so I thought I'd share the recipe with you,  since my originally planned post went haywire and will have to wait until Monday.  Also, the first 10 people to comment on the following statement will get a free copy of the ebook.  "Bacon Fat:  How It Changed My Life."  After those ten comments, (and surely you dear lovelies have lots to say about bacon fat?), I'll pick of few more at my discretion.  Don't forget to read my Ode to Bacon Fat, at the bottom of this post.
On to the recipe.
I'm a huge fan of one pot meals. One pot meals are a beacon of light in a dark, dark world.  One pot meals make life worth living. Okay, maybe that's overstating it but still.
One pot to clean=one happy momma.
Potato corn chowder= one happy family.
This corn chowder is so easy, so delicious, and is even a crowd pleaser among the youngsters.
Here's what you need:
1 onion
1 32 oz bag frozen corn (could certainly use fresh corn when it's in season but the frozen works great too)
1/2 to 1 red pepper, diced
1 stalk of celery, diced
3 yukon potatoes, peeled and diced 3-4 springs of thyme
salt and pepper
cayenne pepper
2 boxes of chicken stock
2 T. flour
1 T. bacon fat
1 T. butter
1 T. olive oil
1/2 c. heavy cream
1 T. honey
What you'll do:
Melt the butter and bacon fat in a large stock pot and then add the olive oil.
Add the chopped onion, red pepper and celery,  a pinch of cayenne pepper and then salt and pepper.  (You'll reseason at the end but make sure you start the process now for depth of flavor.)
Cook these on med high so that the onions will brown a little.
When those have sautéed for 4-5 min, add the flour and cook it about a minute.
Add all the chicken stock, along with the frozen corn.
Add the thyme (you can either put the whole stems with the leaves on them and then remove the stems at the end or pull the leaves off the stems and just add the leaves) and potatoes and cook for 30 min on med heat until the potatoes are tender.
When they are tender, add the honey and cream and then reseason as needed. Since there aren't many seasonings in this soup, I add lots of pepper.
Enjoy the some crusty bread!
Every good Southern woman I know has a jar of bacon fat somewhere in her kitchen.
It's just as natural as having butter or bread.  Usually it's stored in a mason jar, but I've seen other lovely methods.
Do not ever underestimate the power of bacon fat, and by all means never throw it away.
It adds so much to your cooking and to your personality.    I know my Southern friends won't leave out this precious step of adding bacon fat to this recipe, but if you're from Connecticut, you'll be tempted.
Don't do it.
Bacon fat rules the world. Corn chowder just isn't corn chowder without bacon fat.
I am not me without bacon fat.
Love your family well.
Use bacon fat. Amen.