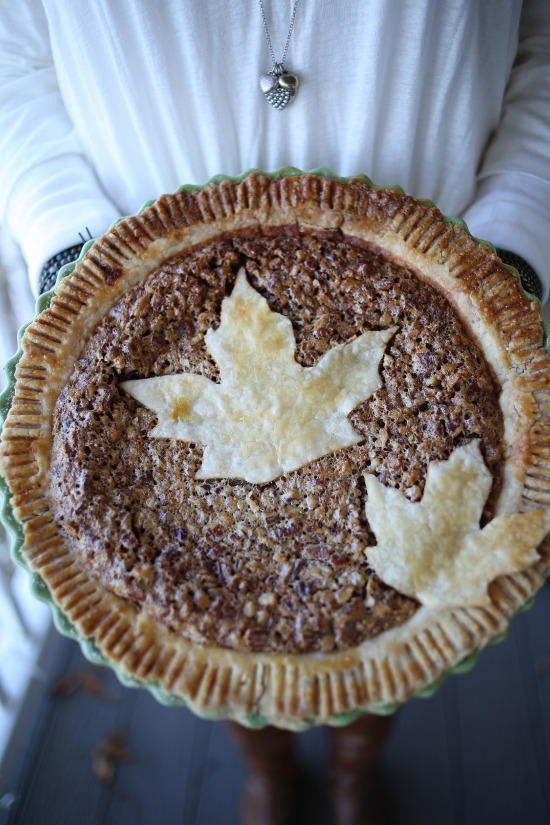 It was a beautiful day, in every way.
But, if you could see my house right now, you'd understand why I can't bear to walk into the kitchen and am ignoring it all, in favor of enjoying my coffee with some mocha cake, all the while contemplating hiring a service to come wash the rest of these dishes.  I am currently accepting applications.
For now, let's just savor in the beauty of yesterday, shall we?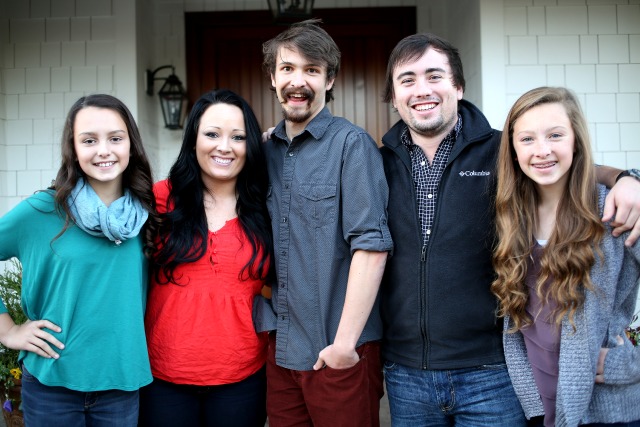 The girls set the tables for me, which turned out booteeful!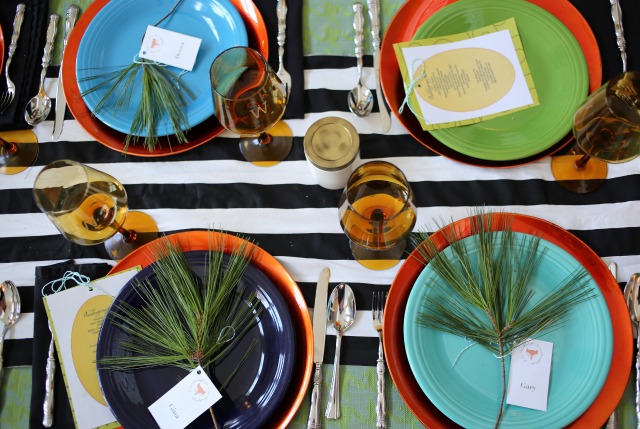 We did a lot of convalescing on the porch, because we had done so much work ahead of time.  I love it when a How to Host Thanksgiving and Enjoy It plan comes together.
I'm already sad that these two are leaving tomorrow.  The karaoke memories alone, will  haunt my dreams live in my memory for a long time.  JamieKnoxville has decided she never wants to be without a microphone ever again.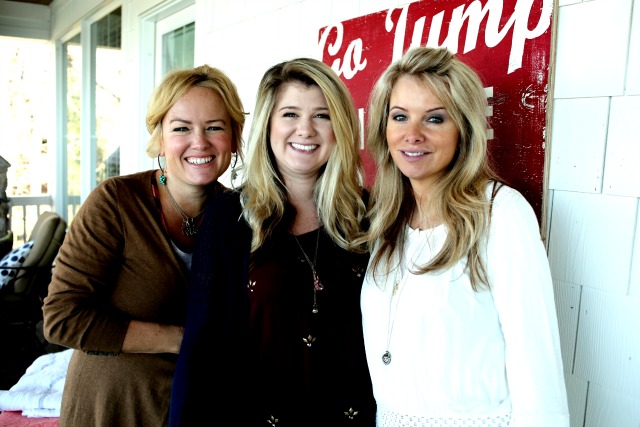 This right here is my idea of the perfect Thanksgivin, camouflauge leggings and all.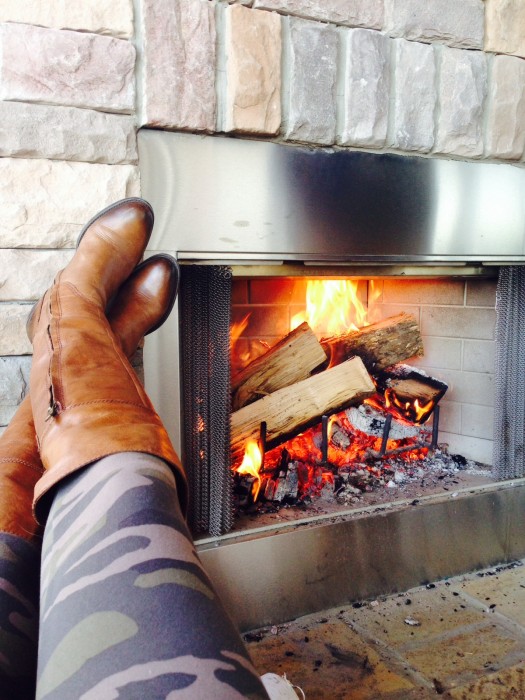 JamieKnoxville lives in New Jersey and she gets highly offended, perhaps concerned, at the amount of butter we use in the South.  She has decided to do a butter documentary, after watching our Thanksgiving preparations.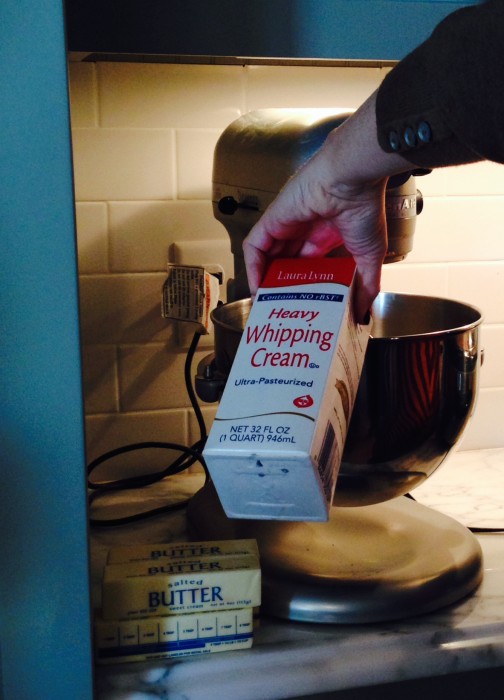 So, we texted her this morning to tell her breakfast was ready. She needs to remember her Southern roots.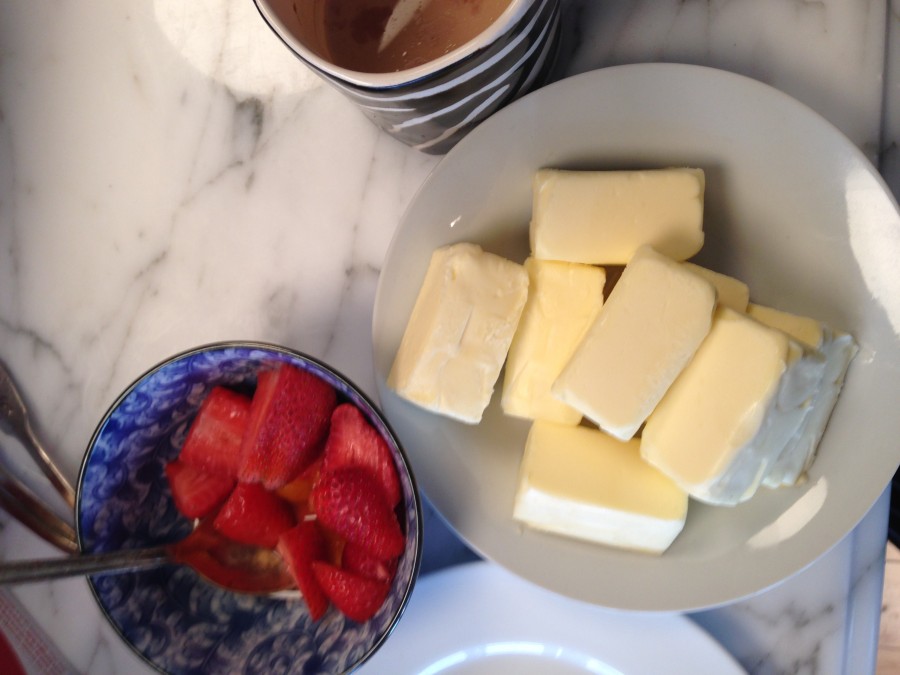 Stevie smoked some ribs for us, as a little afternoon snack.  I had that and mocha cake for lunch.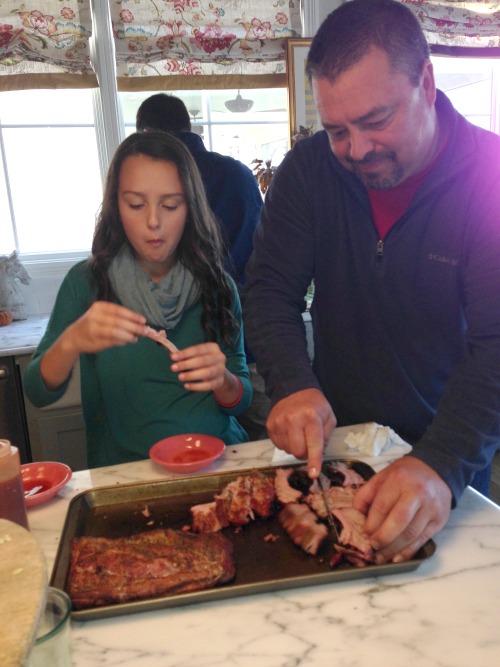 The girls printed and tied our cute little fox thanksgiving cards onto pine cones……..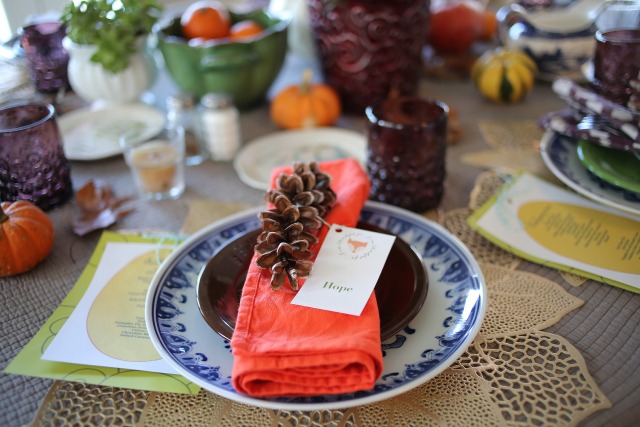 And pine branches……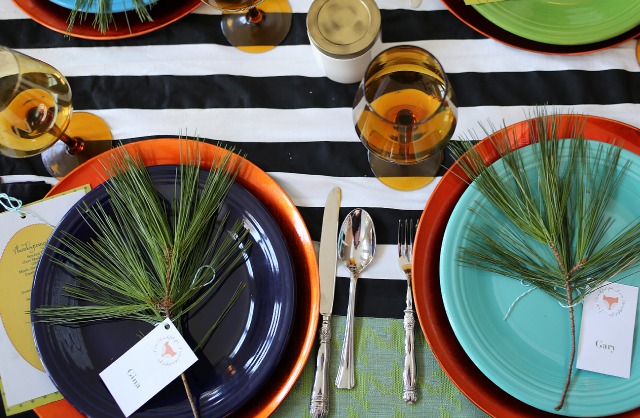 And paper airplanes….
Thirty people at 3 different tables and we managed to make some pretty cute tablescapes, using what we had, with a little creativity mixed in.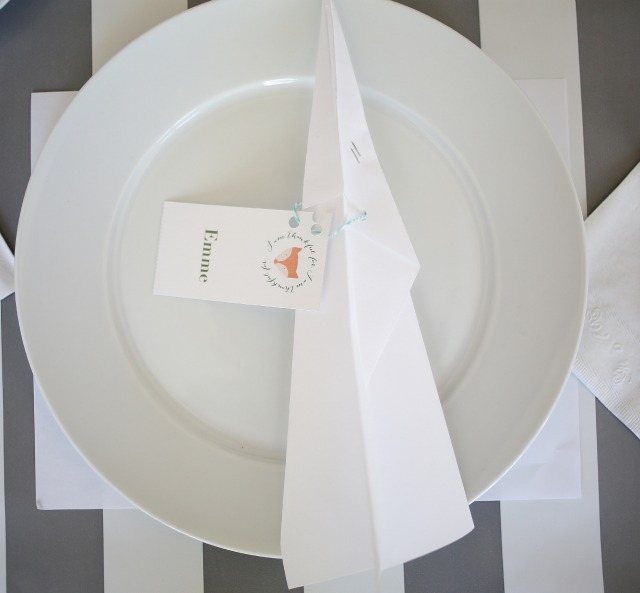 We tried to wrangle a few pictures, but that's never an easy task at holiday gatherings. They're a pretty awesome crew, though.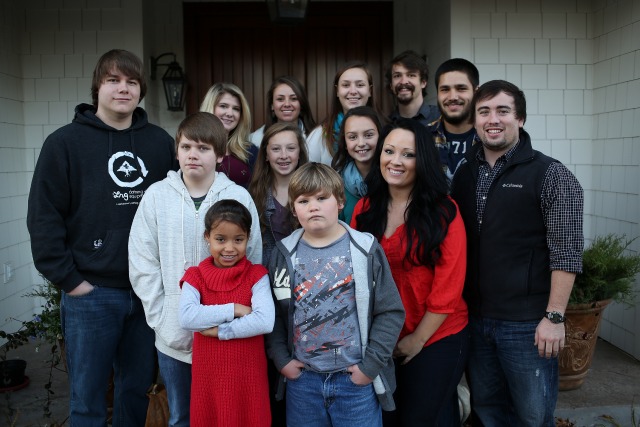 My niece, Jordan,  dared bring her boyfriend to the festivities.  I hope he survived our crazy. (We love you, Pat!)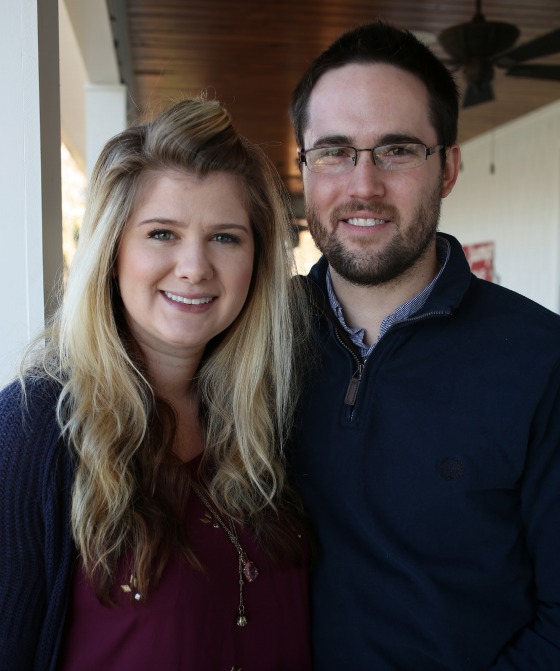 Stevie smoked a turkey and I made a roasted stuffed turkey and a turkey breast.  I LOVE having lots of leftovers.  We're eating turkey panini sandwiches with cranberry sauce today, along with a lots of pie and cake.
Did I mention pie and cake?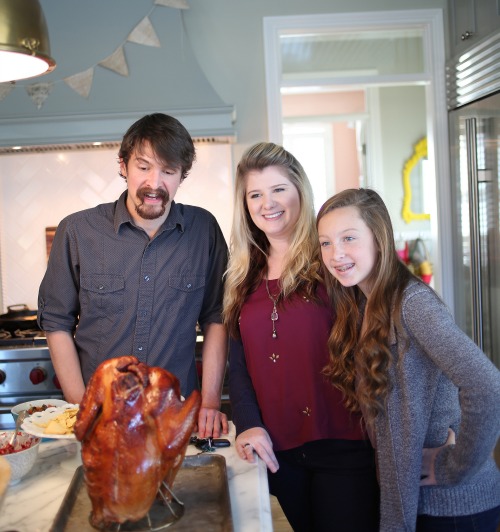 This cake?  Will most certainly be the main dessert in heaven.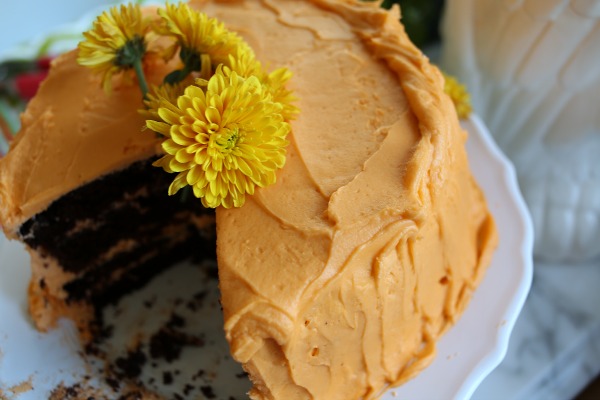 The  college and career table was a rowdy bunch.  And most certainly the best looking table.  They need a little more practice on their karaoke, but what do you expect from kids who don't even know all the words to On the Road Again?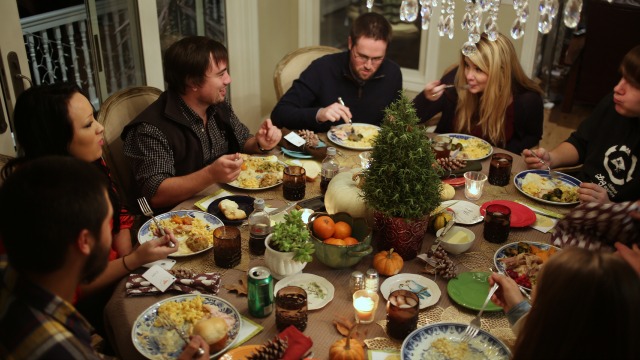 And from your very grateful (and tired) hosts, we wish you a wonderful weekend!  If you need us, we'll be hunkered down by the fire, eating leftovers, and a healthy amount of cake. Also? If the 20 somethings aren't afraid of me (which they should be), I'd like to play a game or two of Scrabble.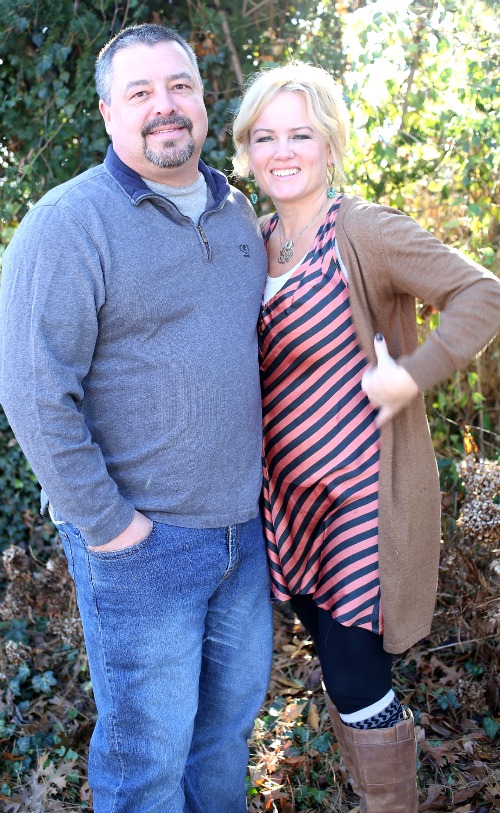 Love y'all and see you soon with a host of Advent resources!