Strawberry Buttercream Cake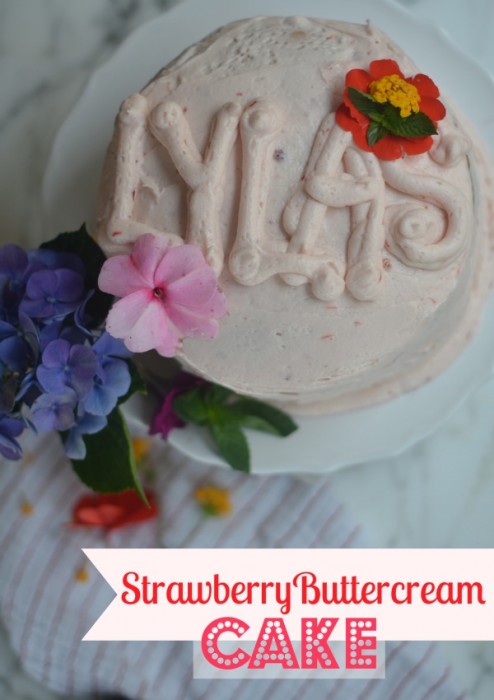 I've been making this cake for several years now and I just don't tire of it.  I thought I'd give you a slightly different version than the first one I posted a few years ago.
I made this last weekend for my sister's birthday and it rekindled my love—or my sister and the cake!
Why LYLAS?
Because I love ya like a sis, that's why.
Now, here's what you need for the cake:
2 boxes of white cake mix
6 eggs
1 cup of vegetable oil
1 1/2 cups of water
Mix cake for 3-4 minutes until smooth and pour into 2— 8 or 9 inch cake pans.  Bake at 350, until a toothpick comes out clean.  It's takes about 40-45 minutes, depending on your oven. Let them cool completely and then either 1) slice the cakes in half with a large serrated knife, to give you four total layers. Make the icing and then you are ready to assemble them!
For the icing:
1/2 cup crisco
3 sticks of softened butter
2 pounds plus a cup or two of powdered sugar  (you add until desired taste and consistency. if the icing is too thin, add a little more.  if too thick, add a little more milk.)
1/2 cup strawberry jam (homemade freezer jam works best but any GOOD strawberry jam would work!)
2-3 T. of milk
2 t. vanilla flavoring
pinch of salt
To assemble:
Place first layer on cake plate and spread with icing.  It doesn't matter if it's a little crumb-y.  Continue to add layers and icing but make sure the top layer is the top of a cake so that the crumbs won't be such a problem while icing it.  Make sure you save about a cup  of icing for adding some kind of embellishment to the top.  I made this for a wedding shower once and added big MR. & MRS. to the top.  You could write the person's name and just add some fresh flowers to the top.  Use your imagination and you'll come up with lots of great options.  You can use a regular cake decorating bag and wide tip or just fill a large ziplock bag with icing and then cut the corner of the bag to the desired size.  I've done it both ways many times. Add a few fresh strawberries to the top or some fresh flowers from your garden and voila—someone knows they are loved!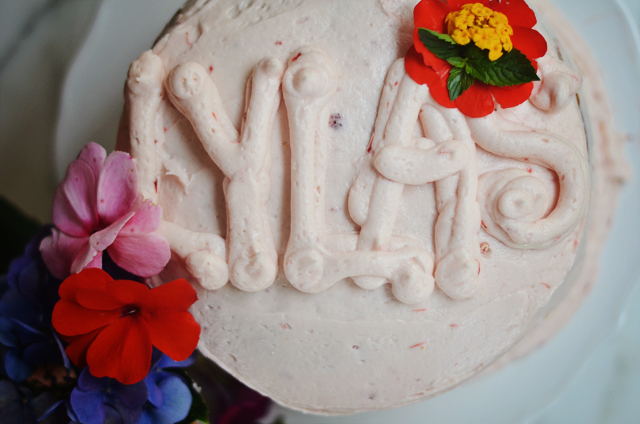 Check out my recipes page for more ideas!  What's your favorite cake in the whole world?
Mine?  I've never met a buttercream I didn't like. Well, almost never.