Some of you asked what's on the proverbial night stand.  Be careful what you wish for……..
Flannery O'Connor once got a letter complaining that her writing was not 'uplifting' enough. The reader was tired of the dark themes and twisted characters. This was O'Connor's reply,
"There is something in us, as story-tellers and as listeners to stories, that demands the redemptive act, that demands that what falls at least must be offered the chance to be restored.  The reader of today looks for this motion, and rightly so, but what he has forgotten is the cost of it.   His sense of evil is diluted or lacking altogether and so he has forgotten the price of restoration."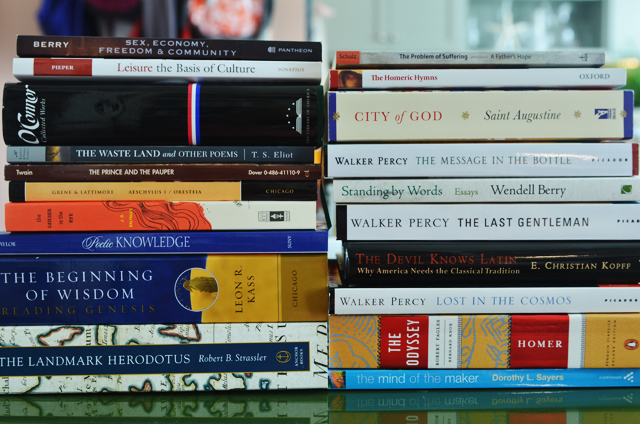 In a larger sense, the stories and essays that we've gotten from the greatest authors have come to them at great price.  I live and die by their books—by the hard fought words of someone else.  All day, I hear the drone of culture and the drivel  of my own self-centered voice in my head and I know that I am impoverished.  I don't have the right words and so I need to borrow them from someone else—–from someone who has read better books ,  lived in a saner time and has paid a steep price for the kernels of truth they so generously share.  The words of my favorite authors color my world and wipe away the fog that our modern, consumerist society has accepted as the new status quo.   I think Flannery O'Connor was right.  We have forgotten the cost of redemption.
Perhaps the masters will help us remember.
**********************
My current stack is influenced by the Circe Conference speakers and by our study of the Ancients this year in our homeschool.  Some of these books, I will read from cover to cover.  Some I will start and never finish.  Some will so capture my imagination that I will read the same chapter or even the same sentence over and over again.  I don't follow hard and fast rules when I read.  But I'm thirsty for words that aren't my own.
Here's my latest reading list.  Hope you find something helpful for your own journey.
1. Sex, Economy, Freedom & Community: Eight Essays
  Wendell Berry
2.Leisure: The Basis of Culture
3.Flannery O'Connor : Collected Works : Wise Blood / A Good Man Is Hard to Find / The Violent Bear It Away / Everything that Rises Must Converge / Essays & Letters (Library of America)
4.The Complete Poems and Plays: 1909-1950
 T.S. Eliot
5. The Prince and the Pauper (Dover Thrift Editions)
6.The Complete Aeschylus: Volume I: The Oresteia (Greek Tragedy in New Translations)
7.The Catcher in the Rye
  J.D. Salinger
8.Poetic Knowledge: The Recovery of Education
  James Daniels
9.The Beginning of Wisdom: Reading Genesis
 Leon Kass
10.The Landmark Herodotus: The Histories
11.The Problem of Suffering: A Fathers Hope
12.The Homeric Hymns
13.The City of God
  Augustine
14.The Message in the Bottle: How Queer Man Is, How Queer Language Is, and What One Has to Do with the Other
15.The Devil Knows Latin: Why America Needs the Classical Tradition
16.Lost in the Cosmos: The Last Self-Help Book  Walker Percy
17.Standing by Words: Essays
  Wendell Berry
18.The Odyssey
19.Mind of the Maker
  Dorothy Sayers
20.Wild Iris
Someone mentioned that maybe we should have an online book club? Whatcha think?  Would you be willing to read the classics with me?   We could be geeks together.    We could have our own cheer and make homemade shirts?  No?  Book worms have more fun 🙂