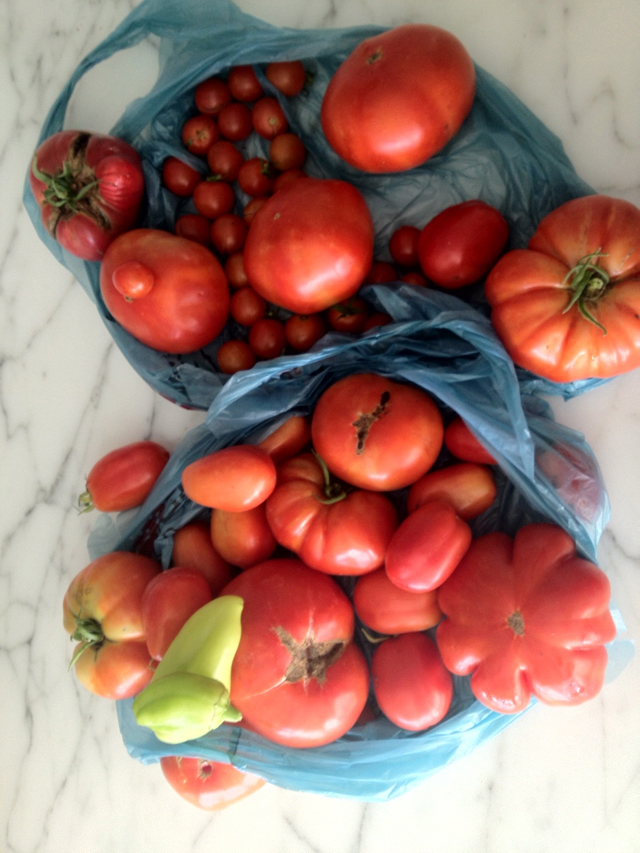 I've been waiting with baited breath for my tomatoes to ripen.
Everyday, I check the garden in hopes of juicy red manna from heaven.
Of course, as soon as I leave, they do their thing.
Just another reason to anticipate my homecoming.
I have been unbelievably blessed and inspired this weekend. I've sat under the tutelage of Andrew Kern, John Hodges, David Hicks and then had the very distinct privilege of hearing Wendell Berry speak a few wise words on education and read portions of his own writing in his very charming Southern grandfatherly voice. As a confessed Wendell Berry fan, it was nearly transcendent. But there's really nothing like going home, is there?
I can't wait to smooch on Stevie and love on the girls and enter into the joy that comes from eating fresh tomatoes from one's own garden.
Stevie texted me this photo to entice me home.  It totally worked.
See you in a day or two when I've had time to contemplate and process all I've taken in.
It's been a game changer.
I'll be the first to register for the Circe Conference next year.
p.s.  You should add this one to your 'Pearl Jam Summer' playlist.